On the occasion of Georg Baselitz's 85th birthday, museums and institutions around the world are dedicating exhibitions to various facets of the artist's wide-ranging oeuvre.
Scroll down to discover the exhibitions.
Watch a video of the artist reflecting on this milestone in his life
Further exhibitions to be announced
Georg Baselitz: Six Decades of Drawings
21 October 2022—5 February 2023
The Morgan Library & Museum, New York
This exhibition celebrates the gift from Baselitz to the Morgan of 50 drawings covering the span of his entire career. On display will be examples from the iconic Heroes series and fractured drawings of the mid-1960s; landscape and figure drawings from the 1970s, when Baselitz began turning his images upside-down to emphasize their structure and materiality over their subject; colourful pastels and watercolors from the 1980s and 90s; and a group of Remix drawings from the last twenty years, in which Baselitz revisits themes from his early works. Organized in collaboration with the Albertina Museum in Vienna, which is the recipient of a similar gift from the artist, the exhibition will include about sixty-five drawings. Combining sheets from both donations, it will present a retrospective of Baselitz's artistic development and highlight the central role drawing plays in his practice.
Georg Baselitz zum 85. Geburtstag
15 January—16 July 2023
Museum Würth 2, Künzelsau
Museum Würth 2 in Künzelsau presents a retrospective featuring approximately 50 works by the artist. Best known for his coarse brushwork and strong colours, this exhibition features a group of prints in the atrium and focuses on another side of the Neo-Expressionist artist's practice. Since the mid-1960s, Baselitz has been dealing with a variety of printing techniques including linocuts, woodcuts and wood engravings, and experimenting with their possibilities. The works on view include 18 monumental linocuts produced between 1977 and 1979, and then printed again in the 1990s. These enter into dialogue with sculptures, graphics and paintings from the Würth Collection.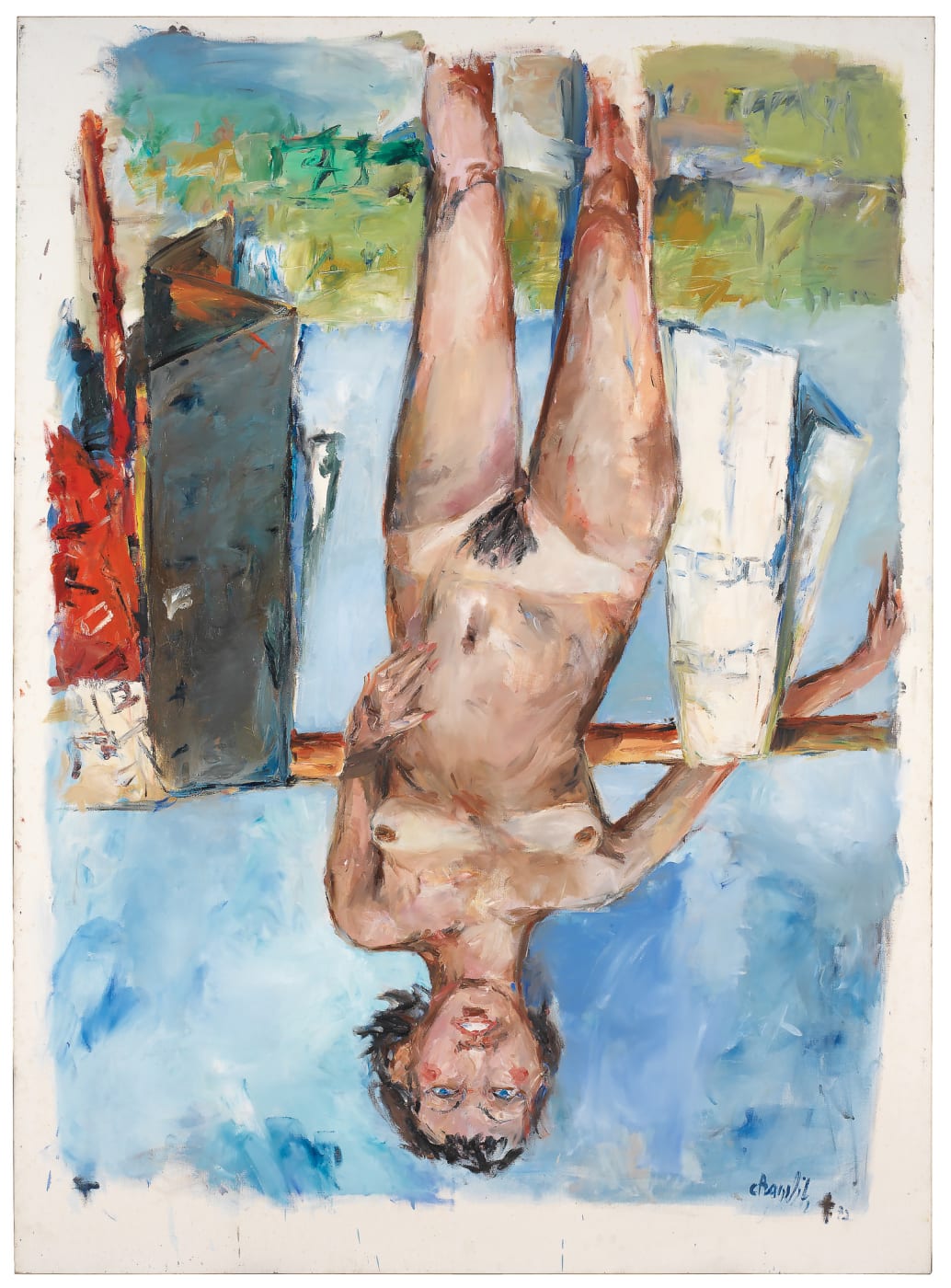 Georg Baselitz – Nackte Meister
7 March—25 June 2023
Kunsthistorisches Museum, Vienna
Georg Baselitz in Conversation with the Old Masters
The Kunsthistorisches Museum invited Georg Baselitz (b.1938) to take part in an exhibition project that has the artist enter into a visual dialogue with Cranach, Altdorfer, Baldung Grien, Parmigianino, Correggio, Titian and Rubens, as well as the Mannerists at the court of Emperor Rudolph II. He selected the works , about 75 of his own creations and 40 from the Picture Gallery of the Kunsthistorisches Museum, himself. They all concentrate entirely on the nude. As such, the exhibition casts a light on this elementary human condition, which has always been a central topic of European art.

Since the beginning of his career, Baselitz has shown a pronounced awareness of art history in his works. In particular he is impressed by Mannerism and its departure from the norm. Here, the encounter between the works of Georg Baselitz and historical paintings of figures of ideal beauty from the Kunsthistorisches Museum collection reveals exciting insights into the history of nude portraiture as well as the currency that painting itself still has. In this way, the artist brings up fundamental questions that touch us all.

The works from Baselitz's oeuvre presented in the exhibition draw a line from the early 1970s to the immediate present. Works were loaned, among others, by the Stedelijk Museum, Amsterdam; the Louisiana Museum of Modern Art in Denmark; the Kunsthalle in Kiel; the Albertina, Vienna; the Städel Museum, Frankfurt am Main; the Staatsgalerie Stuttgart, the Museum Frieder Burda, BadenBaden; the Centre Georges Pompidou, Paris and private collections.
BASELITZ IN THE STUDIO

From 7 April 2023
Hall Art Foundation
Kunstmuseum Schloss Derneburg


The Hall Art Foundation presents Baselitz in the Studio at Kunstmuseum Schloss Derneburg. It is the first in a series of exhibitions of the artist's works that will be shown at this location, which was Baselitz's home and studio for some 32 years until its sale to Andy and Christine Hall, founders of the Hall Art Foundation, in 2006.

Baselitz in the Studio comprises some two dozen paintings and a sculpture completed in the 5 or 6 years prior to the sale of Schloss Derneburg and are some of the last works the artist made there. They will be exhibited where they were created, in the so called "Neues Atelier" ("New Studio"), a building designed by Steib+Steib Architects of Basel, which Baselitz commissioned in the mid-1990s and is situated in the park adjacent to the historic castle building. While Baselitz had studios and workshops in different parts of the castle, the new studio would become his principal studio for painting and sculpture for the next decade and has now been repurposed as an exhibition space for Kunstmuseum Schloss Derneburg. The Hall and Hall Art Foundation collections include over 400 paintings, sculptures, works on paper, and prints by Baselitz that span his sixty-year career.
Georg Baselitz: 100 Drawings

7 June—17 September 2023
Albertina Museum, Vienna
This presentation is dedicated to Georg Baselitz, following his very generous donation of his own works on paper to the ALBERTINA Museum and the Morgan Library, in which the artist invited each museum to choose 50 works of their choice for their collections.
Georg Baselitz's oeuvre has played a significant role in shaping—or, more to the point, radically upending—post-1945 art history. This showing's retrospective selection of works allows one to easily retrace the path that Baselitz has forged in search of a new method of depiction, a method situated "where nobody has been before," as the artist himself has put it. Though Baselitz starts from representational motifs, it remains emphatically evident just how much abstraction he employs in his thinking and artistic execution in order to arrive at an original creative language. To this end, the artist also devotes intensive study to art history, which his initial instinct is to aggressively oppose, to resist—a rebellious stance that begets the development of his revolutionary visual creations. Here, his reversal of motifs represents an impressive logical step towards liberating himself from content in order to focus on fundamental questions of pictorial design.
The temporal arc here extends from early to relatively recent works that also serve to clearly indicate the significance in the artist's oeuvre of drawings, which are autonomous but still do relate to his paintings in terms of their motifs. By no means mere sketches or preliminary drawings, every single one of these works on paper is used by Baselitz to give himself a different artistic challenge - in the course of which the most varied materials including pencil, India ink, watercolours, and pastels are brought to bear.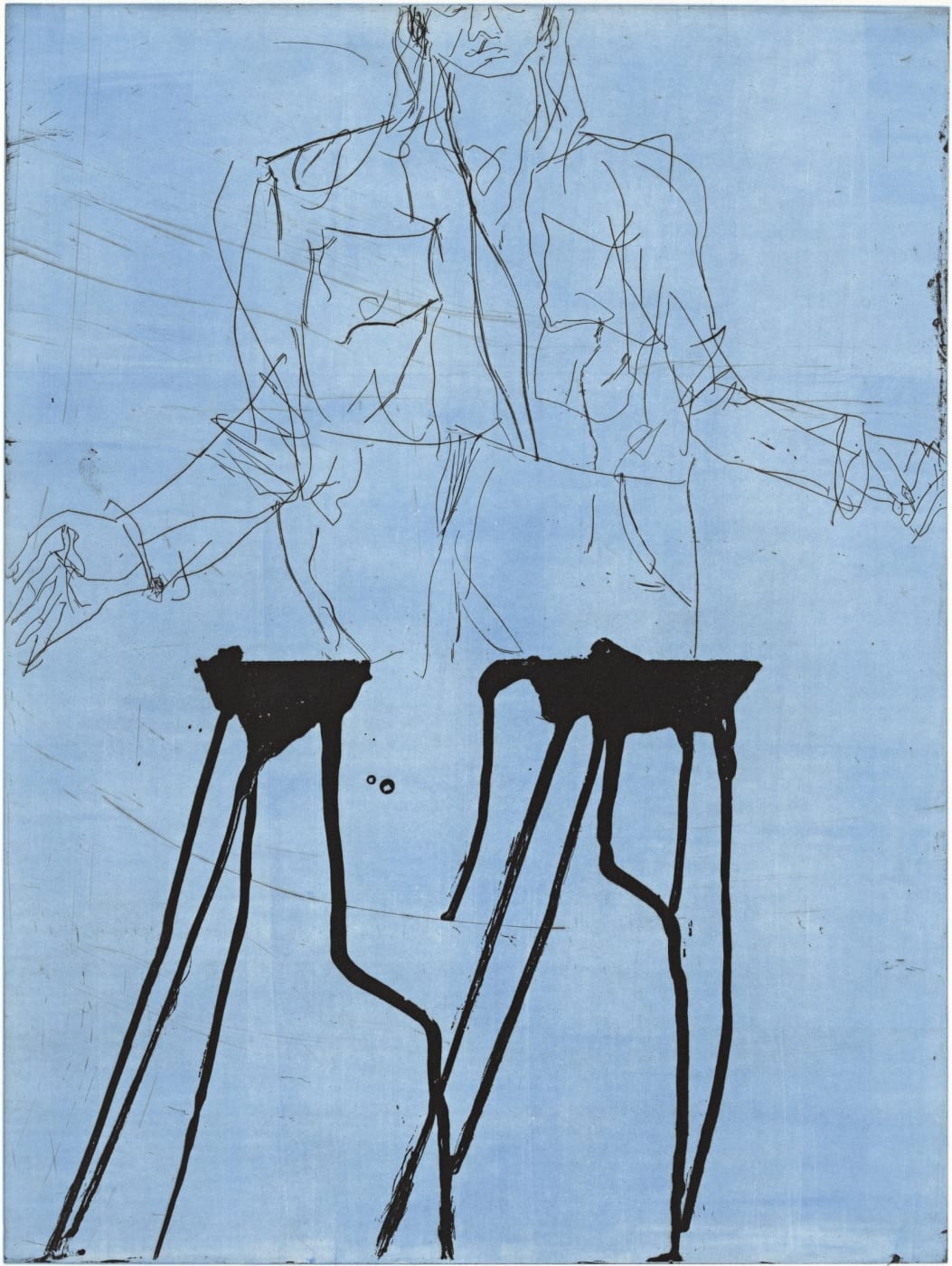 Baselitz X Schiavone
Etched across Time
8 June—1 October 2023
Szépművészeti Múzeum / Museum of Fine Arts, Budapest
The exhibition entitled Baselitz X Schiavone is the first in a series of shows at the Collection of Prints and Drawings intended to highlight the dialogue between contemporary artworks and those by old masters. In 2020, on the 150th anniversary of the Collection of Prints and Drawings, Georg Baselitz generously donated thirty large prints to the museum and a selection of these works will now be shown to the public for the first time.

The museum has chosen Andrea Schiavone, whose work is linked in multiple ways to Georg Baselitz to accompany the contemporary German artist in the exhibition. Baselitz began to collect etchings by the sixteenth-century Italian master as early as 1963. A further highlight of the exhibition is a painting loaned by the artist on this occasion: painted in 2011, the work's visually rich use of the line makes it ideal for inclusion in an exhibition of graphic art.

Georg Baselitz and Andrea Schiavone were both primarily painters who took an avid interest in printmaking. There are many similarities in their thinking about the genre and their uniquely innovative attitude towards the creation of images is manifested in their works on paper. One of the key factors that inspired this exhibition was yet another major point of connection between them: Baselitz is a collector with an extraordinary taste for mannerist prints, who has built up a first-rate collection. He has more than eighty sheets by Schiavone in his possession, the largest unit within his entire collection. As Baselitz himself explained concerning our exhibition, "Schiavone used the etching technique in a very undisciplined and immensely experimental way, which resulted in unusual, avant-garde plates and sheets."
MALELADE - GEORG BASELITZ ZUM 85. GEBURTSTAG
30 August—22 October 2023
Staatliche Graphische Sammlung München
at the Pinakothek der Moderne
In honour of Georg Baselitz and in celebration of his 85th birthday, the Staatliche Graphische Sammlung München presents works on paper from two of the artist's most remarkable series. Taken from the museum's unique collection of more than 1,100 graphic works by the artist, the exhibition will include early drawings from Baselitz's foundational Heroes series. These offer insight into the artist's radically expressive manner of drawing in the mid-1960s and demonstrate his ongoing influence on modern and contemporary figurative art. The drawings are complemented by a group of prints from a more recent period. Exhibited in its entirety for the very first time, the exceptional collection of 148 proofs for the illustrations in Baselitz's captivating artist's book Malelade (1990) reveals him to be a technical virtuoso, as well as a brilliant print artist. In Malelade, striking colour etchings of lyrical power join with the artist's experiments in language to form an extraordinary modern epic. As a birthday present to the artist, the museum also has an additional surprise in store!
On view at our Paris Pantin gallery
La boussole indique le nord

22 January—27 May 2023
Thaddaeus Ropac, Paris Pantin
Filling the gallery's Paris Pantin space, the exhibition brings together five series realised between 2020 and 2021, in celebration of the artist's 85th birthday. The show includes the pared-back compositions and contrasting colours of Tulips, three series of portraits with vivid palettes, and a further series of melancholic portraits on dark backgrounds. The works on canvas are accompanied by a group of inks on paper. Characterised by an unprecedented integration of fabric and by a transfer method that marks a significant recent development in Baselitz's technique, the works create, both conceptually and materially, a distinctive universe where the logic of collage coalesces with painting.
Credits: 1. Georg Baselitz portrait, 2021. Photo: © Christoph Schaller. 2. Georg Baselitz in his studio, 1997. Photo: Martin Müller. © Georg Baselitz. 3. Georg Baselitz, Untitled, 1984. Graphite and watercolor on paper, The Morgan Library & Museum, gift of the Baselitz Family; 2022.107. Photo: Jochen Littkemenn. © 2022 Georg Baselitz. 4. Georg Baselitz, Georg Baselitz: Six Decades of Drawings, installation video. © Morgan Library and Museum and SandenWolff. © Georg Baselitz 2022. 5. Georg Baselitz, Yellow Song, 2013. Bronze, patinated, 306.5 x 146.5 x 109 cm. Sammlung Würth, Inv. 16917, and Georg Baselitz, BDM Gruppe, 2012. Bronze, patinated, 366 x 242 x 149 cm. Sammlung Würth, Inv. 16001. Photo: Robert Schittko. © Georg Baselitz 2022. 6. Georg Baselitz, Fingermalerei – Weiblicher Akt, 1972. Oil on canvas, 250 × 180 cm. Humlebaek, Louisiana Museum of Modern Art. Donatio: Georg Baselitz. Photo: Finn Brøndum. © Georg Baselitz 2023. 7. Georg Baselitz in his studio, 1983. Photo: © 2023, Daniel Blau, Salzburg. © Georg Baselitz. 8. Georg Baselitz working in the "New Studio" at Schloss Derneburg, 2004. Photo: Martin Müller, Berlin. Courtesy Hall Art Foundation. 9. Georg Baselitz, Zurück in die Schulzeit, 2005. India ink, watercolor and gouache on paper, 100 x 70 cm. ALBERTINA, Wien - Schenkung der Familie Georg und Elke Baselitz. Photo: George Meister, courtesy Galerie Fred Jahn. © Georg Baselitz 2023. 10. Georg Baselitz, The Modern Painter, 1965. Pencil on paper, 39.6 x 25.8 cm. Photo: Jochen Littkemann. © Georg Baselitz. 11. Georg Baselitz in Berlin, 1966. Photo: © Elke Baselitz 2023. © Georg Baselitz. 12. Georg Baselitz in his studio in Berlin, 1963. Photo: © Elke Baselitz 2023. © Georg Baselitz. 13. Georg Baselitz in Berlin, 1962. Photo: © Elke Baselitz 2023. 14. Georg Baselitz, Romantiker kaputt, Sheet 12 of the series "Malelade", 1989. Drypoint, green with strong plate tone in the stand slightly left, BFK Rives handmade paper. Proof, 1st state, A, print of final motif plate. Photo: Staatliche Graphische Sammlung München. © Georg Baselitz. 15. Georg Baselitz, Open Arms (Not Hero), 2010. Museum of Fine Arts, Budapest Photo: Jochen Littkemann. © Georg Baselitz. 16. Georg Baselitz in his studio, 1995. Photo: Martin Müller. © Georg Baselitz. 17. Georg Baselitz, Der Kompass zeigt nach Norden, 2021. Oil, dispersion adhesive, fabric and nylon stocking on canvas, 300 x 210 cm (118.11 x 82.68 in). Photo: Jochen Littkemann. © Georg Baselitz. 18. Georg Baselitz portrait, 2021. Photo: © Christoph Schaller.