Emilio Vedova
documenta 7
Until 26 March 2022
London Ely House
Scroll down to learn more
Emilio Vedova's first solo exhibition in the UK reunites his five monumental canvases from the landmark documenta 7 exhibition in 1982, curated by Rudi Fuchs. These paintings are shown alongside a selection of important works from the 1980s, a period considered the pinnacle of the artist's career. Presented in association with the Fondazione Emilio e Annabianca Vedova, this exhibition marks the fourth decade since his participation in documenta 7 in Kassel and the 40th Venice Biennale, held in the same year.
By the 1980s, Vedova was widely regarded as one of the most influential abstract Italian artists of his time, having exhibited at the Venice Biennale in 1947 and the legendary documenta exhibitions I, II and III (1955, 1959 and 1964) in Kassel. His invitation to exhibit once more in documenta 7 and the Venice Biennale in 1982 demonstrated his enduring significance for a new generation of artists. His paintings from this period attest to curator Rudi Fuchs' aim that the documenta participants would 'do justice to the dignity of art', freeing it from the 'various constraints and social parodies it is caught up in', through a selection of works with the power to show themselves 'unrestrainedly'.
Watch art historian Flavia Frigeri speak about the exhibition, with archival footage of the artist in his studio
Profoundly influenced by his surroundings, Vedova's works from this decade were largely inspired by a trip to Mexico in 1980, which made a lasting impression on him.
...Mexico. All at once the kaleidoscope of emotions, of wide American spaces, of scents and colours was right back [...] The clashes were immediately very harsh. A new geography of immense 'horizontal' spaces. My feeling is that of being an ant. – Emilio Vedova, 1982
Vedova introduced an explosion of colour in subsequent paintings and refined the abstract painterly style that had defined his practice throughout his career. His vigorous brushwork and bold use of colour charge the pictorial plane with energy, surging forth to engage the viewer and redefining the space they inhabit. This is reinforced by his use of texture, as he often incorporated elements such as sand, water and paste to form impasto layers of material. As he wrote, 'ultimately material must respond to feeling'.
Compresenze '82 - 2, 1982
Acrylic paint, pastel colour, charcoal, nitro laquer and sand on canvas
300 x 190 cm (118.1 x 74.8 in)
The artist's entire oeuvre is anchored in Venice, where he was born and spent most of his life – the light of the city, the water, the sand and the architecture are a constant presence in his paintings. He also looked back to his Venetian predecessors from the late Renaissance, in particular Tintoretto, whose bold brushstrokes, accentuated gestures and dramatic lighting were an inspiration to him.
(Senza titolo), 1983
Acrylic paint, pastel, charcoal and sand on canvas
290 x 160 cm (114.17 x 62.99 in)
Their rigorous dark signs, their rich pictorial structure, their sensuality, brought me back to Venice, into this grand architectural and artistic spectacle, between West and East, between water and sky.
– Johannes Gachnang, 1981
Emerging '82 – 3 (1982), along with four other works on view, was first shown at documenta 7 in Kassel. Upon viewing these new paintings in the artist's studio in 1981, curator Johannes Gachnang wrote: 'Their rigorous dark signs, their rich pictorial structure, their sensuality, brought me back to Venice, into this grand architectural and artistic spectacle, between West and East, between water and sky.'
Emerging '82 - 3, 1982
Acrylic paint, paper, sand and pastel on canvas
200 x 300 cm (78.74 x 118.11 in)
The stark contrast between black and white was a central characteristic of Vedova's work, later complemented by a single primary colour such as red. The intensity of these colour relationships contributes to the forceful sense of vitality that emanates from his canvases. He continued his quest to push painting into new territories with the expressive ferocity and unwavering commitment to ideals that characterised his life and work. He engaged increasingly with the exploration of existential questions, using gestural abstraction as a vehicle for expressing the complexity of lived human experience.
Senza titolo - Rosso '85, 1985
Oil on canvas
275 x 275 cm (108.27 x 108.27 in)
I must always get to the painting directly, maybe by jumping or sometimes with the help of a small stool [...] when I work, I move, I get physical, I jump and attack the canvas and the surrounding space. – Emilio Vedova, 1983
Vedova rejected the Renaissance concept of space that held the viewer at a certain distance from the scene. Instead, he desired direct contact between viewer and painting, turning 'spectators-no-longer-spectators into an active third party, with more active participation'. The artist placed himself in physical confrontation with the canvas while painting, using expressive strokes of paint to convey a raw and violent reaction to the political reality of the post-war period.
Di Umano, 1983
Acrylic paint, pastel, charcoal and sand on canvas
235 x 235 cm (92.52 x 92.52 in)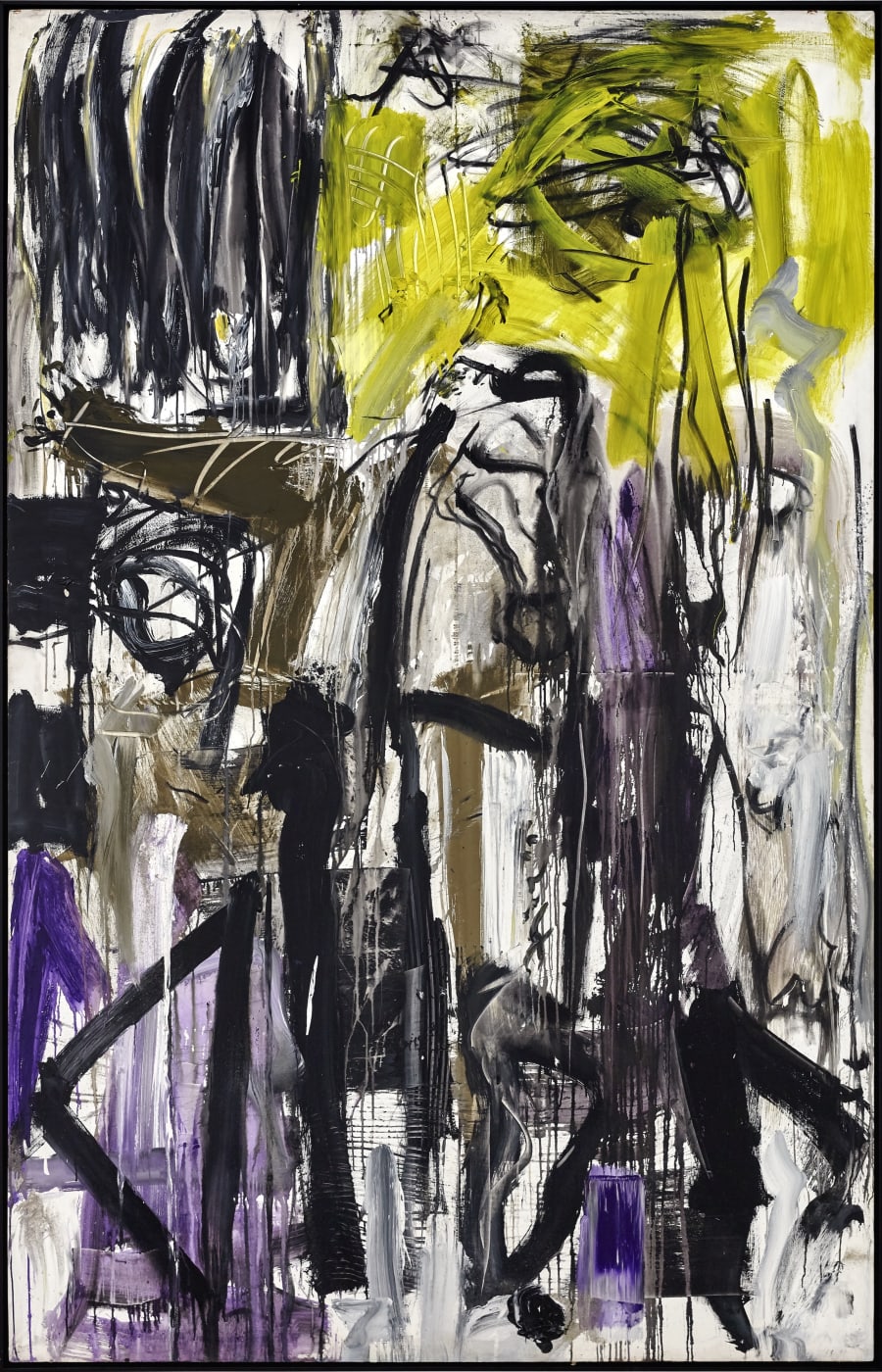 First exhibited at the Venice Biennale in 1982, Vedova's Emerging '82 – 9 – ... A l'Ouest rien de nouveau (1982) is dominated by the graphic lines and expressive brushwork characteristic of his paintings from this decade. Vedova navigated between tradition and the avant-garde throughout the course of his career and played a central role in forging a new path for Italian art. Revered as one of the most notable painters to emerge from post-war Europe, he was praised by Peggy Guggenheim as a rising star of the European avant-garde. He had a firm and enduring friendship with Georg Baselitz, who once described his work as 'all the heart could desire'. Baselitz dedicated a series of paintings to his recently deceased friend at the 2007 Venice Biennale, shown alongside a three-dimensional work by Vedova himself.
During the Second World War, Vedova had worked with the Italian resistance. In 1943 he joined the anti-fascist group Corrente, which celebrated the revolutionary aspects of painting, and co-signed the Manifesto del realismo di pittori e scultori in 1946, declaring that socialist painters should move away from figuration. In the 1950s, he travelled to Spain and, the following decade, created his Per la Spagna cycle of works dedicated to the country and its population living under Franco's regime.
Per La Spagna '60/'61, 1960-1961
Ink, tempera paint, pastel and charcoal on paper
43.6 x 64 cm (17.17 x 25.2 in)
When [Vedova] worked on a painting, he threw himself into the canvas and therefore there was no planning, because throwing oneself into the canvas means entering a white void and finding a way to communicate a feeling that was given by the material of colour. — Germano Celant, 2019
About the artist
Now regarded as one of the most influential Italian artists of the late 20th century, Emilio Vedova (1919–2006) was a politically engaged painter who believed that revolutionary art had to be abstract. He joined the Milanese anti-fascist group Corrente in 1942 and co-signed the Manifesto del realismo di pittori e scultori, also known as Oltre Guernica, in 1946, urging artists to engage with reality while moving beyond figuration. Largely self-taught, he learned to draw and paint by sketching Venetian churches and frescoes, particularly those of Tintoretto, who was a key inspiration to the artist throughout his career. Although he split his time between Venice and Berlin for many years, his work remained anchored in the city of his birth and its painting traditions.