Sean Scully
Entre ciel et terre
Until 29 July 2021
Paris Marais
Scroll down to learn more
My work is not what you would call expressionism. It's geometry painted expressively.
Entre ciel et terre is Sean Scully's first exhibition at Thaddaeus Ropac. Created for the most part during the pandemic, the paintings suggest a connection with nature and an inner world of memory in troubled times. Introducing his new Mirroring paintings, along with a selection of works from his landmark series, the exhibition demonstrates how Sean Scully has marked contemporary abstraction.
Fusing the traditions of European painting with the distinct character of American abstraction, Scully is renowned for his expressive and spiritual use of colour and form. As the exhibition title Entre ciel et terre [Between Heaven and Earth] indicates, his art hovers between two realms: the terrestrial, conveying a sense of materiality, rawness and sensuality, and the celestial, opening onto the infinite.
Watch Sean Scully speak from his studio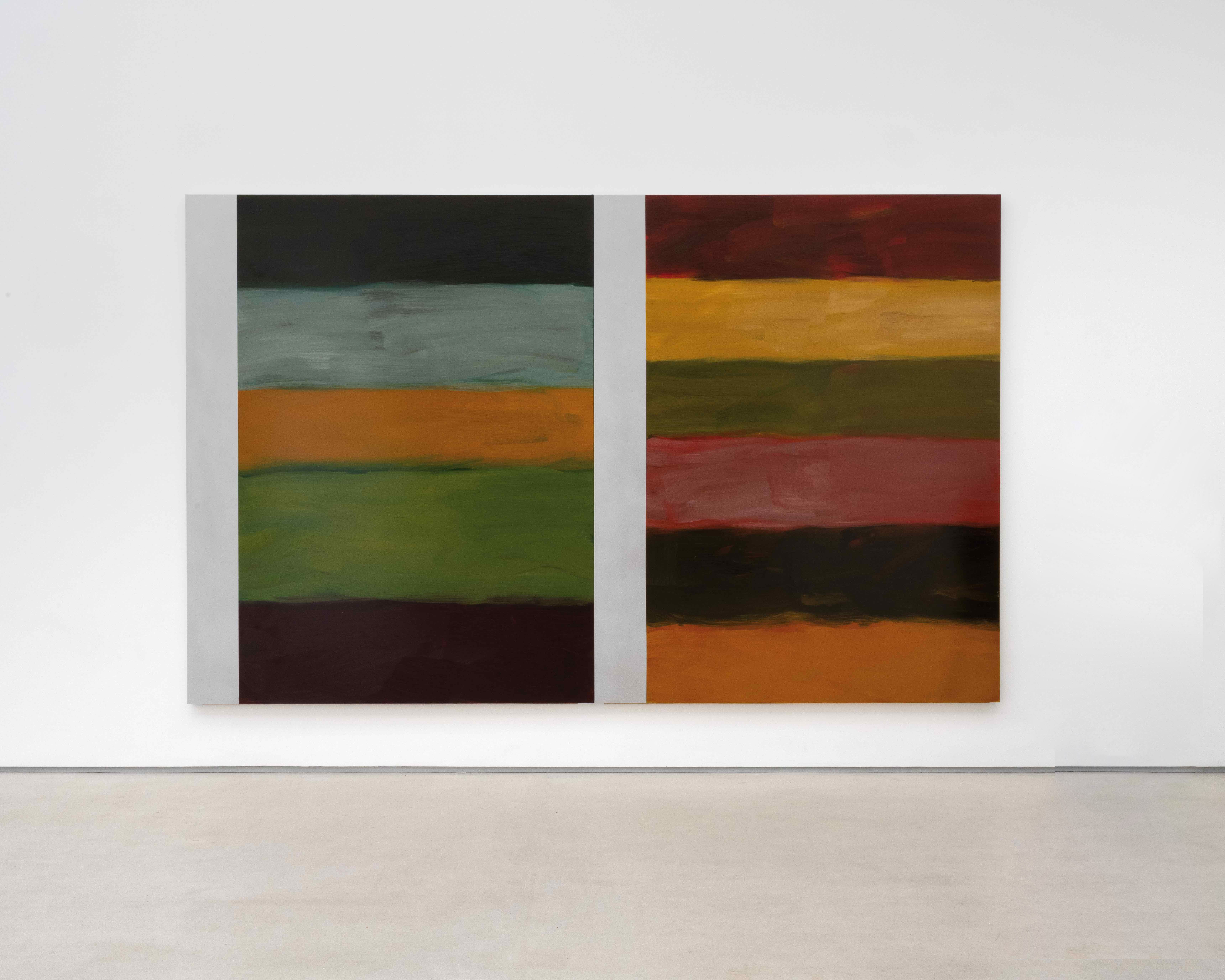 Painted in oil on aluminium, the large-scale Mirroring works are divided into two sets of coloured stripes that mirror each other with variations. Between each colour field, the artist has left the metal surface visible. The overall composition, with the rhythm of the horizontal bands, brings to mind the pages of a book or musical score.
Mirroring Green, 2020
Oil on aluminium
250 x 400 cm (98.4 x 157.5 in)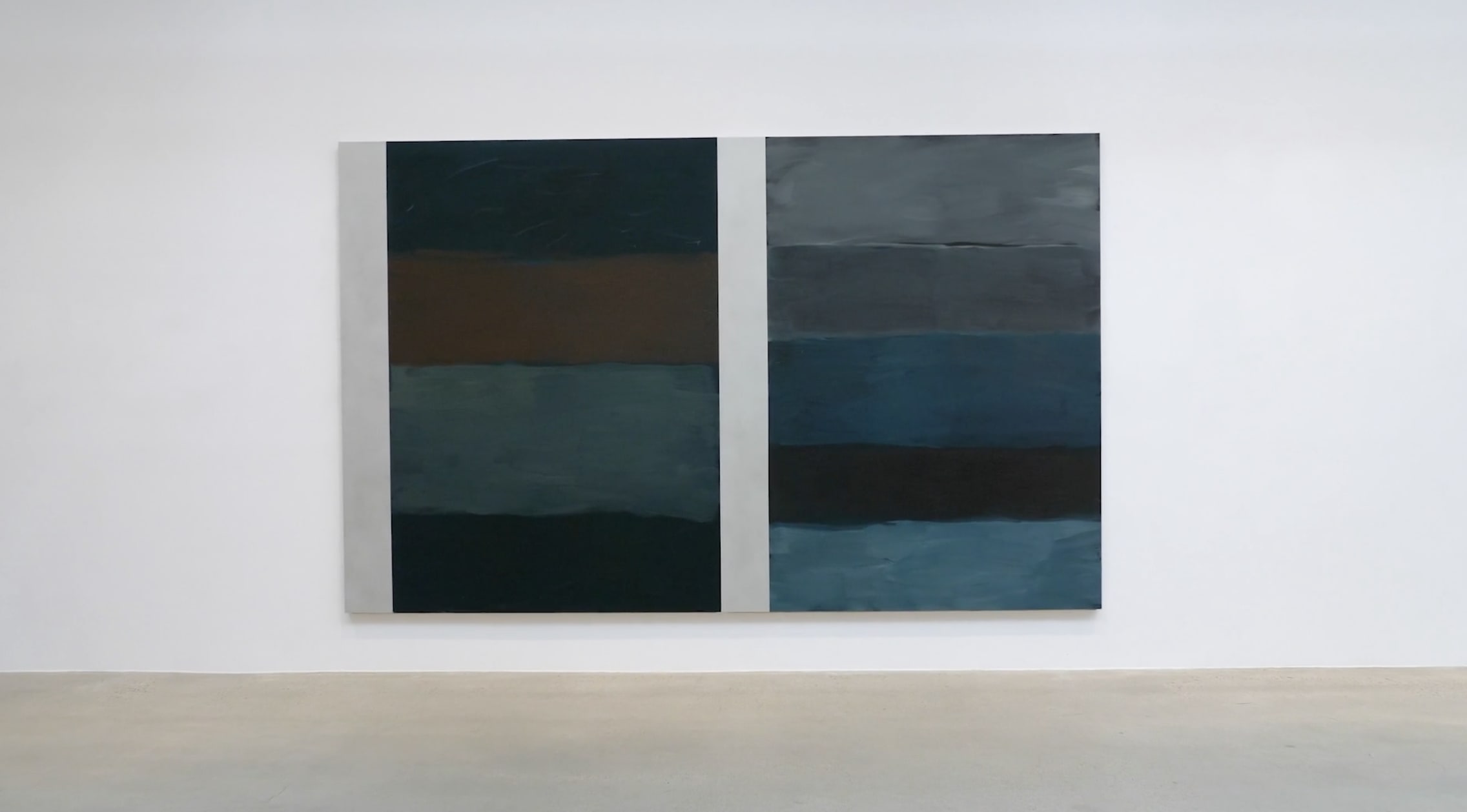 Since 2016, Scully has taken to painting on both aluminium and copper. Responding to paint in different ways, each support creates a rhythm and tempo of its own. This choice of polished surface also connects with the artist's interest in how his art can absorb and reflect meaning in relationship to the viewer.
Mirroring 4.12.20, 2020
Oil on aluminium
250 x 400 cm (98.4 x 157.5 in)
'What I love about aluminium is its rigidity [...] It's not reactive and I love the fact that it's so solid.'
'They kind of look like pages of a book with margins. I was sent to work in a printing factory when I was fifteen. The idea of printing is very strong in me, as is the idea of rows. It's all coming from my adolescence, when I used to set type. The idea of reflection is very present in my work.'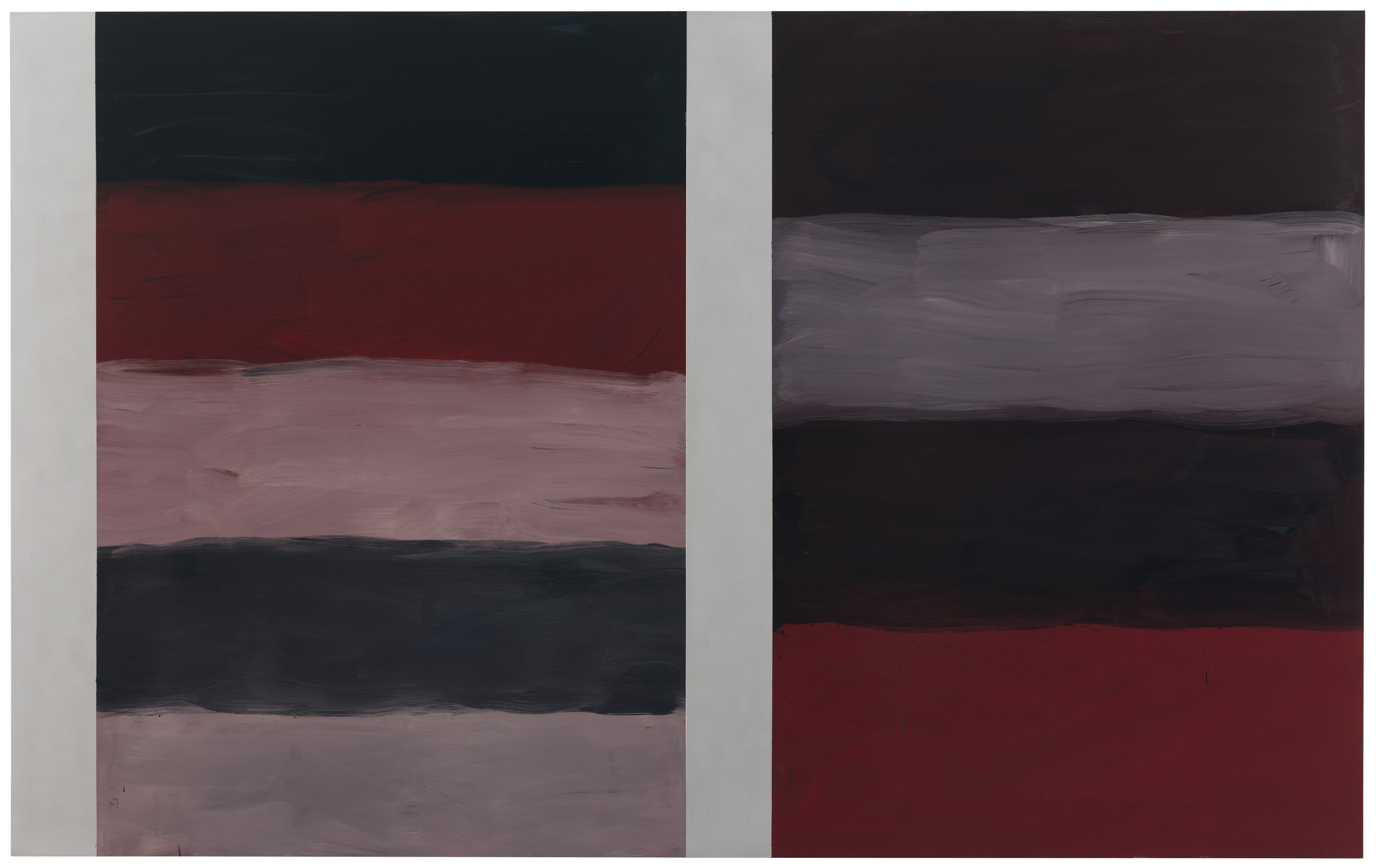 The colours range from soft and sensual hues, such as a rose that references the saturated and humid qualities that Scully perceives in Pierre Bonnard's (1867–1947) use of the same colour. Counterbalancing this effect, the creamy and dark greys allude to the melancholy and grittiness of the cities the artist has lived in, including London, New York, Berlin, Munich and Barcelona.
Mirroring Maroon, 2020
Oil on aluminium
250 x 400 cm (98.4 x 157.5 in)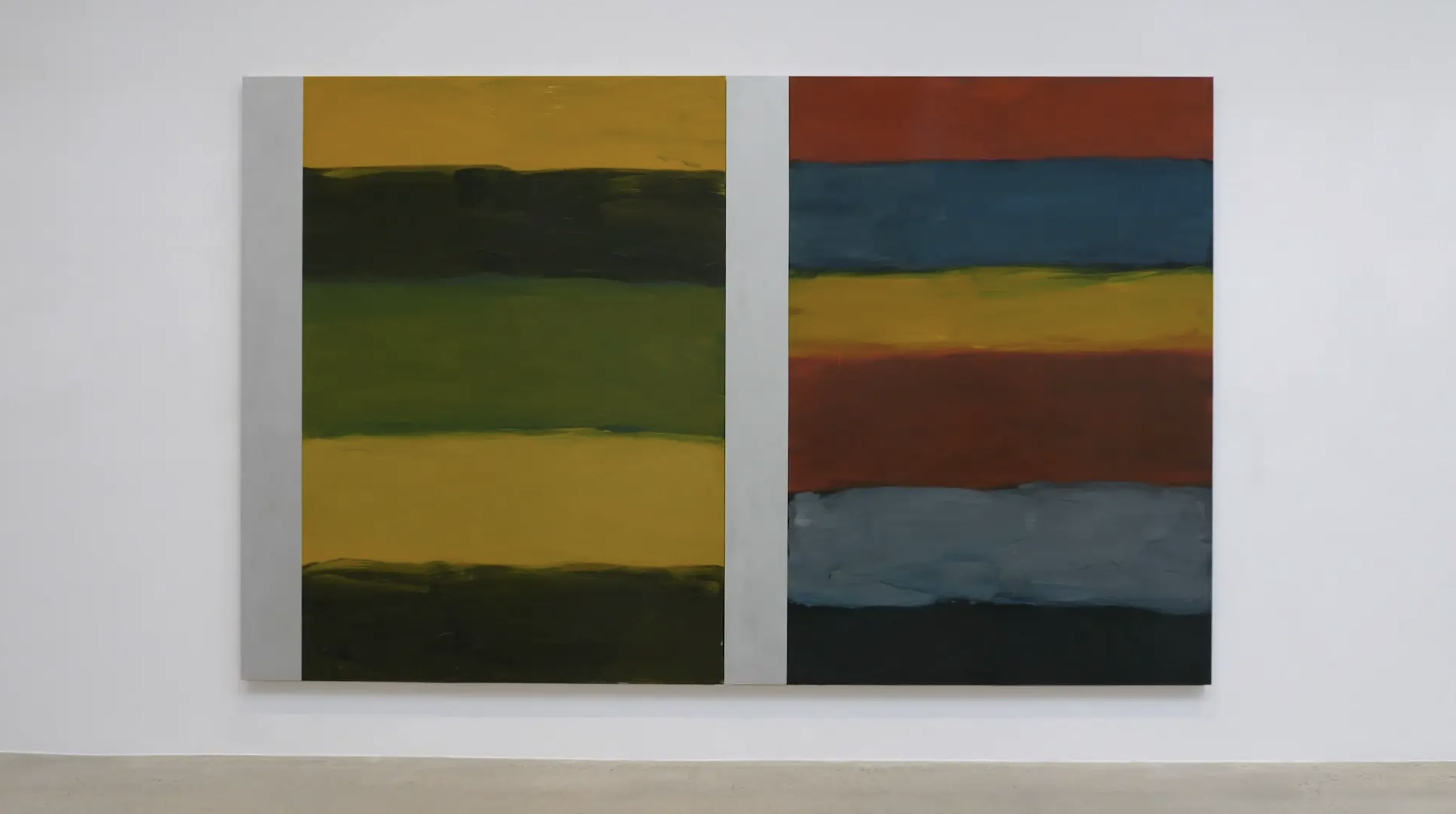 The gradations of tone and combinations of colours allow for a sensorial and emotional impact, enhanced by the shimmering effect of the metal. The paintings capture ever-changing landscapes, with horizons that appear to shimmer and shift within the pictorial frame. Although they are strongly abstract, Sean Scully's paintings are informed by life, experience and sensation.
Mirroring Yellow 4.5.20, 2020
Oil on aluminium
250 x 400 cm (98.4 x 157.5 in)
'Characteristic of Scully's painting, beyond this particular handling of perceptual levels, is a subtle interplay between painterly execution of detail, and the painting's overall effect, an interplay unknown in Frank Stella's or [Jasper] Johns' work. For what at close range is seen as an improvised drama or brushwork appears at greater distance in the large format as purposeful circumspection.'
— Anne Krauter in Artforum
'Within the abstract arrangement of these paintings lies the memory of a landscape, confirming perhaps Robert Rosenblum's celebrated theory that "modern painting has links with the northern Romantic tradition".'
— Pascal Rousseau, Professor of Contemporary Art History at the Sorbonne
Photograph by Sean Scully, Norfolk, UK
The Landline series has been at the heart of Sean Scully's practice for the past decade. The works were originally inspired by a photograph that the artist took of a seascape from a cliff in Norfolk, England: 'I try to paint this sense of the elemental coming together, of land and sea, sky and land, of blocks coming together side by side, stacked in horizon lines endlessly beginning and ending.'
Landline Rising Blue, 2018
Oil on aluminium
300 x 190 cm (118.11 x 74.8 in)
In his Wall of Light series begun in 1998, Sean Scully plays with opposites, as suggested by the title. The arranged colour blocks are rendered with thick layers of paint that may evoke solid stone walls, while the variations in hues and brightness emulate impressions of light.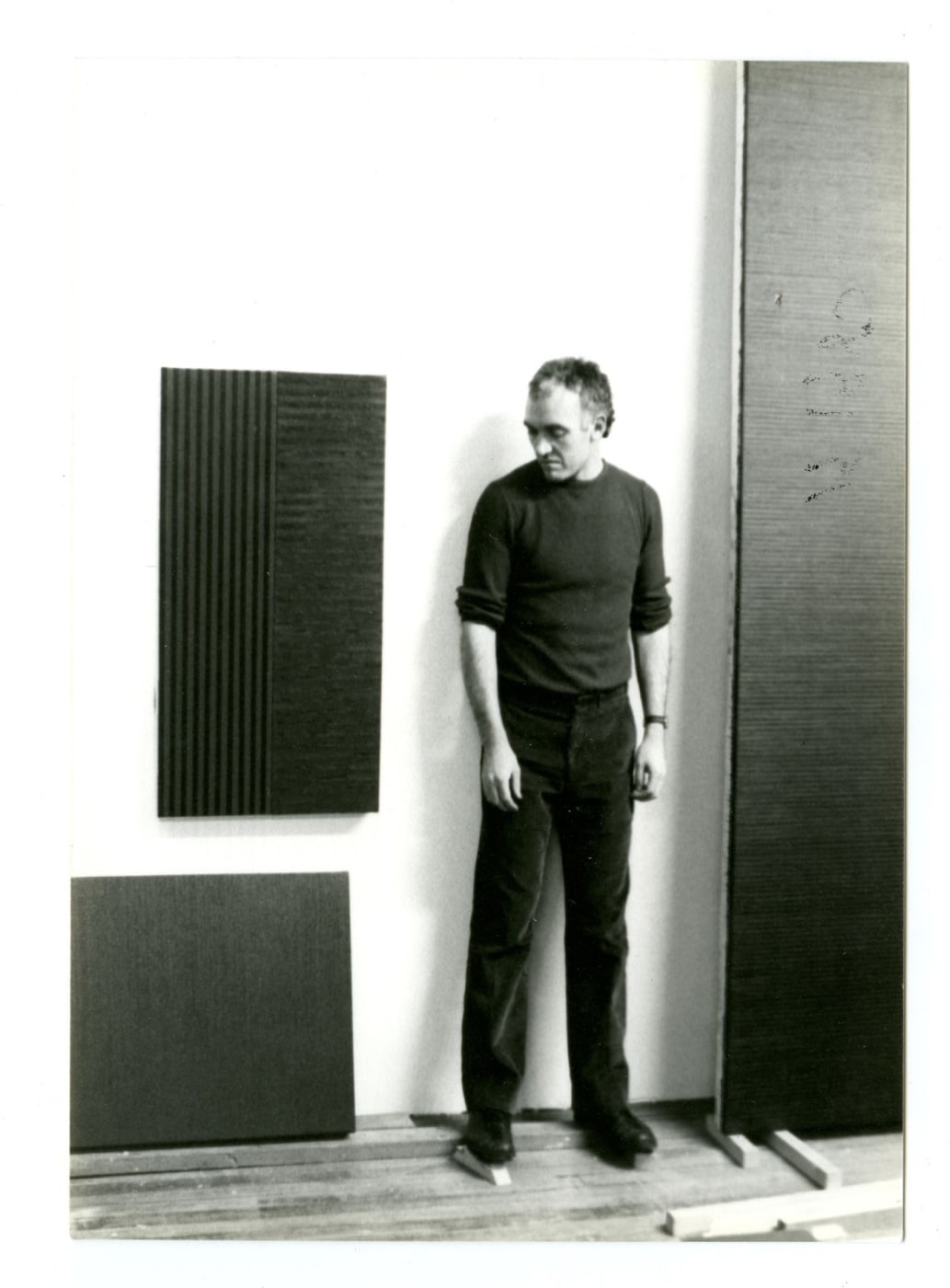 'I found myself in the fortunate position of being a European painter in New York with an understanding of the American vernacular. So I was able to paint these kind of shapes, these simple shapes that obviously relate to

Minimalism

, but with emotion and with the knowledge of European painting embedded in them.'
Scully has often expressed his admiration for French artists, in particular Claude Monet, André Derain and Vincent van Gogh, who spent most of his life in France. The various shades of yellow and blue in Star (2021) refer to the bold tones used by van Gogh to portray the southern light.
Star, 2021
Oil on linen
160 x 160 cm (63 x 63 in)
The repetition in Scully's work is not simply a formal device, it also seems to reflect the modern conditions of work and its repetitive tasks.
'I worked on building sites. I did all this physical labour. I was a plasterer labourer, that's why the idea of bricks is very close to me. A friend once called me the bricklayer of the soul.'
'In the late '80s, I started to put a lot of windows into the paintings, and they were real windows. My work is always based on metaphor, so the meaning of [black] didn't touch me as true at that time. It was only now when I returned to this window idea that I could see them as black, because of what's in the air.'
— Sean Scully in The New York Times, 2020
Black Window Pale Land, 2020
Oil on aluminium
215.9 x 190.5 cm (85 x 75 in)
The black square inserted within Black Window Pale Land (2020) alludes to the Russian avant-garde artist Kazimir Malevich (1879–1935).
This new form in Scully's practice has emerged in response to the effects of the pandemic, during which perspectives have been disrupted and even darkened.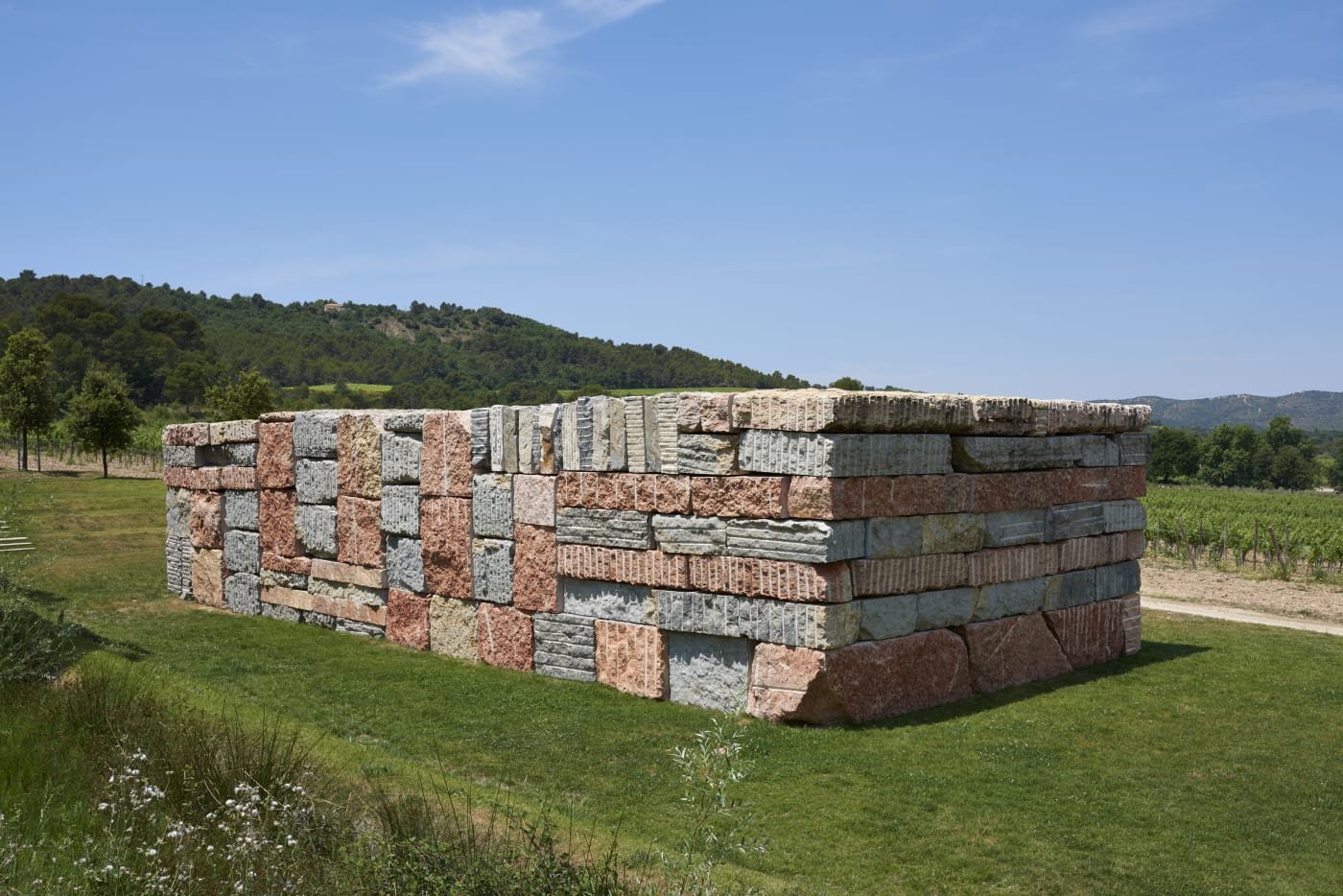 In recent years, Scully has also increasingly turned to sculpture, creating monumental structures that engage with primary forms while humanising their geometries. As in his paintings, these sculptures feature individual rectangular sections that slot together, maintaining his ongoing interest in interlocking brick forms.
'My idea was to make sculptures that had no space in them. So all I did was three-dimensionalised my paintings. I didn't think about the problems of sculpture. I made a big sculpture in Aix en Provence called Wall of Light Cubed. It is just one of my paintings cubed.'
Wall Landline Dark Yellow, 2021
Oil on aluminium
215.9 x 190.5 cm (85 x 75 in)
'With their broad panels of colour, his signature abstracts are as reassuring as a horizon at dawn and as elusive in meaning as the ocean. If you encounter a Scully when you are feeling blue, it will offer solace. When you're blithe, it will enhance your joy. Less bleak and theological than Rothko, less agitated than Pollock, these pictures bring balm to the soul rather than turmoil.'
— Rachel Spence, Financial Times