Megan Rooney
at Fondation Louis Vuitton
La Couleur en Fugue
Until 29 August 2022
Fondation Louis Vuitton Paris
Scroll down to learn more
Megan Rooney's installation With Sun (2022) is currently on view as part of the group exhibition

La Couleur en Fugue

, which
presents works through which paint is free to escape the limited scope of the canvas. Colours and shapes discover new freedoms as they consume the surrounding spaces, such as the walls, floor, and ceiling. The diverse variations of colour extend into the architecture in close interaction with the Frank Gehry-designed building, and include works by five internationally-renowned artists of various origins and generations.
Exhibition video
Watch a video of Megan Rooney talking about her installation at the Fondation Louis Vuitton
Intermingling painting, architecture and performance art, Megan Rooney lays claim to an open-air gallery to create a pictorial landscape in which the non-figuration is based on the evocation of reality. In With Sun (2022), the artist uses a variety of tools to apply paint to the wall, producing an immersive realm of coloured vibrations through strokes spurred by the body's movements in relation with the setting.

Download the Fondation Louis Vuitton press release
Before I start painting, I like to put my bare feet on a bit of earth. So that I can feel the force and energy of all that is happening below ground.
I have a special relationship with all the seasons because the light varies dramatically depending on the month… but Spring is particularly sacred to me.
Like staring into a wild drawing, the bare brown woods expose their lines to us. Long before green returns, nature slowly begins to add colour to her palette. In the distance, an apparition of ghostly white dogwood. Around the corner, the silent, erotic pods of the magnolia tree are waiting to explode dusty-pink perfection. The mimosa tree is waving her yellow arms at us. And we are better for it.
The images that possess me linger in my memory and spill out when faced with the impossibility of a blank surface. As I begin to paint, I start to imagine letting go of the ground force under my feet. I take flight and I try to catch a good wind in the sky of my painting. So that the colours might penetrate and embrace me, so that I might become engulfed.
When I was lying on the floor of the gallery, staring into the sky through the open portal in the ceiling above, I began to dream of a little myth. The moon chases the sun through the building. She slips down the aperture in the ceiling and gets trapped bouncing around the room.
All painting is about storytelling. I feel the act of painting connects me to the oldest parts of humanity. Telling stories is a central part of the human condition. This impulse to leave a trace, to make a mark, to say I was here.
Memory and time, time and colour, colour and light. Painting is a space in which everything else slips away and I am free.



Megan Rooney,

With Sun

,

2022
'Megan Rooney constructs her colourful murals in intense dialogue with the architecture of a space. Immersing herself in the experience of a room, she extracts fantastical stories or myths, which inspire the gestural, labour-intensive work that follows.' — Sean Burns, Frieze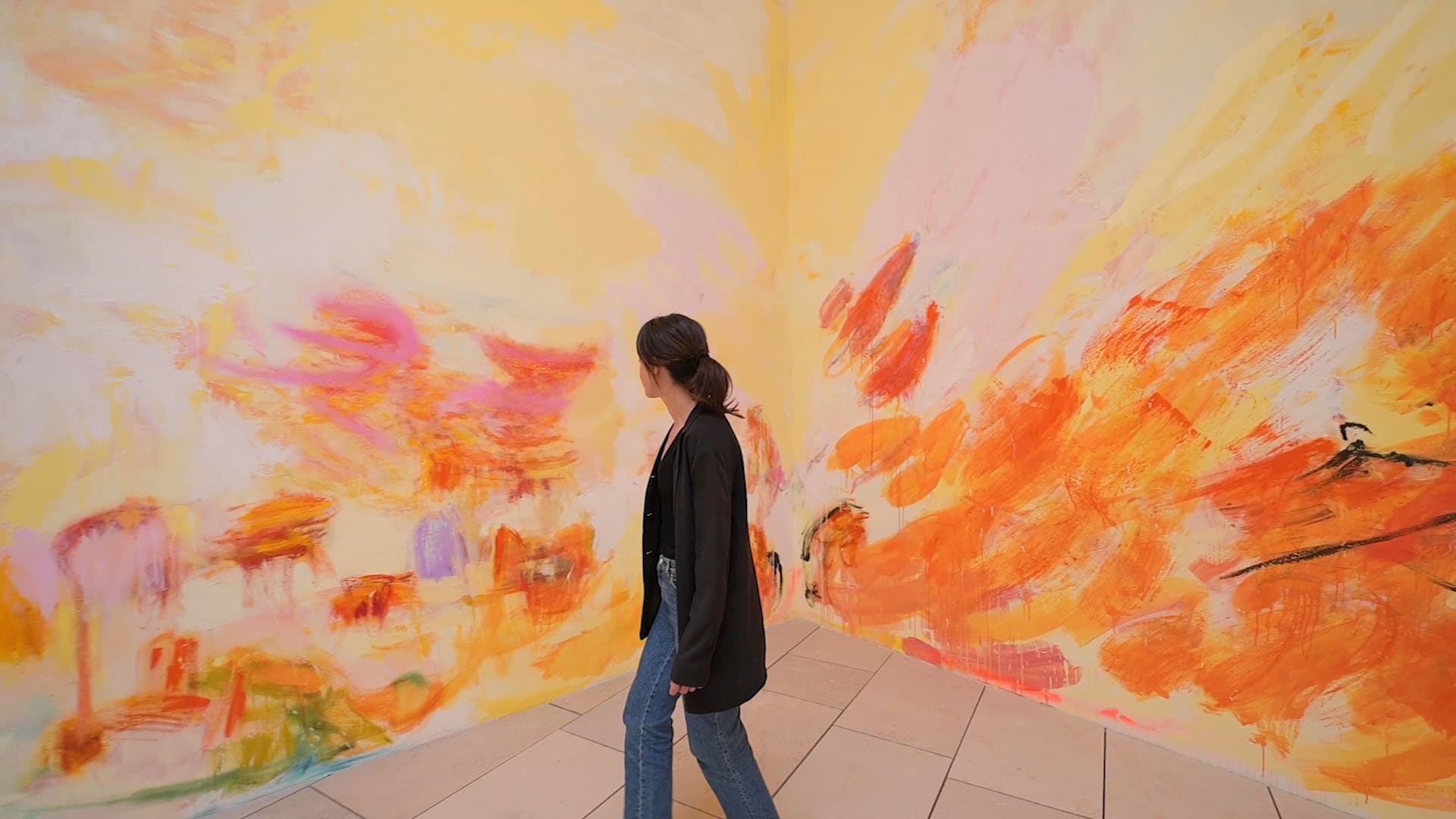 ["https://artlogic-res.cloudinary.com/w_1920,h_1080,c_fill,f_auto,fl_lossy,q_auto:good/ws-ropac/usr/feature_panels/images/2364/trimed-mr-withsun0000.jpg", "https://artlogic-res.cloudinary.com/w_1920,h_1080,c_fill,f_auto,fl_lossy,q_auto:good/ws-ropac/usr/feature_panels/images/2364/trimed-mr-withsun0001.jpg", "https://artlogic-res.cloudinary.com/w_1920,h_1080,c_fill,f_auto,fl_lossy,q_auto:good/ws-ropac/usr/feature_panels/images/2364/trimed-mr-withsun0002.jpg", "https://artlogic-res.cloudinary.com/w_1920,h_1080,c_fill,f_auto,fl_lossy,q_auto:good/ws-ropac/usr/feature_panels/images/2364/trimed-mr-withsun0003.jpg", "https://artlogic-res.cloudinary.com/w_1920,h_1080,c_fill,f_auto,fl_lossy,q_auto:good/ws-ropac/usr/feature_panels/images/2364/trimed-mr-withsun0004.jpg", "https://artlogic-res.cloudinary.com/w_1920,h_1080,c_fill,f_auto,fl_lossy,q_auto:good/ws-ropac/usr/feature_panels/images/2364/trimed-mr-withsun0005.jpg", "https://artlogic-res.cloudinary.com/w_1920,h_1080,c_fill,f_auto,fl_lossy,q_auto:good/ws-ropac/usr/feature_panels/images/2364/trimed-mr-withsun0006.jpg", "https://artlogic-res.cloudinary.com/w_1920,h_1080,c_fill,f_auto,fl_lossy,q_auto:good/ws-ropac/usr/feature_panels/images/2364/trimed-mr-withsun0007.jpg", "https://artlogic-res.cloudinary.com/w_1920,h_1080,c_fill,f_auto,fl_lossy,q_auto:good/ws-ropac/usr/feature_panels/images/2364/trimed-mr-withsun0008.jpg", "https://artlogic-res.cloudinary.com/w_1920,h_1080,c_fill,f_auto,fl_lossy,q_auto:good/ws-ropac/usr/feature_panels/images/2364/trimed-mr-withsun0009.jpg", "https://artlogic-res.cloudinary.com/w_1920,h_1080,c_fill,f_auto,fl_lossy,q_auto:good/ws-ropac/usr/feature_panels/images/2364/trimed-mr-withsun0010.jpg", "https://artlogic-res.cloudinary.com/w_1920,h_1080,c_fill,f_auto,fl_lossy,q_auto:good/ws-ropac/usr/feature_panels/images/2364/trimed-mr-withsun0011.jpg", "https://artlogic-res.cloudinary.com/w_1920,h_1080,c_fill,f_auto,fl_lossy,q_auto:good/ws-ropac/usr/feature_panels/images/2364/trimed-mr-withsun0012.jpg", "https://artlogic-res.cloudinary.com/w_1920,h_1080,c_fill,f_auto,fl_lossy,q_auto:good/ws-ropac/usr/feature_panels/images/2364/trimed-mr-withsun0013.jpg", "https://artlogic-res.cloudinary.com/w_1920,h_1080,c_fill,f_auto,fl_lossy,q_auto:good/ws-ropac/usr/feature_panels/images/2364/trimed-mr-withsun0014.jpg", "https://artlogic-res.cloudinary.com/w_1920,h_1080,c_fill,f_auto,fl_lossy,q_auto:good/ws-ropac/usr/feature_panels/images/2364/trimed-mr-withsun0015.jpg", "https://artlogic-res.cloudinary.com/w_1920,h_1080,c_fill,f_auto,fl_lossy,q_auto:good/ws-ropac/usr/feature_panels/images/2364/trimed-mr-withsun0016.jpg", "https://artlogic-res.cloudinary.com/w_1920,h_1080,c_fill,f_auto,fl_lossy,q_auto:good/ws-ropac/usr/feature_panels/images/2364/trimed-mr-withsun0017.jpg", "https://artlogic-res.cloudinary.com/w_1920,h_1080,c_fill,f_auto,fl_lossy,q_auto:good/ws-ropac/usr/feature_panels/images/2364/trimed-mr-withsun0018.jpg", "https://artlogic-res.cloudinary.com/w_1920,h_1080,c_fill,f_auto,fl_lossy,q_auto:good/ws-ropac/usr/feature_panels/images/2364/trimed-mr-withsun0019.jpg", "https://artlogic-res.cloudinary.com/w_1920,h_1080,c_fill,f_auto,fl_lossy,q_auto:good/ws-ropac/usr/feature_panels/images/2364/trimed-mr-withsun0020.jpg", "https://artlogic-res.cloudinary.com/w_1920,h_1080,c_fill,f_auto,fl_lossy,q_auto:good/ws-ropac/usr/feature_panels/images/2364/trimed-mr-withsun0021.jpg", "https://artlogic-res.cloudinary.com/w_1920,h_1080,c_fill,f_auto,fl_lossy,q_auto:good/ws-ropac/usr/feature_panels/images/2364/trimed-mr-withsun0022.jpg", "https://artlogic-res.cloudinary.com/w_1920,h_1080,c_fill,f_auto,fl_lossy,q_auto:good/ws-ropac/usr/feature_panels/images/2364/trimed-mr-withsun0023.jpg", "https://artlogic-res.cloudinary.com/w_1920,h_1080,c_fill,f_auto,fl_lossy,q_auto:good/ws-ropac/usr/feature_panels/images/2364/trimed-mr-withsun0024.jpg", "https://artlogic-res.cloudinary.com/w_1920,h_1080,c_fill,f_auto,fl_lossy,q_auto:good/ws-ropac/usr/feature_panels/images/2364/trimed-mr-withsun0025.jpg", "https://artlogic-res.cloudinary.com/w_1920,h_1080,c_fill,f_auto,fl_lossy,q_auto:good/ws-ropac/usr/feature_panels/images/2364/trimed-mr-withsun0026.jpg", "https://artlogic-res.cloudinary.com/w_1920,h_1080,c_fill,f_auto,fl_lossy,q_auto:good/ws-ropac/usr/feature_panels/images/2364/trimed-mr-withsun0027.jpg", "https://artlogic-res.cloudinary.com/w_1920,h_1080,c_fill,f_auto,fl_lossy,q_auto:good/ws-ropac/usr/feature_panels/images/2364/trimed-mr-withsun0028.jpg", "https://artlogic-res.cloudinary.com/w_1920,h_1080,c_fill,f_auto,fl_lossy,q_auto:good/ws-ropac/usr/feature_panels/images/2364/trimed-mr-withsun0029.jpg", "https://artlogic-res.cloudinary.com/w_1920,h_1080,c_fill,f_auto,fl_lossy,q_auto:good/ws-ropac/usr/feature_panels/images/2364/trimed-mr-withsun0030.jpg", "https://artlogic-res.cloudinary.com/w_1920,h_1080,c_fill,f_auto,fl_lossy,q_auto:good/ws-ropac/usr/feature_panels/images/2364/trimed-mr-withsun0031.jpg", "https://artlogic-res.cloudinary.com/w_1920,h_1080,c_fill,f_auto,fl_lossy,q_auto:good/ws-ropac/usr/feature_panels/images/2364/trimed-mr-withsun0032.jpg", "https://artlogic-res.cloudinary.com/w_1920,h_1080,c_fill,f_auto,fl_lossy,q_auto:good/ws-ropac/usr/feature_panels/images/2364/trimed-mr-withsun0033.jpg", "https://artlogic-res.cloudinary.com/w_1920,h_1080,c_fill,f_auto,fl_lossy,q_auto:good/ws-ropac/usr/feature_panels/images/2364/trimed-mr-withsun0034.jpg", "https://artlogic-res.cloudinary.com/w_1920,h_1080,c_fill,f_auto,fl_lossy,q_auto:good/ws-ropac/usr/feature_panels/images/2364/trimed-mr-withsun0035.jpg", "https://artlogic-res.cloudinary.com/w_1920,h_1080,c_fill,f_auto,fl_lossy,q_auto:good/ws-ropac/usr/feature_panels/images/2364/trimed-mr-withsun0036.jpg", "https://artlogic-res.cloudinary.com/w_1920,h_1080,c_fill,f_auto,fl_lossy,q_auto:good/ws-ropac/usr/feature_panels/images/2364/trimed-mr-withsun0037.jpg", "https://artlogic-res.cloudinary.com/w_1920,h_1080,c_fill,f_auto,fl_lossy,q_auto:good/ws-ropac/usr/feature_panels/images/2364/trimed-mr-withsun0038.jpg", "https://artlogic-res.cloudinary.com/w_1920,h_1080,c_fill,f_auto,fl_lossy,q_auto:good/ws-ropac/usr/feature_panels/images/2364/trimed-mr-withsun0039.jpg", "https://artlogic-res.cloudinary.com/w_1920,h_1080,c_fill,f_auto,fl_lossy,q_auto:good/ws-ropac/usr/feature_panels/images/2364/trimed-mr-withsun0040.jpg", "https://artlogic-res.cloudinary.com/w_1920,h_1080,c_fill,f_auto,fl_lossy,q_auto:good/ws-ropac/usr/feature_panels/images/2364/trimed-mr-withsun0041.jpg", "https://artlogic-res.cloudinary.com/w_1920,h_1080,c_fill,f_auto,fl_lossy,q_auto:good/ws-ropac/usr/feature_panels/images/2364/trimed-mr-withsun0042.jpg", "https://artlogic-res.cloudinary.com/w_1920,h_1080,c_fill,f_auto,fl_lossy,q_auto:good/ws-ropac/usr/feature_panels/images/2364/trimed-mr-withsun0043.jpg", "https://artlogic-res.cloudinary.com/w_1920,h_1080,c_fill,f_auto,fl_lossy,q_auto:good/ws-ropac/usr/feature_panels/images/2364/trimed-mr-withsun0044.jpg", "https://artlogic-res.cloudinary.com/w_1920,h_1080,c_fill,f_auto,fl_lossy,q_auto:good/ws-ropac/usr/feature_panels/images/2364/trimed-mr-withsun0045.jpg", "https://artlogic-res.cloudinary.com/w_1920,h_1080,c_fill,f_auto,fl_lossy,q_auto:good/ws-ropac/usr/feature_panels/images/2364/trimed-mr-withsun0046.jpg", "https://artlogic-res.cloudinary.com/w_1920,h_1080,c_fill,f_auto,fl_lossy,q_auto:good/ws-ropac/usr/feature_panels/images/2364/trimed-mr-withsun0047.jpg", "https://artlogic-res.cloudinary.com/w_1920,h_1080,c_fill,f_auto,fl_lossy,q_auto:good/ws-ropac/usr/feature_panels/images/2364/trimed-mr-withsun0048.jpg", "https://artlogic-res.cloudinary.com/w_1920,h_1080,c_fill,f_auto,fl_lossy,q_auto:good/ws-ropac/usr/feature_panels/images/2364/trimed-mr-withsun0049.jpg", "https://artlogic-res.cloudinary.com/w_1920,h_1080,c_fill,f_auto,fl_lossy,q_auto:good/ws-ropac/usr/feature_panels/images/2364/trimed-mr-withsun0050.jpg", "https://artlogic-res.cloudinary.com/w_1920,h_1080,c_fill,f_auto,fl_lossy,q_auto:good/ws-ropac/usr/feature_panels/images/2364/trimed-mr-withsun0051.jpg", "https://artlogic-res.cloudinary.com/w_1920,h_1080,c_fill,f_auto,fl_lossy,q_auto:good/ws-ropac/usr/feature_panels/images/2364/trimed-mr-withsun0052.jpg", "https://artlogic-res.cloudinary.com/w_1920,h_1080,c_fill,f_auto,fl_lossy,q_auto:good/ws-ropac/usr/feature_panels/images/2364/trimed-mr-withsun0053.jpg", "https://artlogic-res.cloudinary.com/w_1920,h_1080,c_fill,f_auto,fl_lossy,q_auto:good/ws-ropac/usr/feature_panels/images/2364/trimed-mr-withsun0054.jpg", "https://artlogic-res.cloudinary.com/w_1920,h_1080,c_fill,f_auto,fl_lossy,q_auto:good/ws-ropac/usr/feature_panels/images/2364/trimed-mr-withsun0055.jpg", "https://artlogic-res.cloudinary.com/w_1920,h_1080,c_fill,f_auto,fl_lossy,q_auto:good/ws-ropac/usr/feature_panels/images/2364/trimed-mr-withsun0056.jpg", "https://artlogic-res.cloudinary.com/w_1920,h_1080,c_fill,f_auto,fl_lossy,q_auto:good/ws-ropac/usr/feature_panels/images/2364/trimed-mr-withsun0057.jpg", "https://artlogic-res.cloudinary.com/w_1920,h_1080,c_fill,f_auto,fl_lossy,q_auto:good/ws-ropac/usr/feature_panels/images/2364/trimed-mr-withsun0058.jpg", "https://artlogic-res.cloudinary.com/w_1920,h_1080,c_fill,f_auto,fl_lossy,q_auto:good/ws-ropac/usr/feature_panels/images/2364/trimed-mr-withsun0059.jpg", "https://artlogic-res.cloudinary.com/w_1920,h_1080,c_fill,f_auto,fl_lossy,q_auto:good/ws-ropac/usr/feature_panels/images/2364/trimed-mr-withsun0060.jpg", "https://artlogic-res.cloudinary.com/w_1920,h_1080,c_fill,f_auto,fl_lossy,q_auto:good/ws-ropac/usr/feature_panels/images/2364/trimed-mr-withsun0061.jpg", "https://artlogic-res.cloudinary.com/w_1920,h_1080,c_fill,f_auto,fl_lossy,q_auto:good/ws-ropac/usr/feature_panels/images/2364/trimed-mr-withsun0062.jpg", "https://artlogic-res.cloudinary.com/w_1920,h_1080,c_fill,f_auto,fl_lossy,q_auto:good/ws-ropac/usr/feature_panels/images/2364/trimed-mr-withsun0063.jpg", "https://artlogic-res.cloudinary.com/w_1920,h_1080,c_fill,f_auto,fl_lossy,q_auto:good/ws-ropac/usr/feature_panels/images/2364/trimed-mr-withsun0064.jpg", "https://artlogic-res.cloudinary.com/w_1920,h_1080,c_fill,f_auto,fl_lossy,q_auto:good/ws-ropac/usr/feature_panels/images/2364/trimed-mr-withsun0065.jpg", "https://artlogic-res.cloudinary.com/w_1920,h_1080,c_fill,f_auto,fl_lossy,q_auto:good/ws-ropac/usr/feature_panels/images/2364/trimed-mr-withsun0066.jpg", "https://artlogic-res.cloudinary.com/w_1920,h_1080,c_fill,f_auto,fl_lossy,q_auto:good/ws-ropac/usr/feature_panels/images/2364/trimed-mr-withsun0067.jpg", "https://artlogic-res.cloudinary.com/w_1920,h_1080,c_fill,f_auto,fl_lossy,q_auto:good/ws-ropac/usr/feature_panels/images/2364/trimed-mr-withsun0068.jpg", "https://artlogic-res.cloudinary.com/w_1920,h_1080,c_fill,f_auto,fl_lossy,q_auto:good/ws-ropac/usr/feature_panels/images/2364/trimed-mr-withsun0069.jpg", "https://artlogic-res.cloudinary.com/w_1920,h_1080,c_fill,f_auto,fl_lossy,q_auto:good/ws-ropac/usr/feature_panels/images/2364/trimed-mr-withsun0070.jpg", "https://artlogic-res.cloudinary.com/w_1920,h_1080,c_fill,f_auto,fl_lossy,q_auto:good/ws-ropac/usr/feature_panels/images/2364/trimed-mr-withsun0071.jpg", "https://artlogic-res.cloudinary.com/w_1920,h_1080,c_fill,f_auto,fl_lossy,q_auto:good/ws-ropac/usr/feature_panels/images/2364/trimed-mr-withsun0072.jpg", "https://artlogic-res.cloudinary.com/w_1920,h_1080,c_fill,f_auto,fl_lossy,q_auto:good/ws-ropac/usr/feature_panels/images/2364/trimed-mr-withsun0073.jpg", "https://artlogic-res.cloudinary.com/w_1920,h_1080,c_fill,f_auto,fl_lossy,q_auto:good/ws-ropac/usr/feature_panels/images/2364/trimed-mr-withsun0074.jpg", "https://artlogic-res.cloudinary.com/w_1920,h_1080,c_fill,f_auto,fl_lossy,q_auto:good/ws-ropac/usr/feature_panels/images/2364/trimed-mr-withsun0075.jpg", "https://artlogic-res.cloudinary.com/w_1920,h_1080,c_fill,f_auto,fl_lossy,q_auto:good/ws-ropac/usr/feature_panels/images/2364/trimed-mr-withsun0076.jpg", "https://artlogic-res.cloudinary.com/w_1920,h_1080,c_fill,f_auto,fl_lossy,q_auto:good/ws-ropac/usr/feature_panels/images/2364/trimed-mr-withsun0077.jpg", "https://artlogic-res.cloudinary.com/w_1920,h_1080,c_fill,f_auto,fl_lossy,q_auto:good/ws-ropac/usr/feature_panels/images/2364/trimed-mr-withsun0078.jpg", "https://artlogic-res.cloudinary.com/w_1920,h_1080,c_fill,f_auto,fl_lossy,q_auto:good/ws-ropac/usr/feature_panels/images/2364/trimed-mr-withsun0079.jpg", "https://artlogic-res.cloudinary.com/w_1920,h_1080,c_fill,f_auto,fl_lossy,q_auto:good/ws-ropac/usr/feature_panels/images/2364/trimed-mr-withsun0080.jpg", "https://artlogic-res.cloudinary.com/w_1920,h_1080,c_fill,f_auto,fl_lossy,q_auto:good/ws-ropac/usr/feature_panels/images/2364/trimed-mr-withsun0081.jpg", "https://artlogic-res.cloudinary.com/w_1920,h_1080,c_fill,f_auto,fl_lossy,q_auto:good/ws-ropac/usr/feature_panels/images/2364/trimed-mr-withsun0082.jpg", "https://artlogic-res.cloudinary.com/w_1920,h_1080,c_fill,f_auto,fl_lossy,q_auto:good/ws-ropac/usr/feature_panels/images/2364/trimed-mr-withsun0083.jpg", "https://artlogic-res.cloudinary.com/w_1920,h_1080,c_fill,f_auto,fl_lossy,q_auto:good/ws-ropac/usr/feature_panels/images/2364/trimed-mr-withsun0084.jpg", "https://artlogic-res.cloudinary.com/w_1920,h_1080,c_fill,f_auto,fl_lossy,q_auto:good/ws-ropac/usr/feature_panels/images/2364/trimed-mr-withsun0085.jpg", "https://artlogic-res.cloudinary.com/w_1920,h_1080,c_fill,f_auto,fl_lossy,q_auto:good/ws-ropac/usr/feature_panels/images/2364/trimed-mr-withsun0086.jpg", "https://artlogic-res.cloudinary.com/w_1920,h_1080,c_fill,f_auto,fl_lossy,q_auto:good/ws-ropac/usr/feature_panels/images/2364/trimed-mr-withsun0087.jpg", "https://artlogic-res.cloudinary.com/w_1920,h_1080,c_fill,f_auto,fl_lossy,q_auto:good/ws-ropac/usr/feature_panels/images/2364/trimed-mr-withsun0088.jpg", "https://artlogic-res.cloudinary.com/w_1920,h_1080,c_fill,f_auto,fl_lossy,q_auto:good/ws-ropac/usr/feature_panels/images/2364/trimed-mr-withsun0089.jpg", "https://artlogic-res.cloudinary.com/w_1920,h_1080,c_fill,f_auto,fl_lossy,q_auto:good/ws-ropac/usr/feature_panels/images/2364/trimed-mr-withsun0090.jpg", "https://artlogic-res.cloudinary.com/w_1920,h_1080,c_fill,f_auto,fl_lossy,q_auto:good/ws-ropac/usr/feature_panels/images/2364/trimed-mr-withsun0091.jpg", "https://artlogic-res.cloudinary.com/w_1920,h_1080,c_fill,f_auto,fl_lossy,q_auto:good/ws-ropac/usr/feature_panels/images/2364/trimed-mr-withsun0092.jpg", "https://artlogic-res.cloudinary.com/w_1920,h_1080,c_fill,f_auto,fl_lossy,q_auto:good/ws-ropac/usr/feature_panels/images/2364/trimed-mr-withsun0093.jpg", "https://artlogic-res.cloudinary.com/w_1920,h_1080,c_fill,f_auto,fl_lossy,q_auto:good/ws-ropac/usr/feature_panels/images/2364/trimed-mr-withsun0094.jpg", "https://artlogic-res.cloudinary.com/w_1920,h_1080,c_fill,f_auto,fl_lossy,q_auto:good/ws-ropac/usr/feature_panels/images/2364/trimed-mr-withsun0095.jpg", "https://artlogic-res.cloudinary.com/w_1920,h_1080,c_fill,f_auto,fl_lossy,q_auto:good/ws-ropac/usr/feature_panels/images/2364/trimed-mr-withsun0096.jpg", "https://artlogic-res.cloudinary.com/w_1920,h_1080,c_fill,f_auto,fl_lossy,q_auto:good/ws-ropac/usr/feature_panels/images/2364/trimed-mr-withsun0097.jpg", "https://artlogic-res.cloudinary.com/w_1920,h_1080,c_fill,f_auto,fl_lossy,q_auto:good/ws-ropac/usr/feature_panels/images/2364/trimed-mr-withsun0098.jpg", "https://artlogic-res.cloudinary.com/w_1920,h_1080,c_fill,f_auto,fl_lossy,q_auto:good/ws-ropac/usr/feature_panels/images/2364/trimed-mr-withsun0099.jpg", "https://artlogic-res.cloudinary.com/w_1920,h_1080,c_fill,f_auto,fl_lossy,q_auto:good/ws-ropac/usr/feature_panels/images/2364/trimed-mr-withsun0100.jpg", "https://artlogic-res.cloudinary.com/w_1920,h_1080,c_fill,f_auto,fl_lossy,q_auto:good/ws-ropac/usr/feature_panels/images/2364/trimed-mr-withsun0101.jpg", "https://artlogic-res.cloudinary.com/w_1920,h_1080,c_fill,f_auto,fl_lossy,q_auto:good/ws-ropac/usr/feature_panels/images/2364/trimed-mr-withsun0102.jpg", "https://artlogic-res.cloudinary.com/w_1920,h_1080,c_fill,f_auto,fl_lossy,q_auto:good/ws-ropac/usr/feature_panels/images/2364/trimed-mr-withsun0103.jpg", "https://artlogic-res.cloudinary.com/w_1920,h_1080,c_fill,f_auto,fl_lossy,q_auto:good/ws-ropac/usr/feature_panels/images/2364/trimed-mr-withsun0104.jpg", "https://artlogic-res.cloudinary.com/w_1920,h_1080,c_fill,f_auto,fl_lossy,q_auto:good/ws-ropac/usr/feature_panels/images/2364/trimed-mr-withsun0105.jpg", "https://artlogic-res.cloudinary.com/w_1920,h_1080,c_fill,f_auto,fl_lossy,q_auto:good/ws-ropac/usr/feature_panels/images/2364/trimed-mr-withsun0106.jpg", "https://artlogic-res.cloudinary.com/w_1920,h_1080,c_fill,f_auto,fl_lossy,q_auto:good/ws-ropac/usr/feature_panels/images/2364/trimed-mr-withsun0107.jpg", "https://artlogic-res.cloudinary.com/w_1920,h_1080,c_fill,f_auto,fl_lossy,q_auto:good/ws-ropac/usr/feature_panels/images/2364/trimed-mr-withsun0108.jpg", "https://artlogic-res.cloudinary.com/w_1920,h_1080,c_fill,f_auto,fl_lossy,q_auto:good/ws-ropac/usr/feature_panels/images/2364/trimed-mr-withsun0109.jpg", "https://artlogic-res.cloudinary.com/w_1920,h_1080,c_fill,f_auto,fl_lossy,q_auto:good/ws-ropac/usr/feature_panels/images/2364/trimed-mr-withsun0110.jpg", "https://artlogic-res.cloudinary.com/w_1920,h_1080,c_fill,f_auto,fl_lossy,q_auto:good/ws-ropac/usr/feature_panels/images/2364/trimed-mr-withsun0111.jpg", "https://artlogic-res.cloudinary.com/w_1920,h_1080,c_fill,f_auto,fl_lossy,q_auto:good/ws-ropac/usr/feature_panels/images/2364/trimed-mr-withsun0112.jpg", "https://artlogic-res.cloudinary.com/w_1920,h_1080,c_fill,f_auto,fl_lossy,q_auto:good/ws-ropac/usr/feature_panels/images/2364/trimed-mr-withsun0113.jpg", "https://artlogic-res.cloudinary.com/w_1920,h_1080,c_fill,f_auto,fl_lossy,q_auto:good/ws-ropac/usr/feature_panels/images/2364/trimed-mr-withsun0114.jpg", "https://artlogic-res.cloudinary.com/w_1920,h_1080,c_fill,f_auto,fl_lossy,q_auto:good/ws-ropac/usr/feature_panels/images/2364/trimed-mr-withsun0115.jpg", "https://artlogic-res.cloudinary.com/w_1920,h_1080,c_fill,f_auto,fl_lossy,q_auto:good/ws-ropac/usr/feature_panels/images/2364/trimed-mr-withsun0116.jpg", "https://artlogic-res.cloudinary.com/w_1920,h_1080,c_fill,f_auto,fl_lossy,q_auto:good/ws-ropac/usr/feature_panels/images/2364/trimed-mr-withsun0117.jpg", "https://artlogic-res.cloudinary.com/w_1920,h_1080,c_fill,f_auto,fl_lossy,q_auto:good/ws-ropac/usr/feature_panels/images/2364/trimed-mr-withsun0118.jpg", "https://artlogic-res.cloudinary.com/w_1920,h_1080,c_fill,f_auto,fl_lossy,q_auto:good/ws-ropac/usr/feature_panels/images/2364/trimed-mr-withsun0119.jpg", "https://artlogic-res.cloudinary.com/w_1920,h_1080,c_fill,f_auto,fl_lossy,q_auto:good/ws-ropac/usr/feature_panels/images/2364/trimed-mr-withsun0120.jpg", "https://artlogic-res.cloudinary.com/w_1920,h_1080,c_fill,f_auto,fl_lossy,q_auto:good/ws-ropac/usr/feature_panels/images/2364/trimed-mr-withsun0121.jpg", "https://artlogic-res.cloudinary.com/w_1920,h_1080,c_fill,f_auto,fl_lossy,q_auto:good/ws-ropac/usr/feature_panels/images/2364/trimed-mr-withsun0122.jpg", "https://artlogic-res.cloudinary.com/w_1920,h_1080,c_fill,f_auto,fl_lossy,q_auto:good/ws-ropac/usr/feature_panels/images/2364/trimed-mr-withsun0123.jpg", "https://artlogic-res.cloudinary.com/w_1920,h_1080,c_fill,f_auto,fl_lossy,q_auto:good/ws-ropac/usr/feature_panels/images/2364/trimed-mr-withsun0124.jpg", "https://artlogic-res.cloudinary.com/w_1920,h_1080,c_fill,f_auto,fl_lossy,q_auto:good/ws-ropac/usr/feature_panels/images/2364/trimed-mr-withsun0125.jpg", "https://artlogic-res.cloudinary.com/w_1920,h_1080,c_fill,f_auto,fl_lossy,q_auto:good/ws-ropac/usr/feature_panels/images/2364/trimed-mr-withsun0126.jpg", "https://artlogic-res.cloudinary.com/w_1920,h_1080,c_fill,f_auto,fl_lossy,q_auto:good/ws-ropac/usr/feature_panels/images/2364/trimed-mr-withsun0127.jpg", "https://artlogic-res.cloudinary.com/w_1920,h_1080,c_fill,f_auto,fl_lossy,q_auto:good/ws-ropac/usr/feature_panels/images/2364/trimed-mr-withsun0128.jpg", "https://artlogic-res.cloudinary.com/w_1920,h_1080,c_fill,f_auto,fl_lossy,q_auto:good/ws-ropac/usr/feature_panels/images/2364/trimed-mr-withsun0129.jpg", "https://artlogic-res.cloudinary.com/w_1920,h_1080,c_fill,f_auto,fl_lossy,q_auto:good/ws-ropac/usr/feature_panels/images/2364/trimed-mr-withsun0130.jpg", "https://artlogic-res.cloudinary.com/w_1920,h_1080,c_fill,f_auto,fl_lossy,q_auto:good/ws-ropac/usr/feature_panels/images/2364/trimed-mr-withsun0131.jpg", "https://artlogic-res.cloudinary.com/w_1920,h_1080,c_fill,f_auto,fl_lossy,q_auto:good/ws-ropac/usr/feature_panels/images/2364/trimed-mr-withsun0132.jpg", "https://artlogic-res.cloudinary.com/w_1920,h_1080,c_fill,f_auto,fl_lossy,q_auto:good/ws-ropac/usr/feature_panels/images/2364/trimed-mr-withsun0133.jpg", "https://artlogic-res.cloudinary.com/w_1920,h_1080,c_fill,f_auto,fl_lossy,q_auto:good/ws-ropac/usr/feature_panels/images/2364/trimed-mr-withsun0134.jpg", "https://artlogic-res.cloudinary.com/w_1920,h_1080,c_fill,f_auto,fl_lossy,q_auto:good/ws-ropac/usr/feature_panels/images/2364/trimed-mr-withsun0135.jpg", "https://artlogic-res.cloudinary.com/w_1920,h_1080,c_fill,f_auto,fl_lossy,q_auto:good/ws-ropac/usr/feature_panels/images/2364/trimed-mr-withsun0136.jpg", "https://artlogic-res.cloudinary.com/w_1920,h_1080,c_fill,f_auto,fl_lossy,q_auto:good/ws-ropac/usr/feature_panels/images/2364/trimed-mr-withsun0137.jpg", "https://artlogic-res.cloudinary.com/w_1920,h_1080,c_fill,f_auto,fl_lossy,q_auto:good/ws-ropac/usr/feature_panels/images/2364/trimed-mr-withsun0138.jpg", "https://artlogic-res.cloudinary.com/w_1920,h_1080,c_fill,f_auto,fl_lossy,q_auto:good/ws-ropac/usr/feature_panels/images/2364/trimed-mr-withsun0139.jpg", "https://artlogic-res.cloudinary.com/w_1920,h_1080,c_fill,f_auto,fl_lossy,q_auto:good/ws-ropac/usr/feature_panels/images/2364/trimed-mr-withsun0140.jpg", "https://artlogic-res.cloudinary.com/w_1920,h_1080,c_fill,f_auto,fl_lossy,q_auto:good/ws-ropac/usr/feature_panels/images/2364/trimed-mr-withsun0141.jpg", "https://artlogic-res.cloudinary.com/w_1920,h_1080,c_fill,f_auto,fl_lossy,q_auto:good/ws-ropac/usr/feature_panels/images/2364/trimed-mr-withsun0142.jpg", "https://artlogic-res.cloudinary.com/w_1920,h_1080,c_fill,f_auto,fl_lossy,q_auto:good/ws-ropac/usr/feature_panels/images/2364/trimed-mr-withsun0143.jpg", "https://artlogic-res.cloudinary.com/w_1920,h_1080,c_fill,f_auto,fl_lossy,q_auto:good/ws-ropac/usr/feature_panels/images/2364/trimed-mr-withsun0144.jpg", "https://artlogic-res.cloudinary.com/w_1920,h_1080,c_fill,f_auto,fl_lossy,q_auto:good/ws-ropac/usr/feature_panels/images/2364/trimed-mr-withsun0145.jpg", "https://artlogic-res.cloudinary.com/w_1920,h_1080,c_fill,f_auto,fl_lossy,q_auto:good/ws-ropac/usr/feature_panels/images/2364/trimed-mr-withsun0146.jpg", "https://artlogic-res.cloudinary.com/w_1920,h_1080,c_fill,f_auto,fl_lossy,q_auto:good/ws-ropac/usr/feature_panels/images/2364/trimed-mr-withsun0147.jpg", "https://artlogic-res.cloudinary.com/w_1920,h_1080,c_fill,f_auto,fl_lossy,q_auto:good/ws-ropac/usr/feature_panels/images/2364/trimed-mr-withsun0148.jpg", "https://artlogic-res.cloudinary.com/w_1920,h_1080,c_fill,f_auto,fl_lossy,q_auto:good/ws-ropac/usr/feature_panels/images/2364/trimed-mr-withsun0149.jpg", "https://artlogic-res.cloudinary.com/w_1920,h_1080,c_fill,f_auto,fl_lossy,q_auto:good/ws-ropac/usr/feature_panels/images/2364/trimed-mr-withsun0150.jpg", "https://artlogic-res.cloudinary.com/w_1920,h_1080,c_fill,f_auto,fl_lossy,q_auto:good/ws-ropac/usr/feature_panels/images/2364/trimed-mr-withsun0151.jpg", "https://artlogic-res.cloudinary.com/w_1920,h_1080,c_fill,f_auto,fl_lossy,q_auto:good/ws-ropac/usr/feature_panels/images/2364/trimed-mr-withsun0152.jpg", "https://artlogic-res.cloudinary.com/w_1920,h_1080,c_fill,f_auto,fl_lossy,q_auto:good/ws-ropac/usr/feature_panels/images/2364/trimed-mr-withsun0153.jpg", "https://artlogic-res.cloudinary.com/w_1920,h_1080,c_fill,f_auto,fl_lossy,q_auto:good/ws-ropac/usr/feature_panels/images/2364/trimed-mr-withsun0154.jpg", "https://artlogic-res.cloudinary.com/w_1920,h_1080,c_fill,f_auto,fl_lossy,q_auto:good/ws-ropac/usr/feature_panels/images/2364/trimed-mr-withsun0155.jpg", "https://artlogic-res.cloudinary.com/w_1920,h_1080,c_fill,f_auto,fl_lossy,q_auto:good/ws-ropac/usr/feature_panels/images/2364/trimed-mr-withsun0156.jpg", "https://artlogic-res.cloudinary.com/w_1920,h_1080,c_fill,f_auto,fl_lossy,q_auto:good/ws-ropac/usr/feature_panels/images/2364/trimed-mr-withsun0157.jpg", "https://artlogic-res.cloudinary.com/w_1920,h_1080,c_fill,f_auto,fl_lossy,q_auto:good/ws-ropac/usr/feature_panels/images/2364/trimed-mr-withsun0158.jpg", "https://artlogic-res.cloudinary.com/w_1920,h_1080,c_fill,f_auto,fl_lossy,q_auto:good/ws-ropac/usr/feature_panels/images/2364/trimed-mr-withsun0159.jpg", "https://artlogic-res.cloudinary.com/w_1920,h_1080,c_fill,f_auto,fl_lossy,q_auto:good/ws-ropac/usr/feature_panels/images/2364/trimed-mr-withsun0160.jpg", "https://artlogic-res.cloudinary.com/w_1920,h_1080,c_fill,f_auto,fl_lossy,q_auto:good/ws-ropac/usr/feature_panels/images/2364/trimed-mr-withsun0161.jpg", "https://artlogic-res.cloudinary.com/w_1920,h_1080,c_fill,f_auto,fl_lossy,q_auto:good/ws-ropac/usr/feature_panels/images/2364/trimed-mr-withsun0162.jpg", "https://artlogic-res.cloudinary.com/w_1920,h_1080,c_fill,f_auto,fl_lossy,q_auto:good/ws-ropac/usr/feature_panels/images/2364/trimed-mr-withsun0163.jpg", "https://artlogic-res.cloudinary.com/w_1920,h_1080,c_fill,f_auto,fl_lossy,q_auto:good/ws-ropac/usr/feature_panels/images/2364/trimed-mr-withsun0164.jpg", "https://artlogic-res.cloudinary.com/w_1920,h_1080,c_fill,f_auto,fl_lossy,q_auto:good/ws-ropac/usr/feature_panels/images/2364/trimed-mr-withsun0165.jpg", "https://artlogic-res.cloudinary.com/w_1920,h_1080,c_fill,f_auto,fl_lossy,q_auto:good/ws-ropac/usr/feature_panels/images/2364/trimed-mr-withsun0166.jpg", "https://artlogic-res.cloudinary.com/w_1920,h_1080,c_fill,f_auto,fl_lossy,q_auto:good/ws-ropac/usr/feature_panels/images/2364/trimed-mr-withsun0167.jpg", "https://artlogic-res.cloudinary.com/w_1920,h_1080,c_fill,f_auto,fl_lossy,q_auto:good/ws-ropac/usr/feature_panels/images/2364/trimed-mr-withsun0168.jpg", "https://artlogic-res.cloudinary.com/w_1920,h_1080,c_fill,f_auto,fl_lossy,q_auto:good/ws-ropac/usr/feature_panels/images/2364/trimed-mr-withsun0169.jpg"]