Daniel Richter
Limbo
Until 25 September 2022
Ateneo Veneto
Curated by Eva Meyer-Hermann



Scroll down to learn more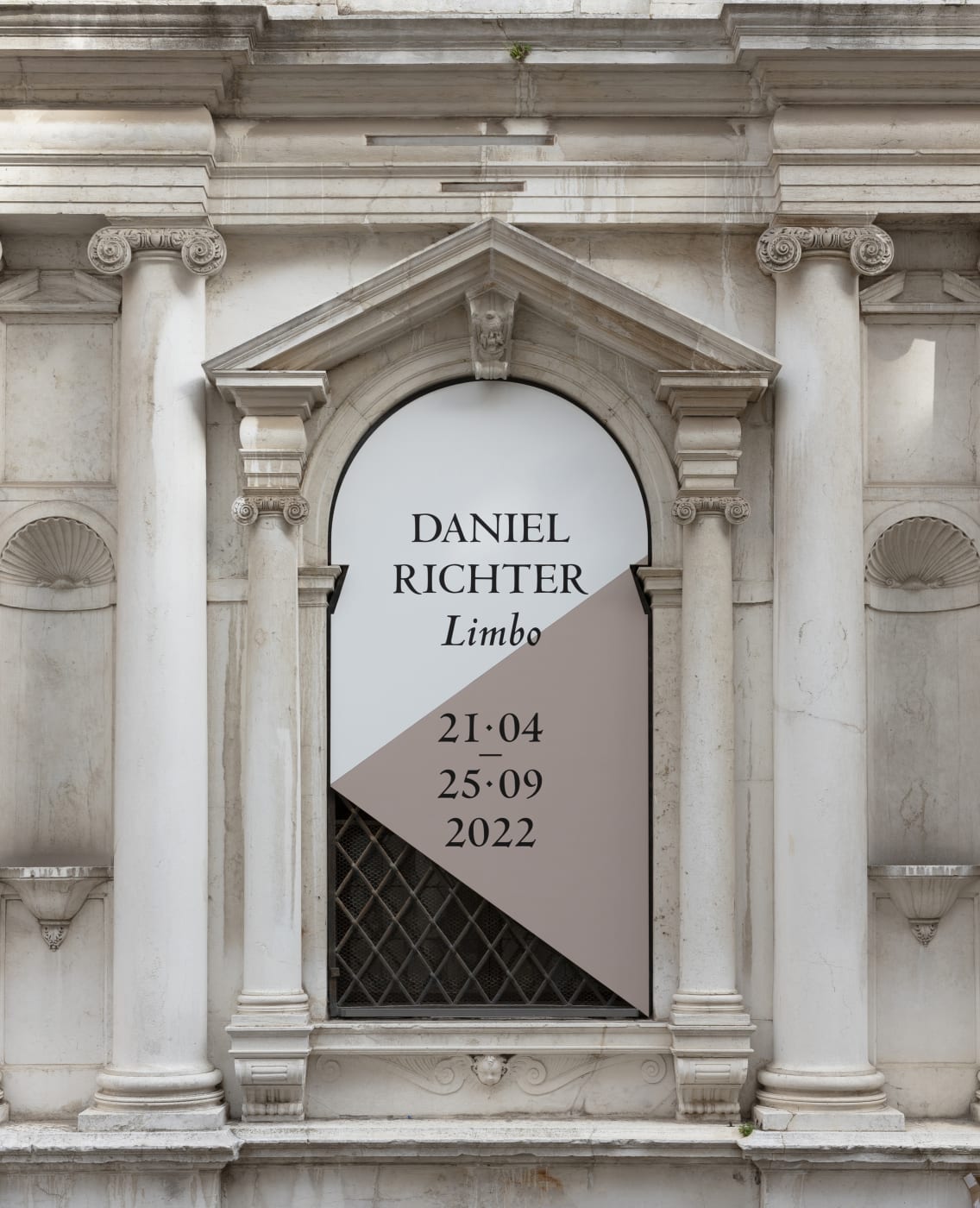 Coinciding with the 59th Biennale di Venezia, the Ateneo Veneto presents new paintings by Daniel Richter in the rooms of the Scuola Grande di San Fantin. The works are shown in the palazzo's historical setting amidst its remarkable decorative programme and alongside 17th-century works permanently installed at the museum.
Large-scale oil paintings by Richter are exhibited in the Aula Magna on the ground floor, while the Sala Tommaseo on the upper floor offers insights into the artist's archive through a selection of books, ephemera and paraphernalia, alongside new ink drawings and collages.
Built as a caritative institution which offered spiritual guidance for those sentenced to death, the building was converted into an educational institution when the fraternity was dissolved in the 19th century. Today, the Ateneo Veneto accommodates a museum and a major cultural institution, offering a unique setting for Daniel Richter's latest series of works.
Watch Daniel Richter and curator Eva Meyer-Hermann introduce the exhibition
The exhibition is full of contrast. The late Mannerist way of painting with chiaroscuro is almost dramaturgical. They had a way to evolve the action out of the dark through dramatic lighting. In Daniel's paintings, the light is replaced by color – almost saccharine or candy-like. You can see battles in his paintings. You see energy. It's this atmosphere of contradictions, dark and light, death and life, here and there, heaven and hell. They present something of the cruel and beautiful contradictions of this world.
— Eva Meyer-Hermann
Virentreffen, 2022
Oil on canvas
220 x 180 cm
Einmal ohne, 2022
Oil on canvas
220 x 180 cm
Here, in the Scuola, the people who were sentenced to death could spend their last hours, thinking about their life and what would come after death. And this old building reflects this in its original decoration and in the paintings. Daniel's paintings do not react to this scene. Rather, they are in a very subtle dialogue with the Scuola and with all this history.
— Eva Meyer-Hermann
Treading the path between abstraction and figuration, Richter has formulated a pictorial language of his own. His figures are linked together in violently distorted poses, seeming to float in an indefinable cosmos. The exhibition's title, Limbo, can refer both to the spiritual space inhabited by souls waiting to ascend to heaven and to the acrobatic dance of backbending that Richter's figures seem to perform.
It is all about reuniting with God in the end, about religion, about the saving of the souls – a state somewhere between life and death, in limbo. So, it was quite a challenge for a contemporary artist to think of a show in this setting. Daniel's works are a reflection and it's very serious. It's not just a simple commentary.
— Eva Meyer-Hermann
Messern in Federn, 2022
Oil on canvas
220 x 165 cm
Perlenketten, 2022
Oil on canvas
220 x 165 cm
Stress ohne Sinn, 2022
Oil on canvas
220 x 165 cm
die entspannten Lebern, 2022
Oil on canvas
220 x 165 cm
We can find points in Daniel's paintings which touch us and which touch what we have seen in the world. This worldliness is beyond language – like the depicted stories from the Bible in the paintings of the Scuola Grande. They were meant to be for people who don't read. In Daniel's works as well, you can feel something of the contrast and of the endangered world today in these paintings.
— Eva Meyer-Hermann
lesen in Fragmenten, 2022
Oil on canvas
220 x 165 cm
zur Neige, 2022
Oil on canvas
220 x 165 cm
Man muss nur hinsehen, 2022
Oil on canvas
220 x 180 cm
An artist book with an essay written by the curator Eva Meyer-Hermann to accompany the exhibition.