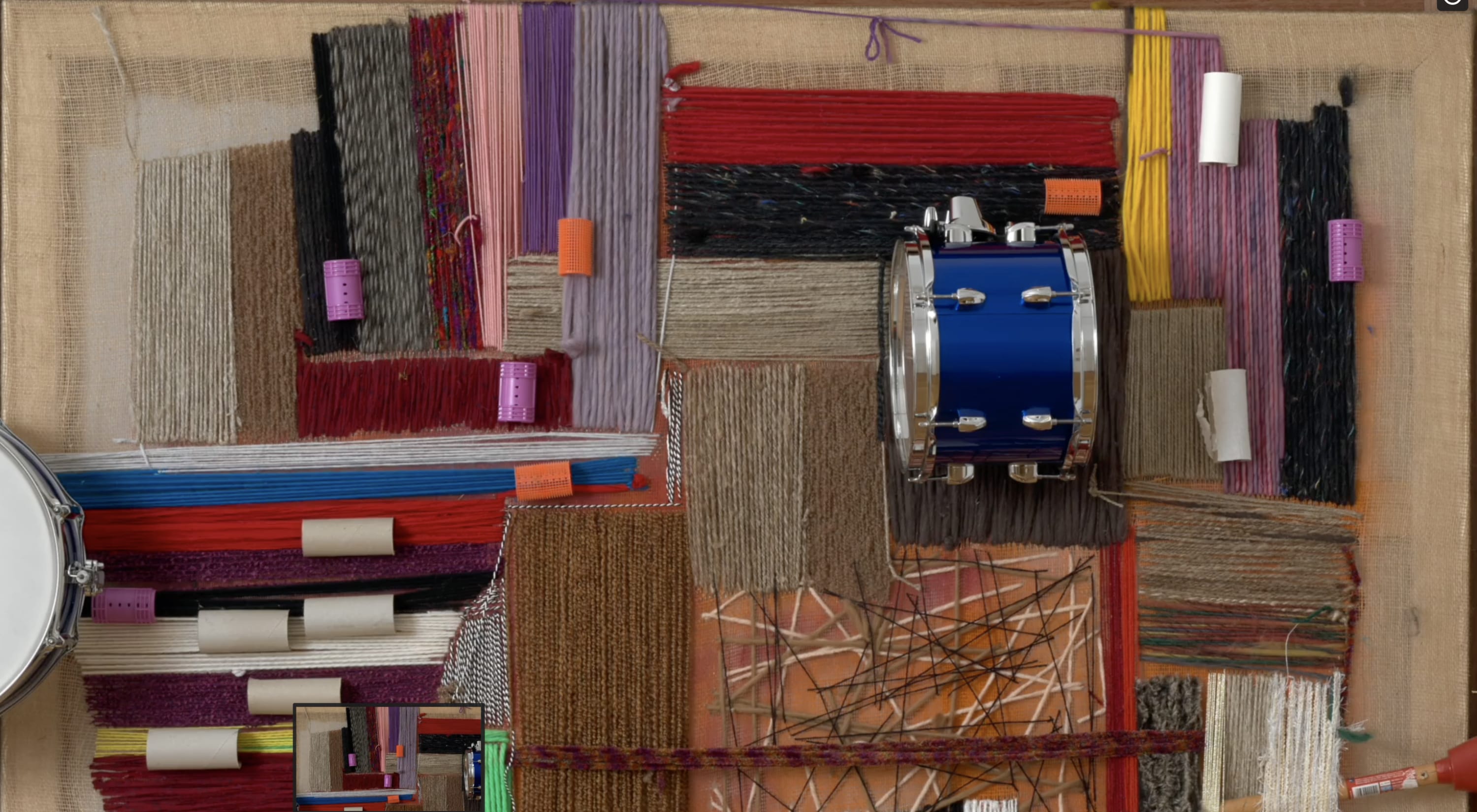 Alvaro Barrington
La Vie en Rose
Until 2 April 2022
Salzburg Villa Kast
Scroll down to learn more
I thought about imagining music as a painting and the show follows through with that.
— Alvaro Barrington
Alvaro Barrington's most recent series explores the centrality of music as a constant source of inspiration in his practice. Growing up during the 1990s in Brooklyn, New York, he was heavily influenced by the late American rapper Tupac Shakur (1971–1996), whose often autobiographical lyrics describe a world marked by hardship, but also perseverance and celebration. These ideas resonated with Barrington's own experiences and are reflected in his works.
Watch Alvaro Barrington speak about his latest works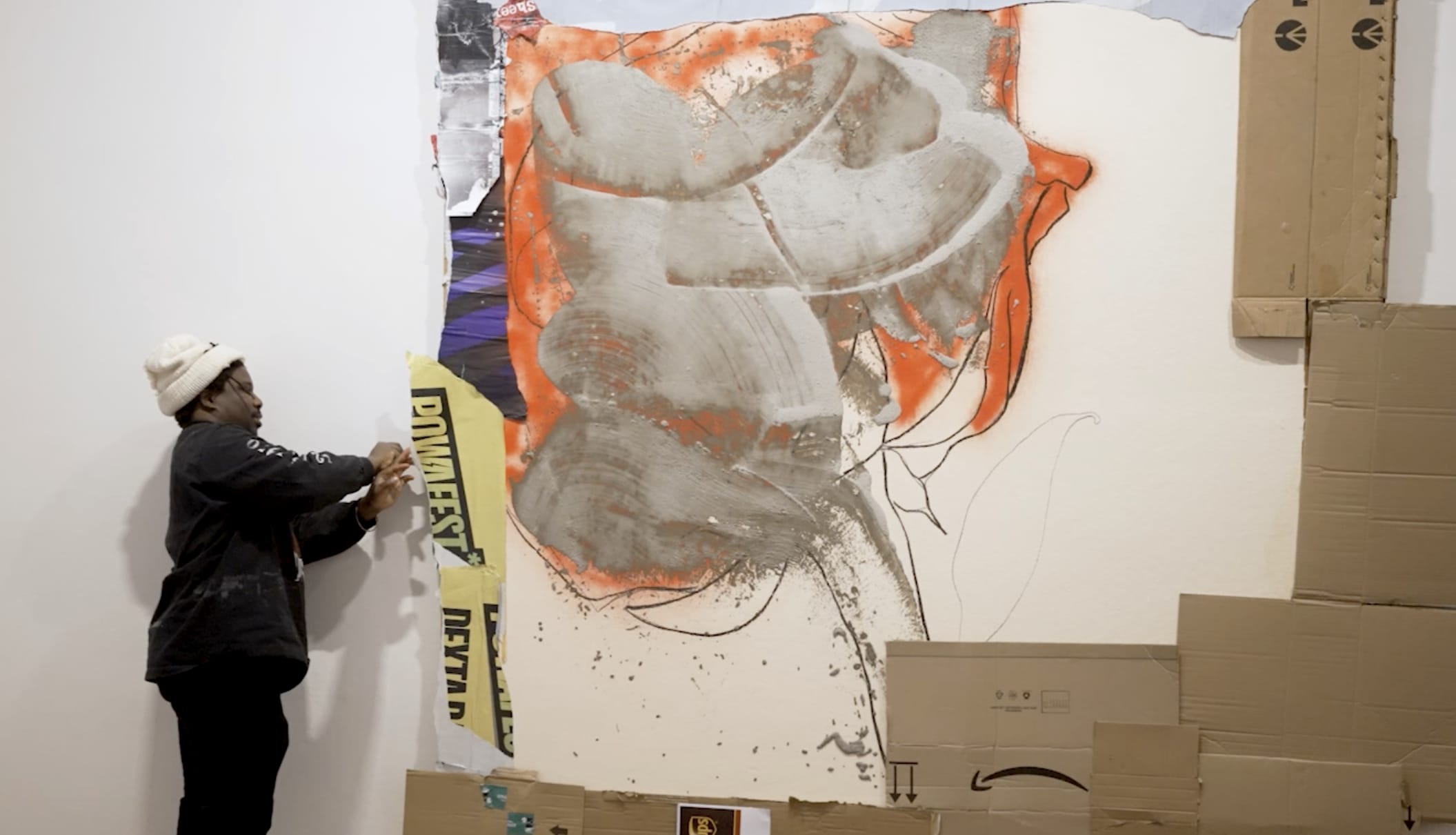 How do I turn physical the music that I love?
— Alvaro Barrington
To create this painting, Barrington incorporated a broom into the artwork, which he had previously used as a paintbrush to apply blue colour to The New Wave feat James (2022). The object is a reference to mundane, manual labour.
Lady sing the blues @proud Mary left to right, 2022
Yarn, acrylic on burlap, toilet rolls, plastic hair curlers, broom
191 x 247 x 29 cm (75.2 x 97.24 x 11.42 in)
For Barrington, the broom is connected to music, as sweeping is a chore he has often witnessed done while singing to pass the time, but also to find a certain state of meditation in the labour. 'I thought, I've got to make a painting that centres around this idea of labour and the blue. This person is singing, so it's like the labour is coming out of her mouth. It is a portrait of an action.'
I wanted a painting that evoked motion. It's a painting that happened after being in a hurricane in New York City that flooded everybody's houses. I thought, how do you give a feeling that wind is blowing – and the fan is the simplest way to get that.
— Alvaro Barrington
The New Wave feat James, 2022
Acrylic, concrete on carpet, wood, postcards, drums, fan called 'only fans' by James Rollo
225 x 252 x 60 cm (88.58 x 99.21 x 23.62 in)
The exhibition's title La Vie en Rose references Tupac Shakur's autobiographical poem 'The Rose That Grew From Concrete', which explores the potential for beauty and fragility to arise from harsh surroundings. The artist explains that he pursued 'this idea that even in the toughest conditions there are people that are beautiful and fragile and tough – all the kind of qualities that you see in a rose.'
This work features a collaged portrait of the late American rapper DMX (1970–2021). The rapper's famous lyrics were inscribed into the wet concrete:
Y'all gon' make me lose my mind
Up in here, up in here.
DMX Lose my Mind, 2022
Oil, acrylic, collaged paper on paper in concrete, acrylic and velour frame
100 x 122 x 8 cm (39.37 x 48.03 x 3.15 in)
For Barrington, part of DMX's enduring influence is the rawness and emotional honesty of his songs, which mirrored his approach to life. As the artist explains, he 'wore his demons on his sleeve', rather than trying to gloss over his childhood trauma, multiple arrests or the drug addiction that ultimately led to his death. The encasing concrete structure that surrounds his portrait becomes a poignant metaphor for incarceration in the US prison system, the inescapability of addiction, the limitations of biography, and yet the defiantly inscribed lyrics escape these bounds, leaving their mark against all odds.
I feel every material. I try to be very careful with the choices. It's not just randomly on the canvas.
— Alvaro Barrington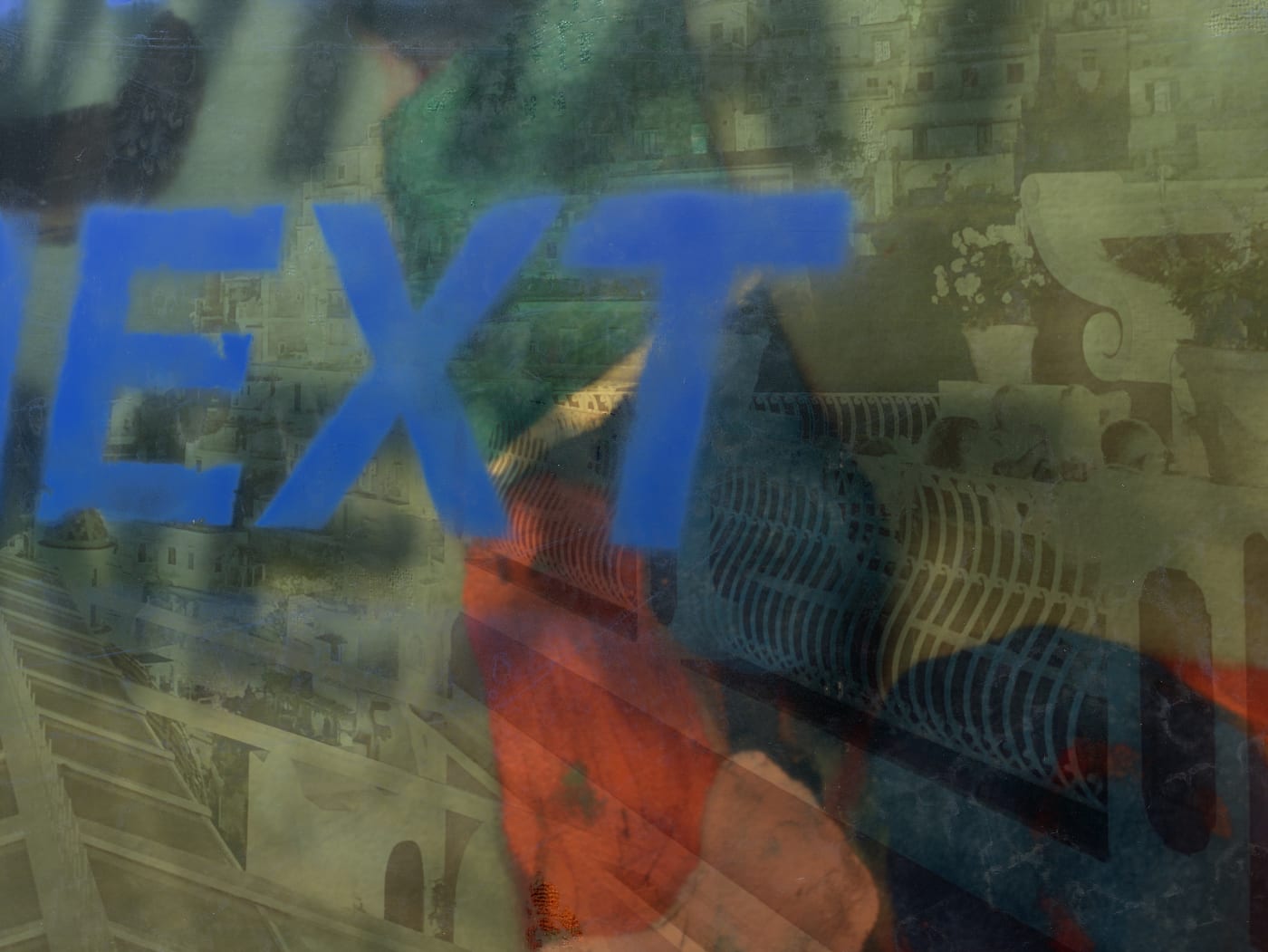 Barrington was raised between the Caribbean and Brooklyn, New York, by a network of relatives. An underlying theme running through his works is rooted in experiences of these places and his multimedia works are a result of pulling apart childhood memories and extracting their materiality.
Power Positano What's Next, 2022
Acrylic on carpet behind printed photograph and spray-painted acrylic sheet in concrete and aluminium frame
170 x 170 x 25 cm (66.93 x 66.93 x 9.84 in)
The metal grid that functions as a base for Barrington's cardboard collages is a recent development in his practice, prompted by a desire to convey a sense of the cityscape and urban surroundings that were part of his upbringing in Brooklyn. 'The grid is a historical shorthand for cities. So if you think of Mondrian's paintings, those are just grids and his relationship to New York City – and New York City itself is sort of laid out on a grid.'
Standing rose that grew from concrete Ropac Salzburg (1), 2022
Charcoal and acrylic on paper on cardboard in steel and concrete frame
130 x 63 x 50 cm (51.18 x 24.8 x 19.69 in)
Studio view © Alvaro Barrington
Donald Judd Art © 2022 Judd Foundation / Artists Rights Society (ARS), New York
Cement holds this memory of being a kid and when they would put a pavement on the street, as kids we would put our feet in there or draw all over it. And that was one of our first real sites of drawing and painting. If we lived in a cave, we would have painted on the cave wall. We never really think about this history of painting that feels very urban and cement has this history of drawing that I needed to pull apart.
— Alvaro Barrington
rose that grew from concrete Ropac Salzburg large Jan 2022, 2022
Charcoal, acrylic on Japanese paper, cardboard
275 x 262 x 10 cm (108.27 x 103.15 x 3.94 in)
We're kind of getting more used to the conversation about mental health. Agnes Martin had some severe mental health issues, which is why she moved to New Mexico and just would clear her head and meditate by drawing these zen-like grids and lines.
– Alvaro Barrington
rose that grew from concrete Ropac Salzburg (1/5), 2022
Charcoal and acrylic on paper on cardboard in steel and concrete frame
84 x 67 x 6 cm (33.07 x 26.38 x 2.36 in)
I have notes for paintings that started over a year ago. And all these notes that I had, I just thought, okay, now I will put it together.
— Alvaro Barrington
Click to view Alvaro Barrington's notes
'Basquiat – who came to Salzburg for an exhibition in the 80s – is deep in my imagination. There's much of his legacy that, even before I was a painter, I think I inherited. We share a very particular set of conditions, like both having Haitian dads from Brooklyn. As soon as I decided to become a painter, I ended up in many ways standing on his shoulders. The more I grew as an artist, the more I realised that his essence was something I needed to explore.'
– Alvaro Barrington
An artist's booklet was published to accompany the exhibition
Alvaro Barrington
studied at Hunter College, New York, and The Slade School of Fine Art in London, where he started lecturing in 2019. His first solo exhibition, which opened the same year he graduated, was curated by Klaus Biesenbach at MoMA PS1, Queens, in 2017. His work has since been shown in numerous solo and group shows, including
SPIDER THE PIG, PIG THE SPIDER
at the South London Gallery, London (2021),
Mixing It Up: Painting Today
at the Hayward Gallery, London (2021),
A Taste of Chocolate
at Thaddaeus Ropac, London (2018) and his ongoing Tt x AB collaboration with the painter Teresa Farrell. Barrington co-curated the exhibition
Artists I Steal From
with Julia Peyton-Jones at Thaddaeus Ropac, London in 2019, followed by his solo exhibition
You don't do it for the man, men never notice. You just do it for yourself, you're the fucking coldest
at Thaddaeus Ropac Paris (2021).