Ron Mueck
25 Years of Sculpture
1996–2021
Until 27 November 2021
London Ely House

Scroll down to learn more
Ron Mueck's first exhibition at Thaddaeus Ropac – his most comprehensive gallery survey to date – includes celebrated sculptures from a career spanning a quarter-century, shown alongside new and previously unseen works. Together, these chart the full spectrum of human experience, from the onset of life in pregnancy and in birth, to its final point in death.
They share a vulnerability, not only with each other but also with Mueck himself, who draws on his own intensely personal thoughts, emotions and life experiences to produce a register of universal emotions and experiences to which we can all relate. And they share a sense of life, and death, and all that happens in between.
— Jasper Sharp, art historian, curator and author of the essay on the occasion of the exhibition
One of Mueck's earliest works, Dead Dad (1996–97) was first shown in the legendary exhibition Sensation: Young British Artists from the Saatchi Collection, which opened at London's Royal Academy of Arts in 1997 and was instrumental in forming his international reputation. The poignancy of this work, which embodies the artist's personal loss but also speaks to universal experiences of the parent-child bond, is heightened by its uncannily lifelike and yet lifeless quality.
Dead Dad, 1996–97
Mixed media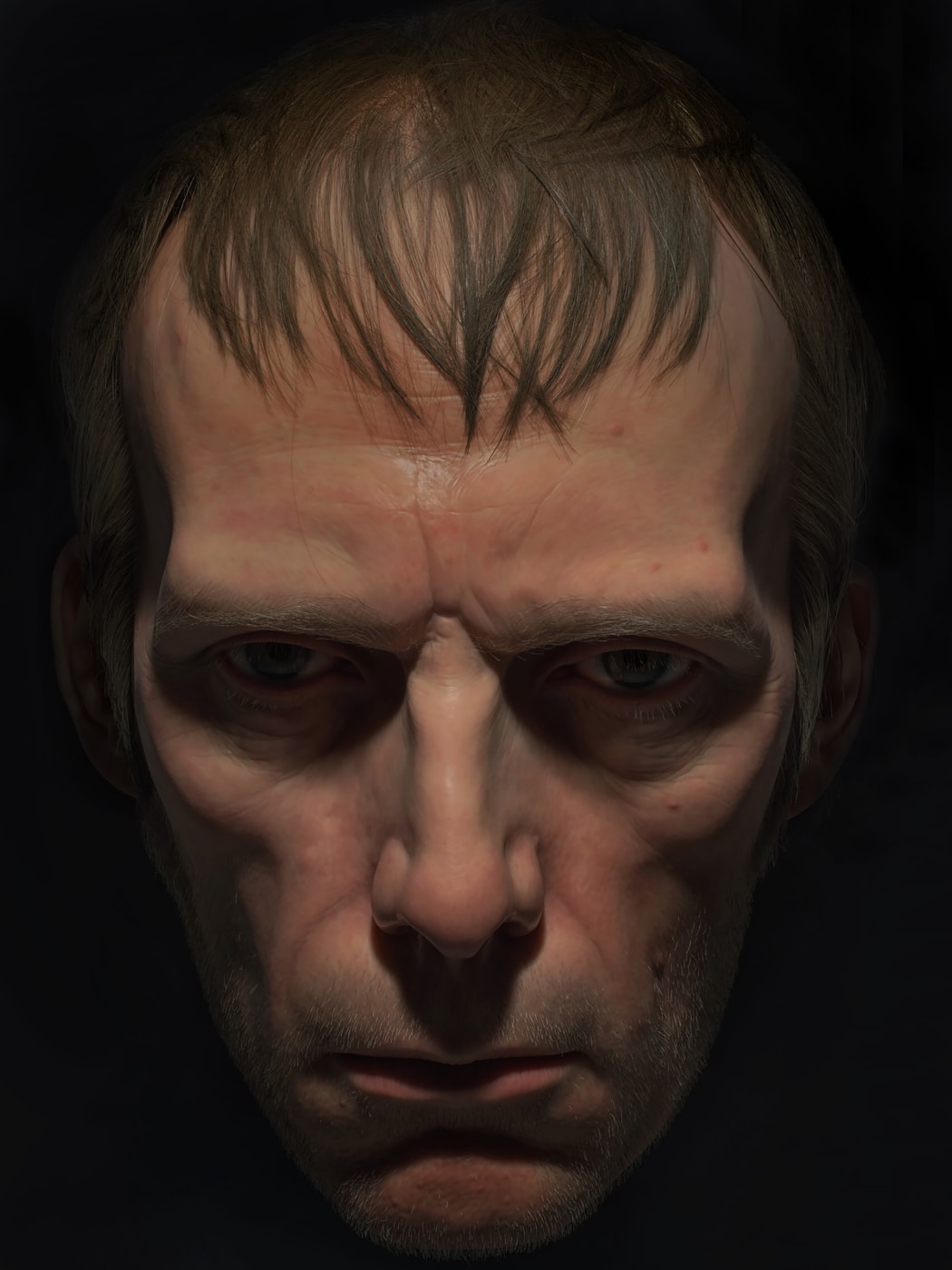 The artist's unparalleled eye for physical and psychological detail surveys both painstakingly individual and broadly universal emotions, encompassing compassion, alienation, vulnerability and loss. The apparent presence of a soul or animating life force is part of what makes his figures so compelling, eliciting an empathetic engagement with the challenges and perils of our shared humanity.
Dark Place, 2018
Mixed media
Mother and Child (2003) was created during Mueck's artist residency at the National Gallery in London, where he was invited to respond to works in the permanent collection. It forms part of a trio of sculptures about motherhood, which includes Pregnant Woman (2002) and Woman with Shopping (2014).
Mother and Child, 2003
Mixed media
While Mueck's first two works on the theme of motherhood explore the emotional resonances of pregnancy and birth, in Woman with Shopping (2014) we see the aftermath: a sleep-deprived woman who is weighted down by her responsibilities. The baby looks up at its mother with newborn short-sightedness, while her faraway gaze does not meet that of the baby or the viewer.
Woman with Shopping, 2014
Mixed media
Standing with heavy bags of supermarket groceries in each hand, she is visibly exhausted. Mueck offers us yet another honest and unvarnished portrayal of early parenthood, and the physical and emotional states that it induces. The forager, the hunter-gatherer, the provider to her family, soldiering on.
— Jasper Sharp, art historian and curator, 2021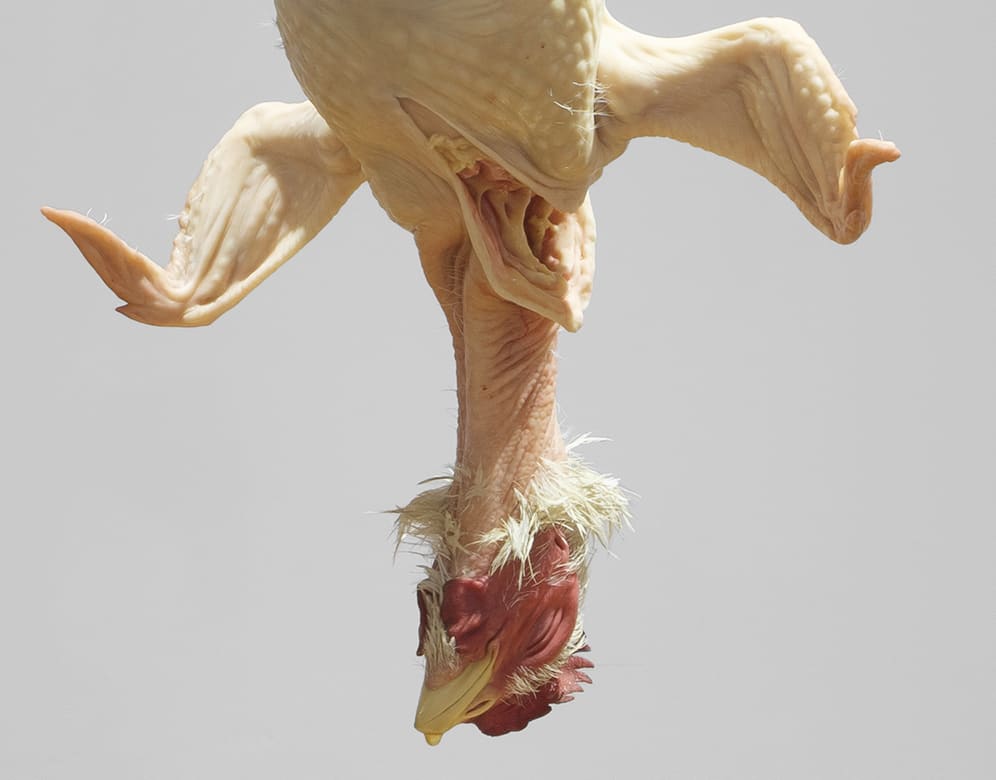 Mueck's sculptures invite an empathetic engagement with their subjects, whether a human figure or, as in Still Life (2009), the body of a dead chicken. This work was inspired by the artist's visit to a Puerto Vallarta market, where he saw poultry carcasses strung up for sale. A rare non-human form in his oeuvre, the dead animal is imbued with a striking pathos that invites identification.
Still Life, 2009
Mixed media
Despite their extraordinarily lifelike appearance, Mueck's sculptures are always smaller or larger than life. This shift in scale places the viewer in a new and unfamiliar relationship with the figure, drawing attention to the space our own bodies occupy and how we measure up against his creations.
The spectre of death is taken one step further in the most recent work in the exhibition, Dead Weight (2021), a human skull so large that it seems at first glance to be that of an elephant. Cast in iron, it weighs more than a tonne. Most astonishing of all though is its appearance. Unlike every other work in the exhibition – and in Mueck's entire oeuvre to date – very little effort has been made to create a naturalistic appearance. We can see all the marks of its production, the seam lines, the scars from channels into which liquid iron was poured, and the imperfections of casting that Mueck would normally spend many hours to remove or obscure. It is clearly not a real skull and yet [...] we sense the presence of a soul. — Jasper Sharp, art historian and curator, 2021
Dead Weight, 2021
Cast iron
Jasper Sharp's exhibition essay explores these works through the lens of the seven ages of man, referencing the monologue 'All the world's a stage' from William Shakespeare's As You Like It (1623).
Read the press on Ron Mueck: 25 Years of Sculpture 1996—2021