Joseph Beuys
40 Years of Drawing
18 January—22 March 2023
London Ely House
Scroll down to learn more
Presenting almost 100 works on paper from the collection of the Joseph Beuys family for the first time in the UK, this exhibition dedicated solely to the artist's drawings is the first on the subject to take place in London for 20 years.
Carving out his place at the forefront of post-war art, Beuys understood drawing to underpin all aspects of his multifaceted practice, which encompassed his work as a sculptor, pioneering performance artist, theorist, teacher, environmentalist and political activist.
… generously laid out at Thaddaeus Ropac's Ely House [the drawings] offer an archeology of how the artist's lexicon of images came into being, but in their feather-light touch, spontaneity, elegance and intimate manner they are refreshingly different from what we remember of Beuys the bombastic performer.
—
Jackie Wullschläger, Chief Art Critic for the
Financial Times
Watch a video of the exhibition
Spanning the four decades that Beuys
practised
as an artist, the drawings served as the primary means through which he crystallised his thought processes, giving physical form to his ideas.
Opening with works made in the mid-1940s, created following the artist's
enrolment
as a student at the prestigious Staatliche Kunstakademie Düsseldorf, the exhibition concludes with works made just before his death in 1986.
Beuys developed a passion for the natural world at a young age. Despite rejecting a career as a doctor to become an artist, he retained a lifelong interest in medicine and the natural sciences.
Animals recur throughout his oeuvre as highly coded symbols relating to Christianity, Celtic and Germanic folklore and German Romanticism. Composed of lyrical lines and delicate washes of earthy watercolour, they function as bridges between spiritual and earthly realms.
Untitled (Sea Angel, Seal 2), 1948
Watercolour and pencil on browned, squared paper from a spiral-bound notepad
8.5 x 14 cm (3.35 x 5.51 in)
Untitled (Sperm Whale), undated (c.1948)
Oil on canvas
7.5 x 10.5 cm (2.95 x 4.13 in)
Pencil and watercolour or Beize on paper
15 x 21 cm (5.91 x 8.27 in)

The female figure was a key motif in Beuys's drawings from the mid-1950s to the early 1960s, a period that he dedicated to his drawing practice as he sought a mode of spiritual healing following the traumas of the Second World War.
Archetypal nude bodies spring across sheets of paper. These figures are often depicted holding children or next to amphora-like vessels that echo the shape of their exaggerated hips, characterising the women as symbols of fertility and regeneration.
Primarily created in the 1950s, Beuys's landscape drawings are intentionally placeless. Spidery lines extend across the page to articulate the craggy peaks of mountainous landscapes.
Of the works, curator Ann Temkin notes, 'These landscapes have more to do with process than with place, as they pictorialize the drama of creation and regeneration… the earth appears as a sculptural site that natural processes endlessly create.'
Untitled, undated
Pencil and coloured pencil on sheet from a sketchbook with a perforated line by the left edge
23 x 16.5 cm (9.06 x 6.5 in)
Read a text by celebrated British artist Phyllida Barlow written especially
on the occasion of the exhibition
in response to Beuys's landscape drawings.
There are a lot of things which I call drawings, nevertheless they are mostly

–

what is the term? It's not a line, it is a surface… I call all those things drawings because I do not have such a specialized understanding of a drawing, that a drawing mostly exists of line or scribbling or making shadowy effects with the pencil.
Working with diverse mediums including pencil, watercolour, oil paint and collaged organic matter, in the early 1960s Beuys explored the forms of 'sculptural expression' he could achieve within his drawing practice.
Around 1960, Beuys developed his own medium, Braunkreuz, which contained a variety of substances including oil paint, iron alloys, chrome and zinc. Translated as 'Brown cross' in English, the opaque paint is rich with political and religious symbolism, invoked through references to the 'Brownshirts' of the German National Socialist Party and the rust colour of Christ's blood spilt on the cross.

Here, Braunkreuz has been applied to the reverse of a beer mat. With spare strokes of pencil, Beuys has drawn a bird's-eye view of an oxcart, characterising the brown medium as the earth in the field worked by the cart.
By the 1970s, a significant shift had occurred in Beuys's drawing practice. Following collaboration with the interdisciplinary Fluxus group in the 1960s and a renewed commitment to exploring political themes, he produced 'scores' (conceptual sketches) connected to his burgeoning performance practice. These drawings function as discursive graphic images that fuse textual and visual elements to illustrate the artist's train of thought.
The drawings of trees in this work reference his iconic project 7000 Eichen (7000 Oaks) conceived for documenta 7 in 1982, when he organised the planting of 7,000 oak trees across the city of Kassel.
Untitled, 1982
Pencil, watercolour and paper collage on paper, mounted on cardboard
39.5 x 33 cm (13.55 x 12.99 in)
From the 1970s, Beuys extended the spaces in which the act of drawing took place to the public arena. He used blackboards as tools in the lectures he delivered to audiences, discussing the social impact of art. As he spoke, he drew on the boards with white chalk in a process he termed 'auditive drawing', illustrating his belief that concepts could be conveyed in graphic forms that transcended linguistic expression.
Created in 1982, this blackboard references several of Beuys's celebrated performances, also known as Actions. Eurasienstab (Eurasia Staff; first performed in 1967) is invoked through the image of the hooked staff and also features in a pencil drawing created at the time of the performance.
While the Action directly explored the idea of Eurasia as a socio-political utopia, conceived against the context of the Cold War and a divided Germany, the staff metaphorically connects diverse opposing elements and energies.
Is it about A Bicycle? III, 1982
Chalk and paint on blackboard
160 x 131 x 4 cm (62.99 x 51.57 x 1.57 in)
Untitled (Score for Eurasienstab) (recto), undated (c.1967)
Pencil on watermarked paper
30 x 21 cm (11.81 x 8.27 in)
The blackboard also gestures to Beuys's well-known 1974 performance, I Like America and America Likes Me, which took place in New York City.
The artist was wrapped in felt when he landed at the airport and transported to René Block Gallery in SoHo in an ambulance so that his feet did not touch American soil. Once there, he spent three days in confinement with a coyote.
Beuys tried to form a connection with the animal through a series of repeated rituals, including choreographed gestures with a staff, and playing a triangle and a tape recording of turbines – activities all visualised on the blackboard.
Beuys retained an interest in his earlier themes throughout his career and reimagined them within the context of his later work. The cyclical aspect of his practice is epitomised by an untitled collage that features a drawing of the head and neck of an elk created in 1949. In 1981, Beuys laid a dried leaf from a tulip tree over the top right corner of the drawing and contained the work within transparent film.
The second life of the original work demonstrates the artist's conviction that 'drawing holds a special meaning for me, because in the early drawings… everything is in principle already foreshadowed'.
Untitled, undated
Pencil on browned, squared paper from a spiral-bound notepad and tulip tree leaf (Lirodendron tulipifera), both in transparent film, glued on four sides
15.5 x 23.6 cm (6.1 x 9.29 in)
Read the exhibition reviews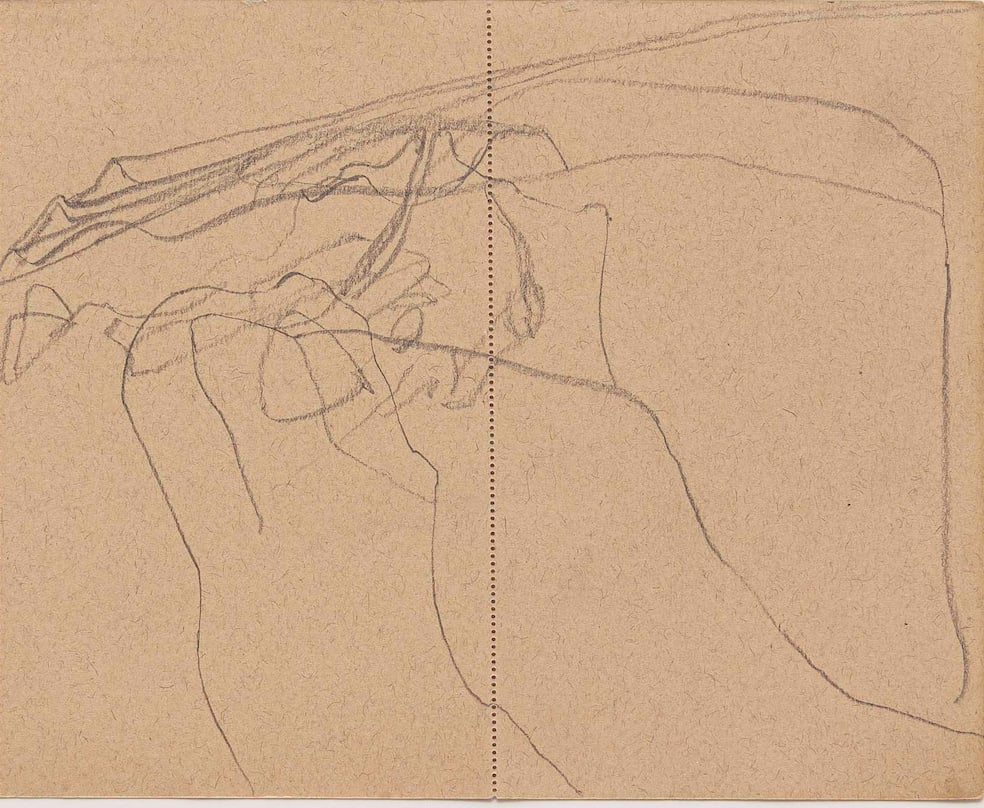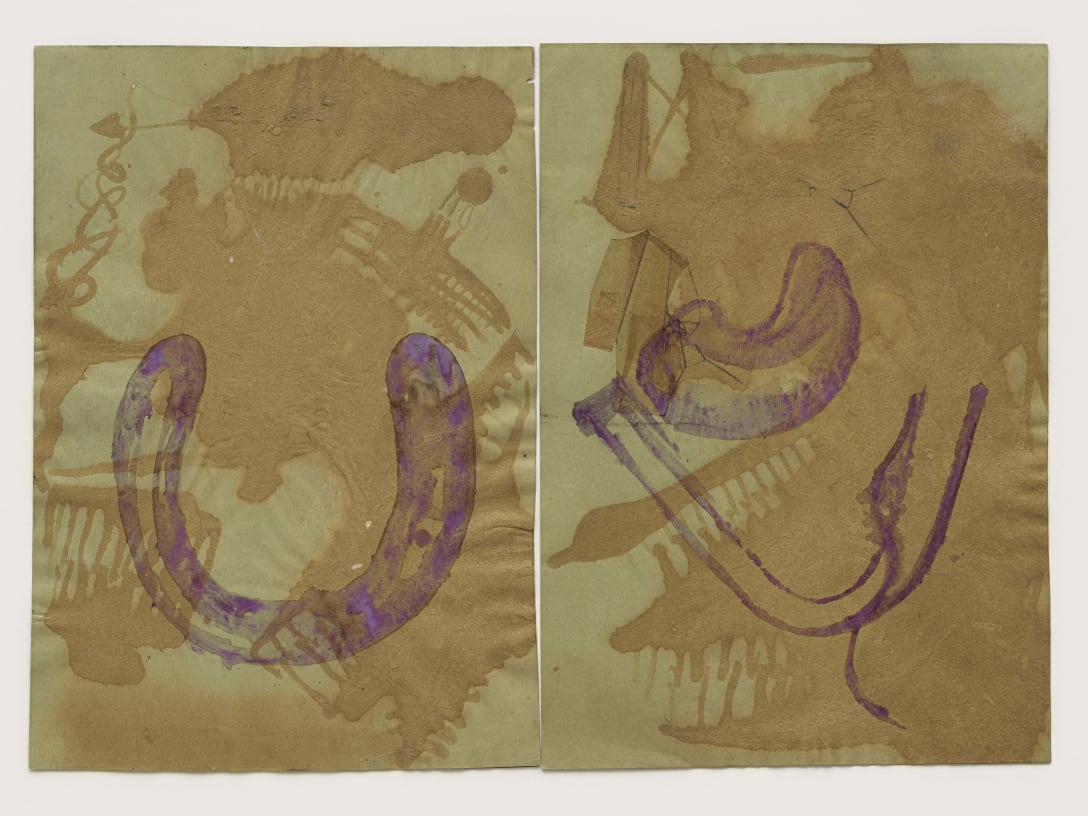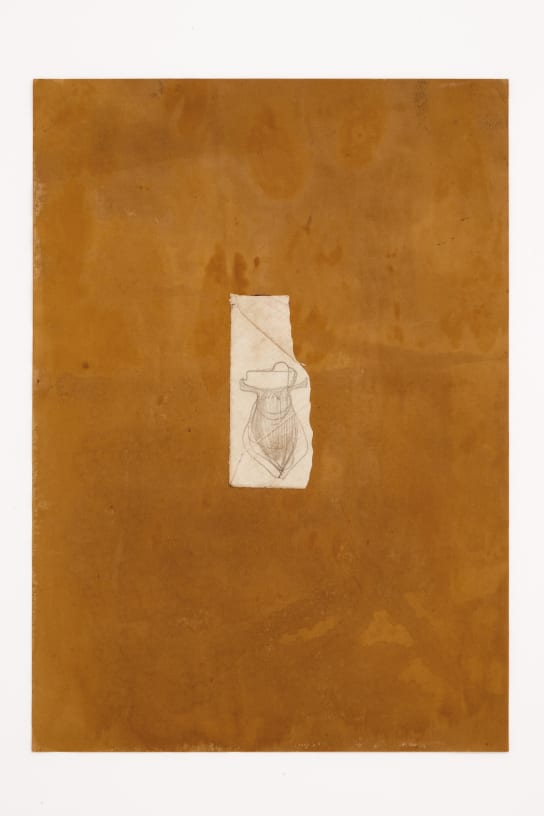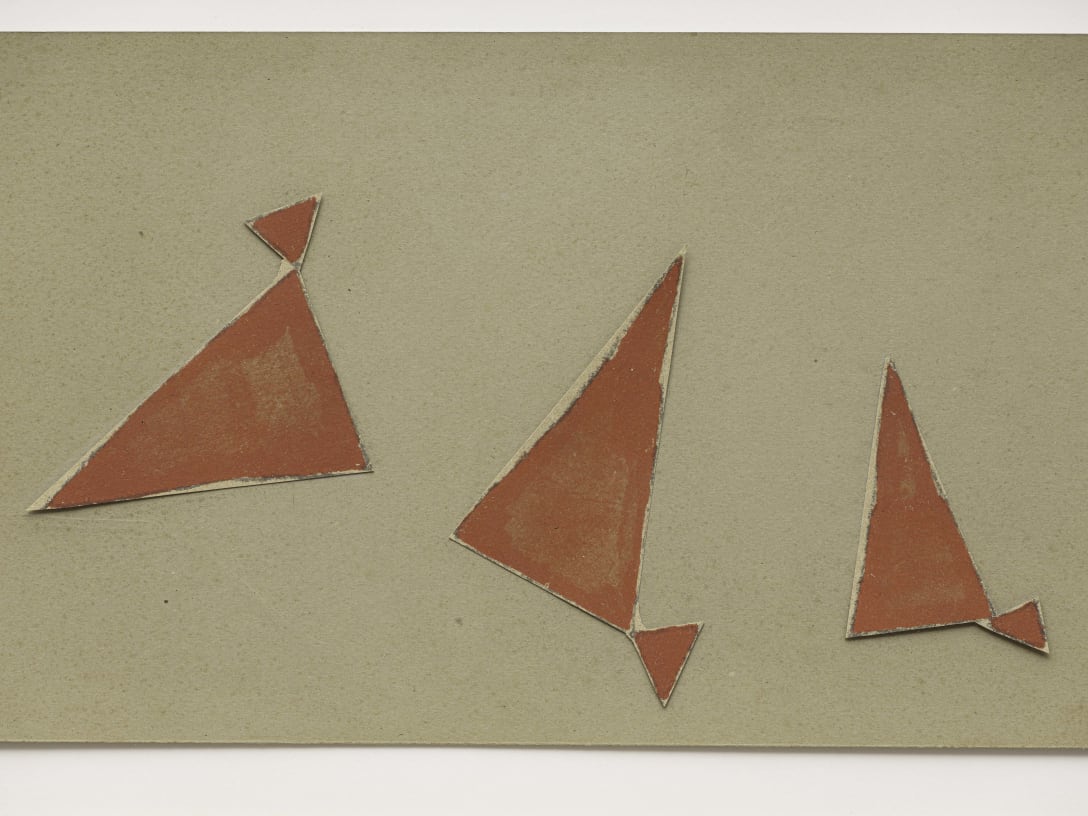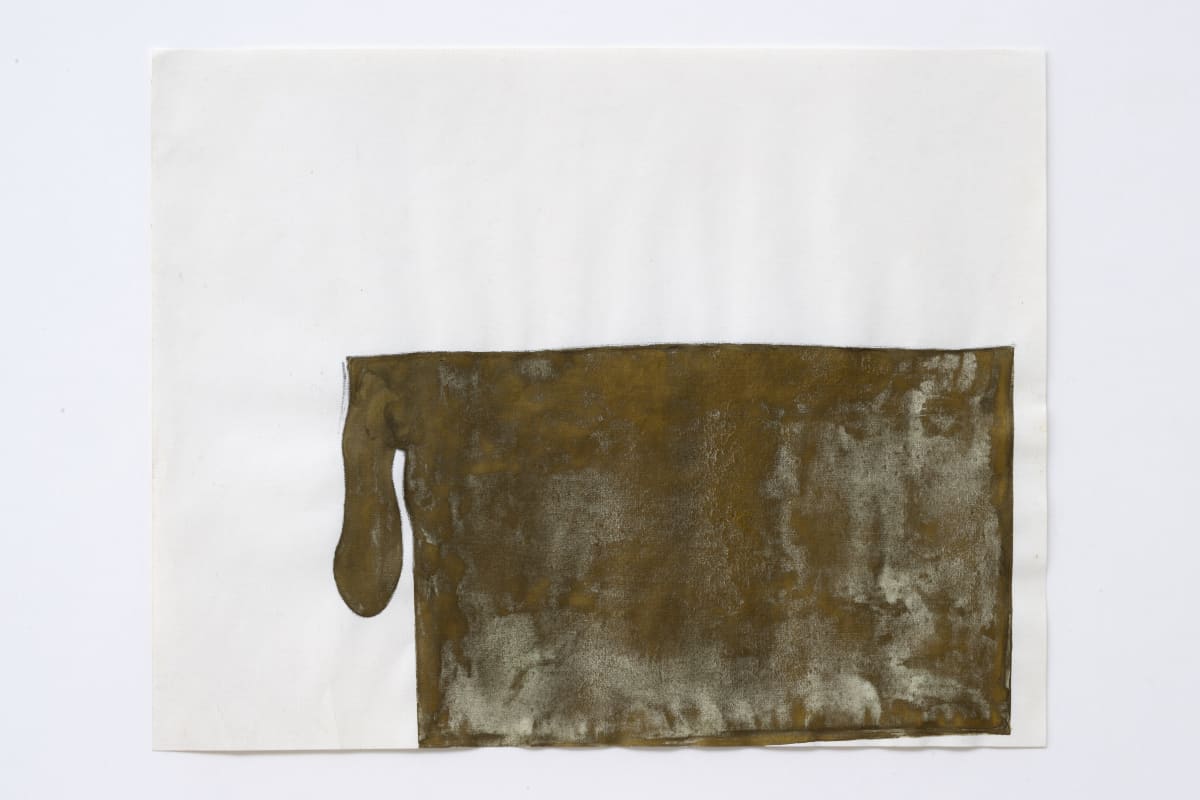 On the occasion of Joseph Beuys: 40 Years of Drawing, Antony Gormley has curated a standalone room upstairs in the gallery that places Beuys's drawings in conversation with his own works on paper. Titled SENSE: Beuys / Gormley, the presentation highlights the continued influence of Beuys's legacy on contemporary artmaking.