Sean Scully
The Shadow of Figuration
Until 24 September 2022
Salzburg Villa Kast
Scroll down to learn more
Conceived for the gallery space in Salzburg, the exhibition brings together large-scale paintings from the artist's most formative series as well as a selection of watercolours and a monumental sculpture titled
Indoor Sleeper
(2020), presented in the gallery's outdoor space.
Scully's works are characterised by the fusion of European painting traditions with the distinct character of American abstraction and, although strictly abstract, his artworks are always informed by experience and sensation. As he has stated: 'My work deliberately includes the roughness of life. I'm always relating my work to the real world'.
For his Wall of Light series Scully arranges vertical and horizontal blocks of colour to form pictorial architectures reminiscent of the brickwork of solid stone walls. The series was inspired by ancient Mayan walls and the patterns of light and shadows on the stacked stones, which Scully observed on a trip to Yucatán, Mexico during the 1980s.
Wall of Light Yellow Fall, 2021
Oil on linen
190.5 x 215.9 x 7.6 cm
(75 x 85 x 3 in)
(SCU 1039)
Watch Sean Scully speak about his new works
In Scully's inherently ambivalent works, the rational precision of geometric forms is imbued with a sensual, human quality, evoking a deeply emotive response. While remaining free of mystical connotations, the works portray the realities of cities or nature, of the individual and humanity.
Wall of Light Double Dec 7.21, 2021
Pastel. watercolor and pencil on paper
76.2 x 55.9 cm (30 x 22 in)
(SCU 1043)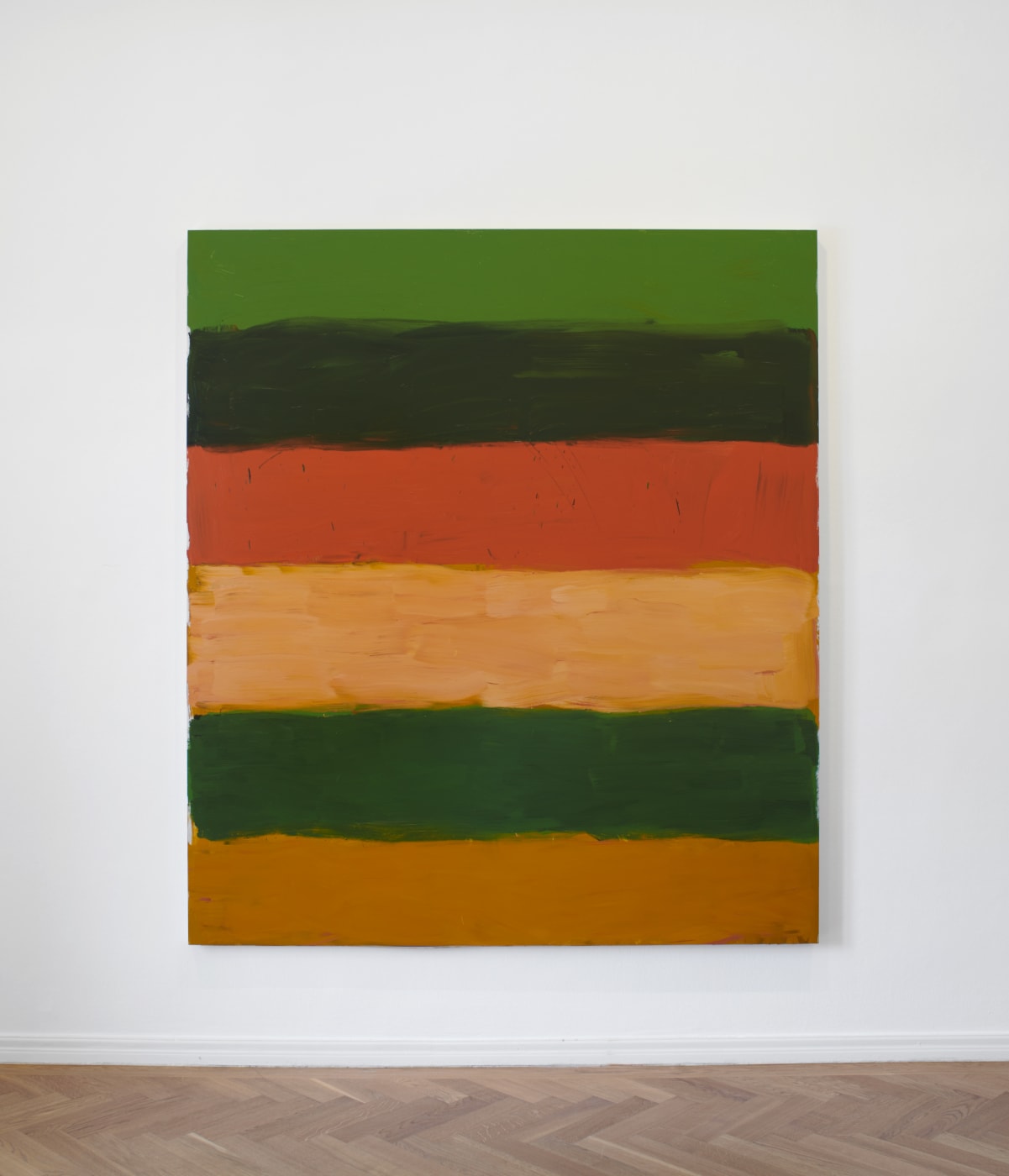 Scully's Landline series marks a certain shift in Scully's practice, for the composition of these works is informed by the parameters of the natural world, marking a departure from the predominant geometrical structure. The series was originally inspired by a photograph the artist took in Norfolk, which captured the interplay between grassy land, the sea and an overcast sky layered in horizontal lines.
Landline Tierra Primavera, 2022
Oil on aluminium
215.9 x 190.5 x 5.1 cm (85 x 75 x 2 in)
(SCU 1048)
I and a bunch of students, made a trip down to Morocco, where I was confronted and immersed by the frantic, relentless patterns of Islam. After seeing on a daily basis for 3 months, thousands of stripes strolling through the streets of Marrakech, Rabaat, Tangier and Fes: I was beguiled. […] When I returned to Newcastle, I drove into town over one of the iron bridges, and determined there and then: to make a striped painting. — Sean Scully
Cage Sand, 2021
Oil and oil pastel on aluminium
215.9 x 190.5 x 5.1 cm (85 x 75 x 2 in)
(SCU 1052)
In recent years, Scully has increasingly turned to sculpture, and in 2021 a solo exhibition at the Waldfrieden Sculpture Park in Wuppertal, Germany, was dedicated to this facet of his work. Scully creates monumental structures that engage with the unique energy of their locations, informed, as his paintings are, by life. Indoor Sleeper (2020) was created from repurposed, carefully stacked railroad sleepers and the material itself carries the traces of its former existence: 'The railway sleepers are made of wood that has already had a lifetime. They are not consistent. I got the idea for the staggered edge from a very unlikely source; from [Alberto] Giacometti. Giacometti's figures are what is left after life is done with them, and the railway sleepers are what is left after life is done with them.'
Indoor Sleeper, 2020
Jarrah wood, ca. 3500 kg
ca. 440 x 250 x 250 cm (173.23 x 98.43 x 98.43 in)
(SCU 1050)
These heavy wooden blocks have a power in repose and we might read their 'sleeping' as pointing to their resting, now retired from their working life, as much as to their expected and once functional horizontality. They are stacked, as indeed railway sleepers often are when stored and no longer in use on the tracks, and this matter of fact, practical quality is part of their sculptural charm as an ensemble.
— Jon Wood,

art historian and curator
Watch behind the scenes assembling of the sculpture
Every group of his paintings that Scully assembles has its own climate, its own emotional profile – maybe alluding to recent experiences, still-vivid impressions, older memories, or soul-shadows grown old. Painting does not come into being of its own accord or unaided. It has its reasons. […] That is what makes it so exceptional. — Hans-Joachim Müller
Wall Paris Yellow, 2021
Oil on linen
193 x 193 x 7.6 cm (76 x 76 x 3 in)
(SCU 1037)
The exhibition is accompanied by a fully illustrated catalogue with an essay by Hans-Joachim Müller and a poem by Kelly Grovier.
Buy online