Jonathan Lasker
New Paintings
Until 30 July
Paris Marais

Scroll down to learn more
American painter Jonathan Lasker explores the mechanics linking an intuitive approach to form and highly structured, and controlled compositions.
In this exhibition, he juxtaposes his signature scribbles and sober black outlines with exuberant sherbet-coloured shapes, turning his paintings into visual playgrounds for viewers to contemplate the construction of images and narratives in paint.
Watch the video of the exhibition
Illuminating the viewer's desire to compose a picture or illusion in his or her mind is one of the central themes in my work. My paintings help viewers form pictures in their mind with indications of real world space, such as: horizon lines, forms set against backgrounds, rudimentary perspective, and forms and marks set in foreground or background space.
— Jonathan Lasker
Lasker is a considered, deliberate painter who uncouples line and colour in his works. Set against a white background as opposed to previous paintings on coloured ground, the disparate visual elements appear to converse and interact on the canvas. 'They're liberated,' says the artist, 'they're on their own.'
Why Opinions Form, 2021
Oil on linen
152 x 203 cm (60 x 80 in)
(JL 2044)
Lasker's process is key to accessing his works. He begins with sketches realised freehand like a stream of consciousness, although on the canvas, the garbled lines seem almost erratic. Transposed first onto a study, they are then enlarged and carefully traced with a paintbrush and thinned black or red paint. The result is a series of unbroken circuits that hover between conscious and unconscious, the mechanical and the handmade.
Lasker creates his colourful impasto forms by pushing and ploughing paint across the canvas. Despite their whimsical appearance, making them is an intensely, physical act that can take several days. In a similar way, the black furrows that form sinews through some of the coloured shapes require careful attention and some degree of force. Realised before the underlying form has had time to dry, they anchor physically anchor the act of making into the paint itself.
Equitable Landscape, 2021
Oil on linen
191 x 254 cm (75 x 100 in)
(JL 2045)
I use random, unconscious marks to consciously compose the constituent shapes within the picture. In other words, I seek to confront the unbounded subconscious with the containment of bounded forms.
— Jonathan Lasker
Encased in a cartridge of red scribbles, the artist's signature exemplifies the humour with which he has infused his visual vocabulary in recent years. This new compositional element is an extension of the line as one of the foundations of painting, which the artist has explored throughout his career in the form of structural grids and graphic scribbles. Like a thread pulled from of the surrounding tangle, it playfully highlights the social and artistic implications that are attributed to a line when it takes a shape we recognise as someone's name.
For Jonathan, 2019
Oil on linen
152 x 203 cm (60 x 80 in)
(JL 2042)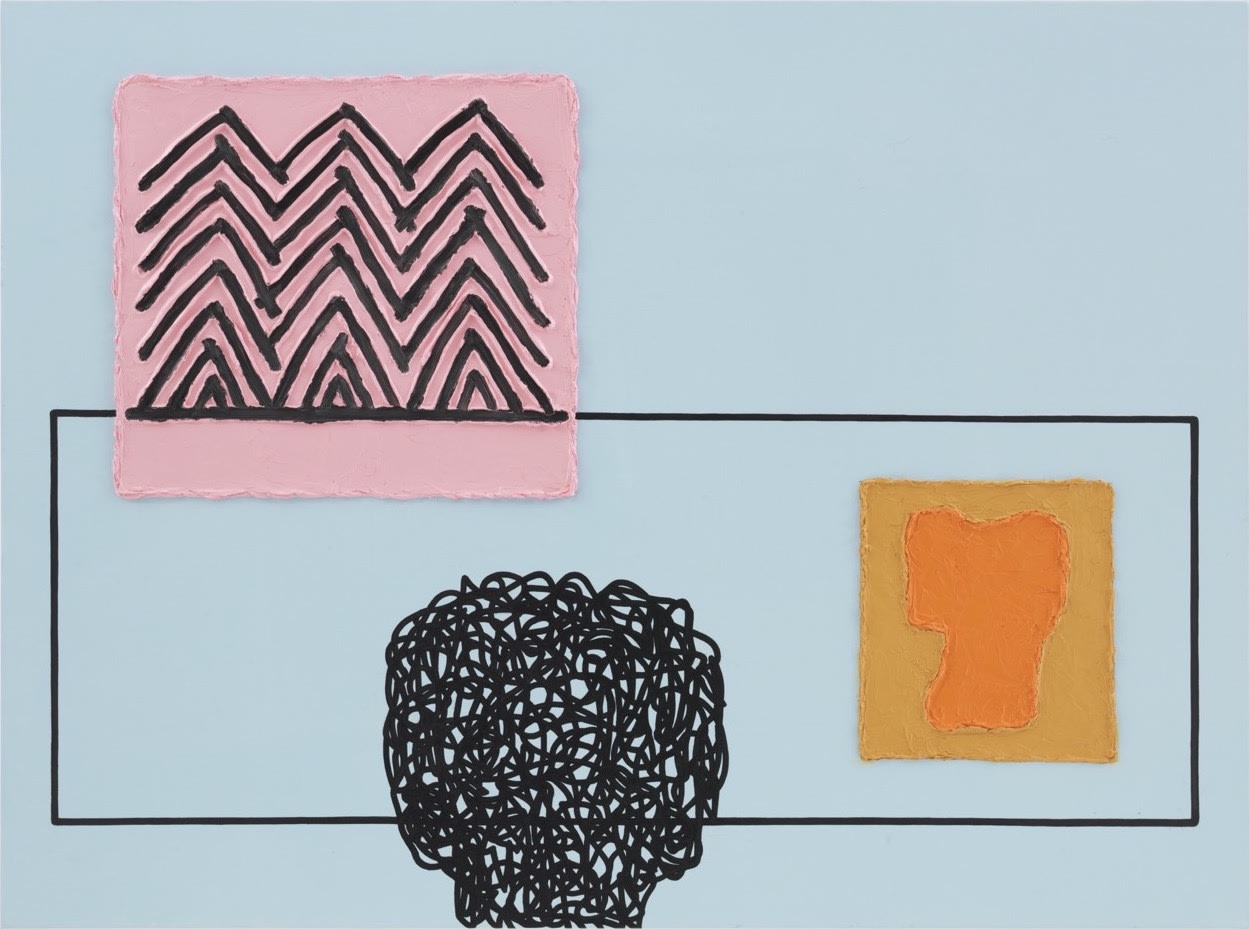 Together with its playful composition, the title Picture With Alpine Quadrant, brings viewers to the edge of representation. The word 'alpine' draws attention to the superimposed triangles that evoke mountainous forms at the top left quarter of the painting, encouraging viewers to find meaning by connecting the disparate elements that constitute the work.
Picture With Alpine Quadrant, 2022
Oil on linen
76 x 102 cm (30 x 40 in)
(JL 2039)
Mechanical perception – artificial intelligence – can never do more than understand things in their particularity, it is not equipped to understand things universally. Such an understanding is essentially imaginative. It is through imagination that we can contemplate a bigger reality.
— Jonathan Lasker
At once thick and flat, conceptual and intensely physical, Lasker's works highlight the poles of creativity that underpin the making and consumption of images: abstraction and figuration, order and disorder, mathematics and metaphor.
In the age of computer-generated images and machine learning, his carefully engineered compositions become a visual and mental playground within which to exercise our distinctly human powers of association and abstract thinking.
About the artist
Since the late 1970s, Jonathan Lasker has developed a distinctive formal vocabulary based on different mark-making processes, including structural grids, graphic scribbled lines and thick impasto strokes of paint. Although he creates these forms intuitively, the compositions themselves are highly structured and controlled. At the forefront of artists who re-established the possibilities of painting after Minimalism and Conceptualism emptied the picture-plane, he has mounted a challenge to the medium's status quo, creating a unique system of painting based on a figure-ground relationship, in which the figure and ground stand in a dialectical relationship to one another.