Alex Katz
Mondes flottants
Floating Worlds
curated by Éric de Chassey
Until 4 December 2021
Paris Pantin

Scroll down to learn more
Mondes Flottants / Floating Worlds is an exhibition of works by American painter Alex Katz, curated by Éric de Chassey, director of the Institut national de l'histoire de l'art, around the theme of water.
From seascapes to studies on light and reflections on water, these often monumental paintings, realised between 1989 and 2020, challenge the traditional notion of landscape, questioning what is reality and what is illusion.
'My paintings are aesthetically different from conventional landscapes: they are environmental. There's a minimum of recessive space in them. They are mostly light. You look at one, and you float inside of it.'

— Alex Katz
Watch Alex Katz in conversation with Éric de Chassey
'One might see here a kind of anthropomorphism of the aquatic element, which in fact seems to have a life of its own only because it is the result of a succession of human gestures: those of the artist who created them, both on the motif, standing as close to it as possible for his studies [...] and becoming one with it when creating the final version of his waterscapes.'

— Éric de Chassey
After travelling to Mexico in 1999, Katz painted a series of works capturing the bright green and turquoise hues of the sea there. Working fast, the artist adopts a wet-on-wet technique, where the entire composition must be finished before the first layer has time to dry. The resulting quick, syncopated brushwork encapsulates a fleeting impression of what the artist terms the 'immediate present'.
Wave 2, 2000
Oil on linen
214.6 x 153.7 cm (84.5 x 60.5 in)
Marine 11, 1999
Oil on linen
320 x 549.9 cm (126 x 216,5 in)
'Eternity exists in minutes of absolute awareness. Painting, when successful, seems to be a synthetic reflection of this condition.'

— Alex Katz
Katz also paints the seashore from an aerial perspective and the wave becomes a small white line in a vast expanse of blue. Flirting with the shoreline, it is enough to give the painting a temporal dimension, creating a feeling of immediacy and rhythm in the composition.
Small Wave, 2020
Oil on linen
152.4 x 121.9 cm (60 x 48 in)
Marine 9, 1999
Oil on linen
243.8 x 487.7 cm (96 x 192 in)
The variations in colour within the depictions of a similar subject are a result of Katz's focus on capturing the light and atmosphere to evoke a moment in time that is at once unique and universal:
'When Katz took up the aquatic themes of his collages in painting, he declared that his subject was "quick things passing". In his waterscapes, he grants these things eternity with a remarkable, unfailing pragmatism, never for a moment suggesting that they need to be sought in a metaphysical afterlife or elsewhere.'
— Éric de Chassey
Morning with Rocks, 1994
Oil on linen
320 x 243.8 cm (126 x 96 in)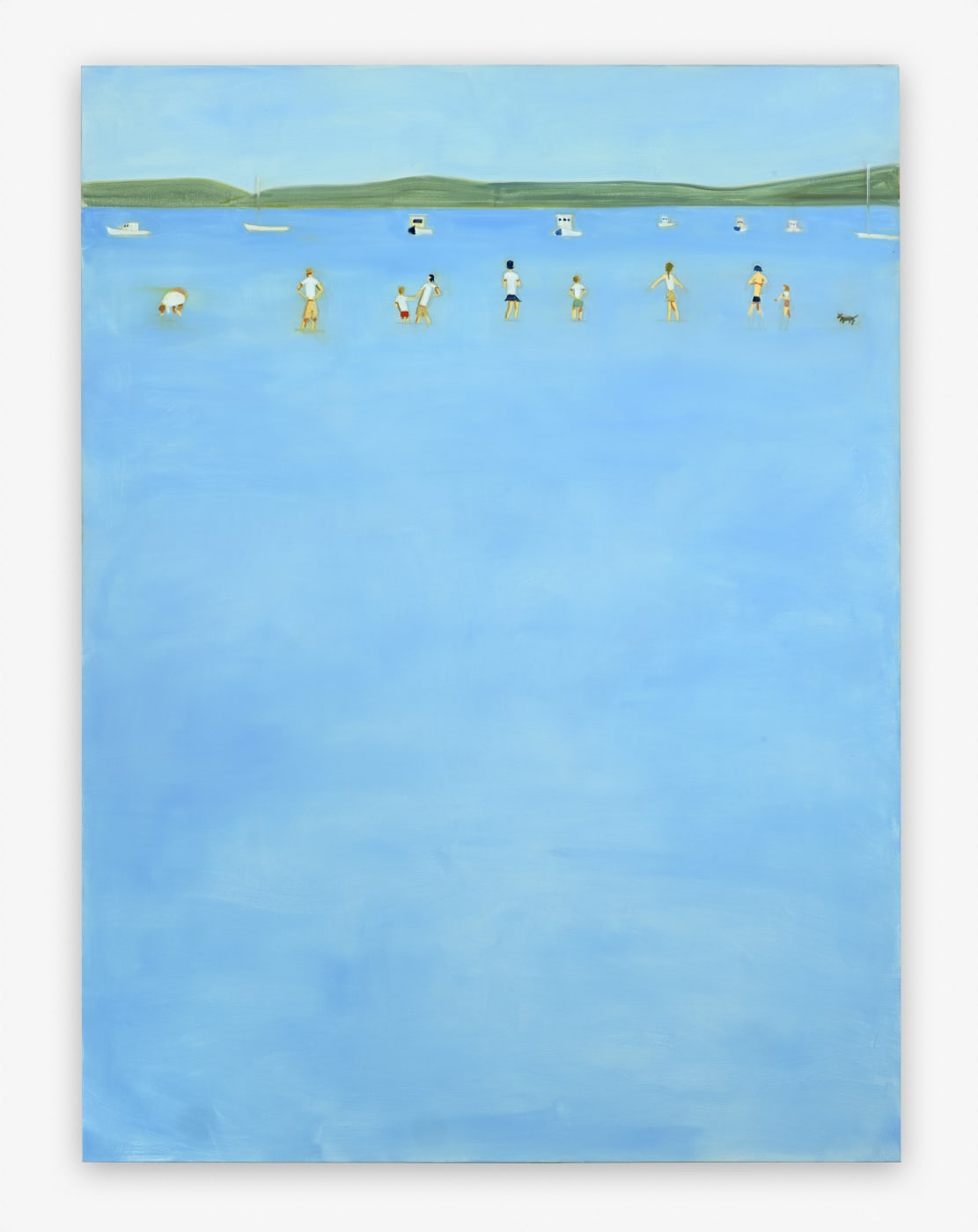 On rare occasions, Katz allows himself to insert human figures into his seascapes. Rather than contradicting the look of abstraction in the large expanse of water, the social triviality these characters embody adds instead a touch of narrative and maybe even of humour to the work.
People, 2013
Oil on linen
320 x 243.8 cm (126 x 96 in)
As a young painter, Katz explored the lakes and forests of Maine surrounding the Skowhegan School of Painting and Sculpture where he studied. There, he discovered the freedom that comes with painting en plein air, like the Impressionists, and to this day, Katz continues to divide his time between New York and Maine, travelling regularly to the countryside to capture the changing summer light.
Katz began painting the water lilies in the pond next to his house in Maine in 2009 as an homage to Claude Monet, whose ability to render the weight and motion of water Katz admires. The immediacy of the light and quickness of the brushstrokes in Katz's rendition contrasts with Monet's more contemplative approach.
Reflection with Lilies 2, 2010
Oil on board
121.9 x 167.6 cm (48 x 66 in)
Katz explores the reflection of the landscape into a body of water. Here, the vegetation is rendered with expressive black brushstrokes among the still blue water and interspersed with a few bright flashes of sunlight. Perspective is lost in the double flattening of the landscape, first on the water surface and then on the canvas, giving rise to new shapes and dimensions, where each element of the composition appears as solid as the other.
Reflection 4, 2008
Oil on linen
274.3 x 548.6 cm (108 x 216 in)
By enlarging a scene to occupy the entire surface of a monumental canvas, Katz brings out the potential for abstraction that comes with being immersed in a small, unmoored slice of reality.
Pine Reflections 1, 1994
Oil on linen
243.8 x 183.5 cm (96 x 72,25 in)
'Observation, here reduced to a kind of precipitate (in the chemical sense) of perception and sensation, is pushed so far that he reconciles it with abstraction in one fell swoop.'

— Éric de Chassey
As well as nature, Katz explores the reflections of man-made constructions in the water. In the Piers series, made between 1997 and 1999, Éric de Chassey describes a 'barely perceptible geometric base, [...] starting from a multiplication of small studies on the motif—not, as the title might suggest, of the piers or pontoons themselves, but of their reflections in water, enlivened by a few waves and luminous sparkles.'
Piers 1, 1999
Oil on linen
63.5 x 129.5 cm (25 x 51 in)
Moving beyond what is captured in the reflections on water to the reflective properties of water itself, Katz's most recent works depict the sunlight dappling the surface of a lake near his home in Maine. The green colour of the water is the result of the atmosphere at a particular time, on a specific day; an example of how the artist seeks to capture the present moment.
Green Reflections 3, 1999
Oil on linen
243.8 x 304.8 cm (96 x 120 in)
Gray Light 2, 1992
Oil on linen
182.9 x 549.3 cm (72 x 216,25 in)
The artist's quick way of working allows him to create complex tonalities in a single brushstroke. Focusing on the flickering of light in more and more abstract compositions, Katz captures the movement of the water through the mingling of flecks of green, grey and white with the flat expanses of colour.
Lake 1, 2020
Oil on linen
76.2 x 137.2 cm (30 x 54 in)
'People ask me about the colours, but the colours are irrelevant. I can change the colours as long as I've got the light. People think that my colours are really specific but they're not because I'm looking for an overall light.'

— Alex Katz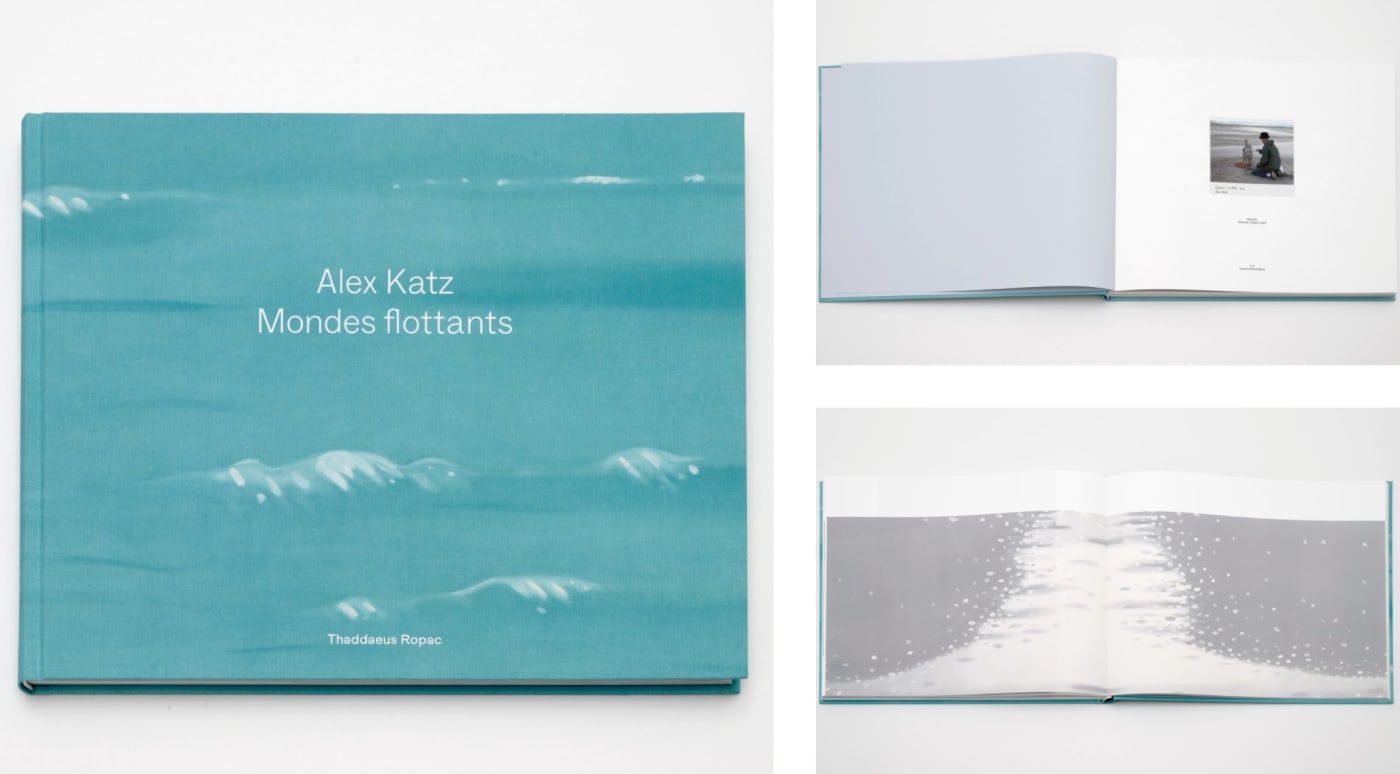 Saturday 20 November 2021, 4pm CET
Join us with Éric de Chassey, director of the Institut national d'histoire de l'art, for a talk about Alex Katz on the occasion of the launch of the exhibition catalogue.