Not Vital
Paintings
Until 26 May 2021
London Ely House
Scroll down to learn more
At times, it seems as if we & everything surrounding us is unreal or an illusion or a void. [...] The void or the unpainted areas on my canvases are by no means empty. They only represent a certain uncertainty.
Portraiture has long been integral to Vital's sculptural practice, including abstracted head forms in steel and ceramic. He often collaborates with skilled craftsmen around the world to realise his sculptures, while architectural works such as his Houses to Watch the Sunset are embedded in their local communities.
His painted portraits, while introspective, also convey a sense of community, as their subjects are drawn from the artist's personal pantheon. These may be the people he works with daily in his Beijing or Sent studios, chance encounters that made a strong impression, his artistic, musical and literary icons, or self-portraits in which he assumes various guises.
Read the conversation between Not Vital and Hans Ulrich Obrist, Artistic Director, Serpentine Galleries, London, discussing the making of this series of paintings, also featured in excerpted form in Wallpaper*
I was always interested in painting, because painting and sculpture are two different worlds and at some point I wanted them to cross over.
— Not Vital
HEAD No.1, 2013
Stainless steel with PVD coating
150 x 130 x 105 cm
Installation view, HEADS, Thaddaeus Ropac Paris Marais, 2014
This intimate body of work was the subject of museum exhibitions at the UCCA Center for Contemporary Art, Beijing in 2011 and the Ateneum Art Museum, Helsinki in 2018. The exhibition at our London gallery is the first time Vital's Laos Monk Paintings have been shown.
Installation view with pillars made from Camay soap, Not Vital: Full On, UCCA, Ullens Center for Contemporary Art, Beijing, 2011
Vital has described how the stainless steel walls of his studio in Caochangdi produce reflections of the studio's interior rather than views to the outside, creating the effect of 'looking into a mirror or a pond' and encouraging introspection.

The young Japanese architect Sano decided to build an invisible house for me. I agreed. I cannot see into my house, I only see a reflection of myself.
— Not Vital
Not Vital's painting studio in Beijing
The paintings are an inner vision of yourself and other people.
It's like taking an X-ray to see what's inside.
— Not Vital
The monochrome palette reflects his youth spent in the Swiss Engadin valley, also known as the Grisons or 'the land of the grey'.

If you grow up in a surrounding where you have snow for six months of the year, your eyes are naturally sensitive to white. Then, when the snow melts, the mountains turn grey…
— Not Vital
To minimise the distractions of the surrounding landscape, the artist's studio in Sent, designed by his brother Duri Vital, was conceptualised solely for the purpose of painting. Without any windows, light is provided by the skylights and an LED beam that bisects the space.

For Vital, this is a way to protect himself from the overwhelming landscape surrounding him […] The studio looks like a chapel, populated by Vital's portrait paintings.
— Susanna Petterrson
Sometimes, late in the afternoon, the studio turns almost completely dark, which is almost perfect to paint. The subdued light makes my gaze feverish and I have to make a bigger effort to see what I am looking at. Everything around me is emptied, everything almost loses gravity, like floating or falling or daydreaming.


The Last Supper, 2015. Oil on canvas. 420 x 1100 cm
Walking Bench, 2011-12. Rosewood. 50 x 88 x 25 cm
Installation view, Not Vital, Yorkshire Sculpture Park, 2016
Preoccupied with the expression of an inner reality, these works highlight the potency of essence as opposed to detail. As Vital describes, 'This might be one of the reasons why most of the space surrounding the heads and most of the canvas is left untouched. When a head stands alone, I work better. No need to add anything, it would just be more.'
Jon, 2020
Oil on canvas, framed and glazed
256.5 x 197 x 12.5 cm
Much of Vital's art reflects a deep-rooted connection to animals, and he has described how every village in his area of the Engadin is associated with a particular animal. In Sent it is the donkey, and the artist has created several works exploring his transformation into a donkey as well as the recurrent motif of the camel, the animal he personally identifies with, such as Self portrait as a camel (2019). This can be traced back to formative experiences in Egypt and Niger, where camels are essential to the nomadic Tuareg people of the Sahara Desert.
Self portrait as a camel, 2019
Oil on canvas, framed and glazed
139 x 108 x 8 cm
4 Camels for Yorkshire, 2016
Bronze
Each 300 x 24 x 48.5 cm
Installation view, Not Vital, Yorkshire Sculpture Park, 2016
The minimalism of Vital's portraits, in which details are pared down to their essentials, focuses attention on the relationship between form and space. This reduction 'makes you look at it more closely and more attentively, since the painting doesn't jump in your face with loud colours,' says Vital. 'Not only does it invite you to look at it more closely and more precisely, but it draws you in like a magnet [...] the painting becomes more mysterious and is endowed with more depth.'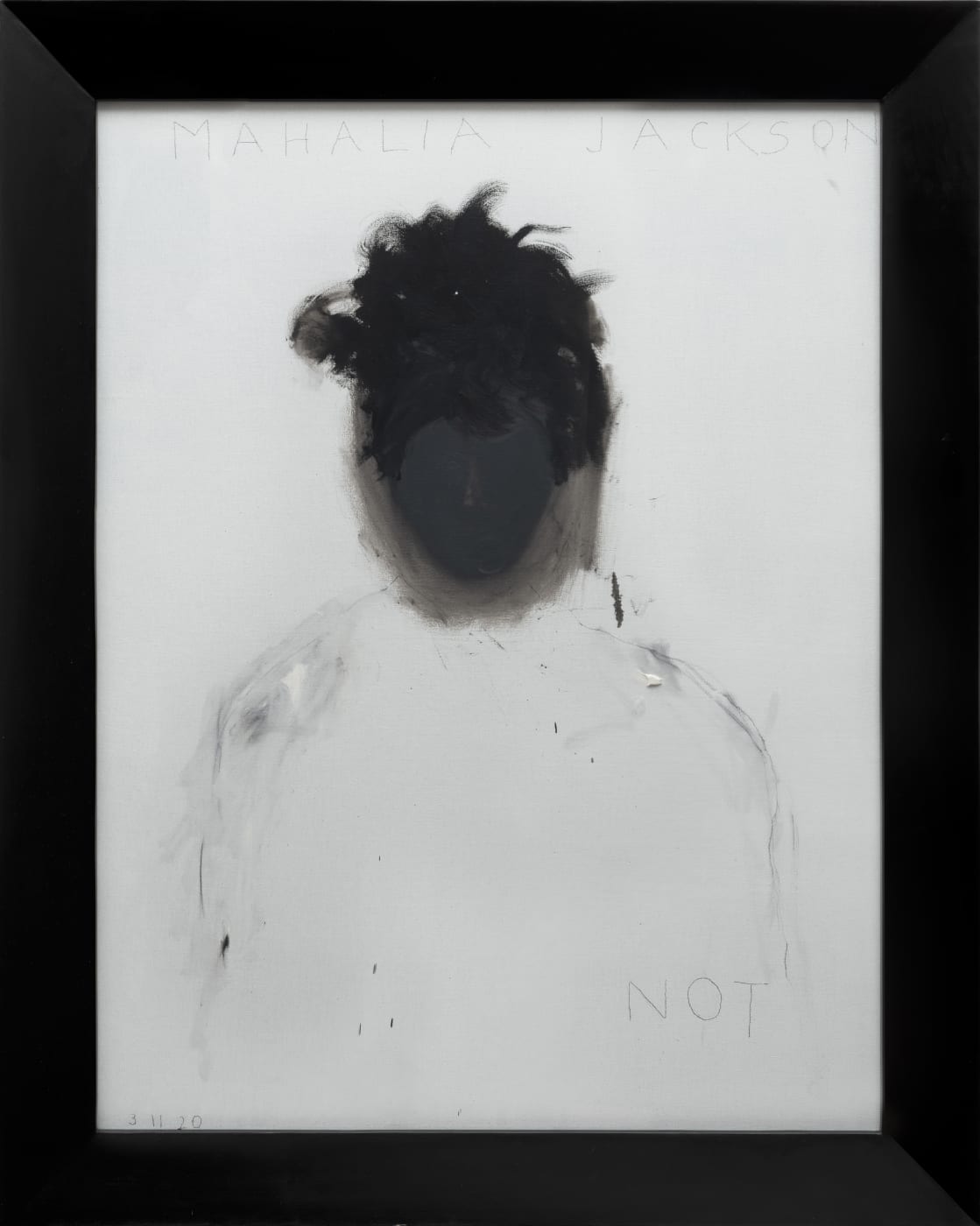 Portraits have to resemble the person you paint; otherwise there is not much reason for making portraits in the first place. You can create tension by distorting or breaking a form. I prefer to create silent excitement or quiet tension by painting what I see and how I see it.
— Not Vital
Nina Simone, 2020
Oil on canvas, framed and glazed
146.5 x 116 x 8 cm
Mahalia Jackson, 2020
Oil on canvas, framed and glazed
139 x 109 x 8 cm
Joseph Beuys, 2016
Oil on canvas, framed and glazed
138 x 108 x 8 cm
The Idiot after Dostoyevsky, 2012
Oil on canvas, framed and glazed
138 x 9.5 x 8 cm
An integral part of the work, the glazed frame functions as a form of skin that unifies and contains the painting, simultaneously inviting the viewer in and keeping them at a certain distance. Creating reflections that can obscure the image from certain angles, the glass layer forces the viewer to physically negotiate the act of looking, repositioning themselves in order to fully experience the work.
Without glass a painting is simply naked. Glass unifies and the painting becomes the whole, it invites you to enter it and at the same moment softly pushes you away. It reflexes and inflexes. It helps to protect the painting from you and you from the painting. It creates a window, just the right distance where you are not able to touch what you see.
The artist's series of Monk Portraits (2016) were created following a trip to the ancient capital of Laos, Luang Prabang, located in the valley where the two rivers Mekong and Nam Kham converge. These are painted on the saffron orange textiles used to make the local monks' robes, creating a luminous background. The paintings recall Vital's daily meetings with monks while walking the streets of Luang Prabang, an experience which made a lasting impression and which he recorded in photographs.
Monk Portrait, 2016
Oil on canvas, framed and glazed
140 x 100 x 8 cm
United in their calling and all clad in the same orange robes, the individual monks varied greatly in age and experience – some were older and had made a lifetime commitment, while others were younger and only intended to spend a few years in service. With each work in the series a different size, according to the individuals they depict, these paintings reflect both the anonymity of faces in a crowd and the unique quality of each encounter.
Monk Portrait, 2016
Oil on canvas, framed and glazed
139 x 109 x 8 cm
Monk Portrait, 2016
Oil on canvas, framed and glazed
108 x 79 x 8 cm
The minimalism of the Monk Portraits suggests the ascetism of a monastic lifestyle. The face becomes a dark focal point, floating like an orb against the intense orange background, inviting viewers to temporarily adopt the meditative state of Vital's subjects.