Mandy El-Sayegh
Interiors
Until 30 September 2023
London Ely House
Scroll down to learn more

I realise more and more that I just want to feel the interiority of my studio when I make a show, because I can't bear the white walls.
For her first solo exhibition with Thaddaeus Ropac in London, Mandy El-Sayegh responds to the architecture of Ely House, transforming it through a series of interconnected interventions. Interrogating the rich multiplicity of meanings inherent in the term 'interior', she creates enveloping environments within which intersecting ideas of bodily, psychological and spatial interiority play out.
Watch the artist speak about the exhibition
Created specifically for the first-floor gallery, the installation In Session takes inspiration from the consulting room of the renowned neurologist Sigmund Freud. Designed to function as a portable interior, Freud's study was itemised and its contents meticulously recorded so it could be restaged in a new location following his exile from Vienna to London in 1938.

New paintings from the
Net-Grid
series are placed atop walls collaged with unstretched canvases to emulate the layered environment of El-Sayegh's studio. Imagery, such as the 'evil eye', Hindu deities and Joss paper money burnt in Chinese ancestral worship, references Freud's consulting room, famously containing items including Buddha heads, Ancient Egyptian artefacts and Persian textiles.
Net-Grid (Blessing), 2023
Oil and acrylic on linen with collaged and silkscreened elements
235 x 225 cm (92.5 x 88.6 in)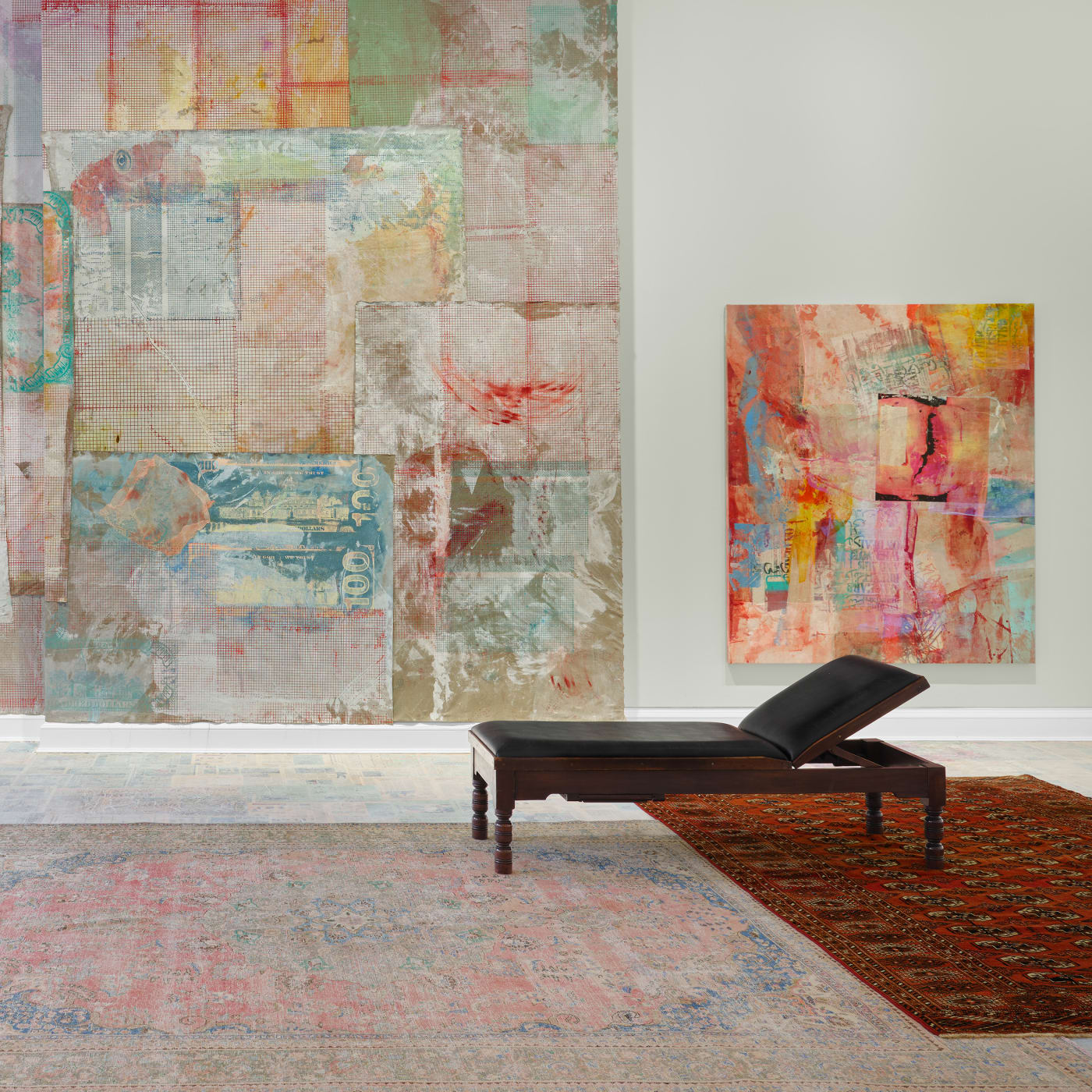 Juxtaposing her paintings with antique examination couches and Persian rugs against a wall painted in eau de Nil – a light-greenish hue common in traditional English interior design – El-Sayegh asks how objects from Eastern cultures have been assimilated into Western European spaces, at times through an Orientalist lens that undermines their original significance.
The title of this painting references vibrantly coloured Madras textiles from southern India. Typically patterned with a checkered design, they give these new
Net-Grid
paintings their distinctive citrusy palette.
Net-Grid (madras checks), 2023
Oil and acrylic on linen with collaged and silkscreened elements
235 x 225 cm (92.5 x 88.6 in)


First used by El-Sayegh in 2010, the hand-painted grid is conceived as a symbolic 'holding device' for the unruly collage of materials laid beneath in the Net-Grid paintings. In an almost surrealist manner, individual elements float to the surface of the assemblage, as if rising from the unconscious mind, and are caught by the net. While the linear structure offers a symbolic attempt to contain this overflow of sources, as El-Sayegh describes, it is simultaneously characterised by 'a porosity, a transparency, and a barrier function, which frustrates reading.'
Net-Grid (missing eye), 2023
Oil and acrylic on linen with collaged and silkscreened elements
235 x 225 cm (92.5 x 88.6 in)


In the ground-floor gallery, a second installation builds upon El-Sayegh's ongoing series of
White Grounds
paintings, in which she typically covers densely layered imagery with an uneven wash of white gesso. In making visible the processes of layering involved in priming a canvas, she critiques the assumed neutrality of the 'white ground' as a
tabula rasa
upon which a final image will evolve.
New
paintings mark a key development in the imagery employed in the White Grounds series. Disassembling an atlas map of the world, El-Sayegh rearranges the forms of continents to critique the supposed neutrality of another type of 'ground': the land under our feet and its representation in acts of mapping.
Several of the paintings are overlaid with gridded lines that reference the laser levels used to install works in a gallery space, as well as the system used in maps to find specific locations, and the reticule (or crosshair) built into the eyepiece of certain guns to improve the accuracy of a shot.

Understanding the potential for the forms of the continents to be read simultaneously as abstract 'smears of paint' and geographical territories, El-Sayegh draws a connection between the art-making processes foregrounded in earlier White Grounds works and her examination of the politics of maps, the latter often determined by violent means.
White Grounds (Supermetitaj nuboj), 2023
Oil and acrylic on canvas with collaged and silkscreened elements
235 x 225 cm (92.5 x 88.6 in)


Projected against the surface of a
White Grounds
painting, a video work splices together images with film and audio clips drawn from the artist's ever-expanding archive, featuring studio processes, newsprint, Arabic calligraphy, anatomical studies and details from her own paintings.


The fluctuating assemblage of visual and auditory material (the latter composed by Lily Oakes) evokes the artist's experience of akathisia, a neuropsychiatric syndrome she experienced in 2020 that produced an uncontrollable feeling of restlessness and an inability to stay still. 'There's this experience of "too-muchness", which I guess is in the work visually as well, and I wanted that to be felt,' explains the artist.
Tutmundo, 2023
Single-channel video and two paintings:
(1) Oil and acrylic on canvas with collaged and silkscreened elements. (2) Oil and acrylic on linen with
collaged and silkscreened elements on wooden platform
Dimensions variable


Clip from Akathisia, 2023
Single-channel video
Duration: 22:00 min


On 12 September 2023, El-Sayegh will activate the installation with a collaborative performance work, Akathisia, co-performed with dancer Yuma Sylla. Understanding performance as a way of interpreting 'psychical space and giving it structure on the outside,' the artist reflects and reinterprets the inner states she experiences in her studio.
I'm wearing all white, the dancer's wearing all white, and then this image is being projected onto us. So it's kind of like this channeled state where I'm getting ready to go paint in the studio. I put good music on, drink a little bit and I get warmed up… It's like a moving-type painting.
— Mandy El-Sayegh
Akathisia, 2023
Performance by Mandy El-Sayegh in collaboration with Yuma Sylla at Lehmann Maupin, New York. Photo: Izzy Leung. Courtesy of the artist and Lehmann Maupin, New York, Hong Kong, Seoul, London
When you walk in there's this beautiful long, grand marble hallway. I wanted to break that up. I wanted you to interface with the body and my work in a way that your body has to touch it and go through it.
— Mandy El-Sayegh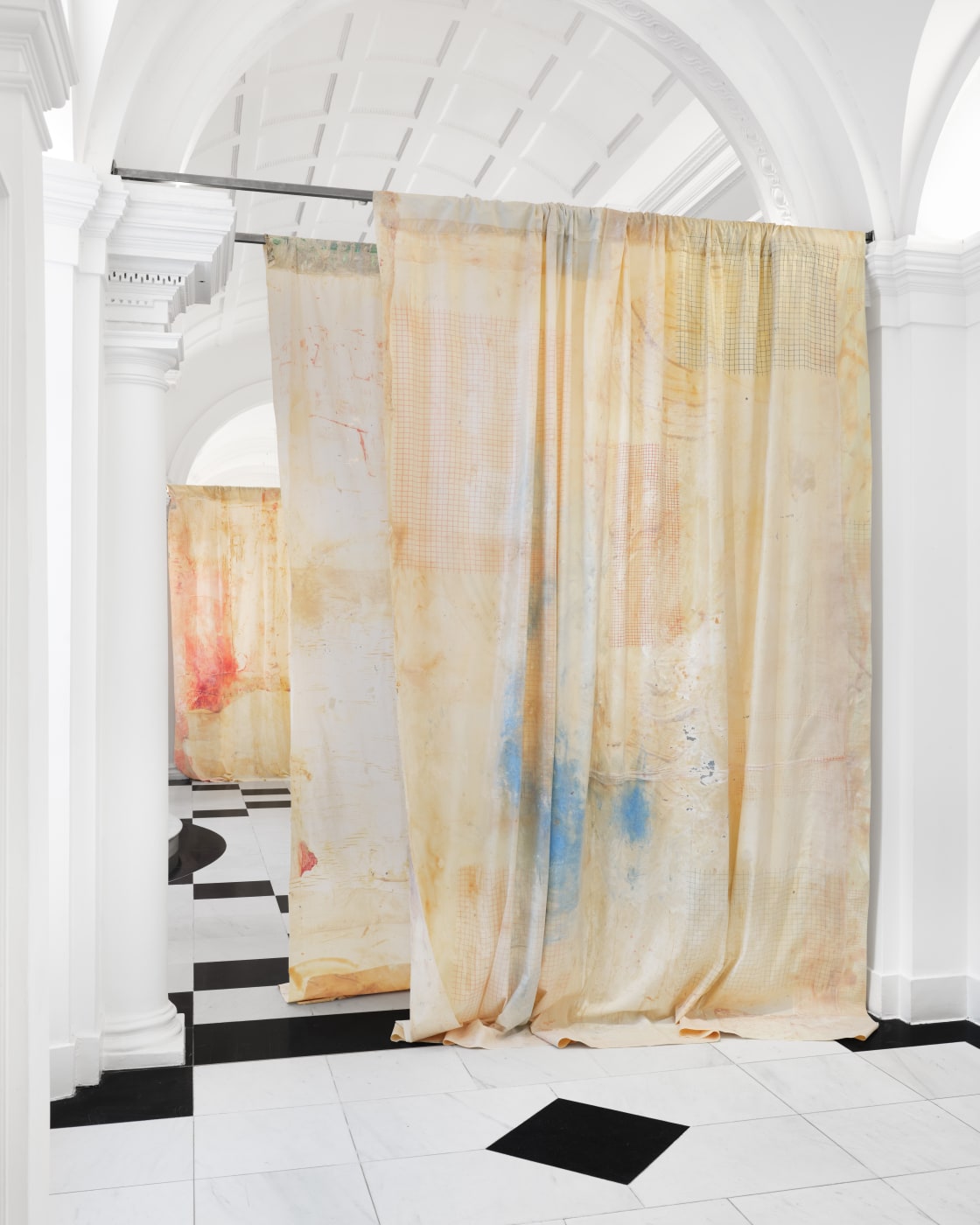 Brushed, smeared, splattered and screenprinted with peach, blood-red and bruised-blue paint, skin-like latex curtains are suspended from the ceiling of the

ground-floor hallway

. As if flesh stitched together with surgical sutures, the hanging sheets are pieced from overlapping sections of latex.


Passing through the curtains, the visitor symbolically moves from an exterior to an interior space as they enter the exhibition. 'You're kind of going on this journey inside these vessels into these different portions of this big body,' explains El-Sayegh. 'This is the experience of being a body-in-pieces, a history-in-pieces.'
a good hang, 2023
Latex and mixed media hung on brushed steel
Dimensions variable


Visually, we're colonised through the imaginary… Maps are always contested depending on what you highlight… Through paint, which is very malleable, we can lay bare their construction as imaginary things.


Building on the White Grounds installation, this four-part work explores the politics of mapping. Presented on free-standing metal structures, the canvases emulate blackboards or posters, invoking pedagogical formats used in classrooms. Juxtaposing rearranged atlas imagery with vintage pornogrpahic material and screenprints of fake currency, El-Sayegh highlights the (in)visibility of global transactions, drawing a comparison between the exploitation of territories and the objectification of the female body.
Atlas works (Gemelo Malvado), 2023;
from Atlas works (All in your head), 2023
Four oil and acrylic canvases with silkscreened and collaged elements on brushed steel supports
Dimensions variable


Mandy El-Sayegh works across diverse media to examine how social, cultural and political orders are formed and deconstructed in the contemporary world. In large-scale paintings, table vitrines, immersive installations, performances and videos, she collages disparate fragments of information together, interrogating the ways that meaning might emerge from the relationship between these different source materials.