Sean Scully
Landline Weave
3 June—30 September 2023
Paris Pantin
Scroll down to learn more
The Irish-born, American painter Sean Scully presents new works from his
Landline
and
Wall of Light
series, as well as new typologies of work titled
Weave
and
Net
, which look back to some of the artist's earliest work.
Watch a video of the artist introducing the exhibition
Sean Scully fuses the colouristic tradition of European painting with the scale and expressiveness of American abstraction. Structured through arrangements of vertical and horizontal lines or blocks, his paintings eschew the cold rigour of Minimalism, in favour of an impassioned application of colour that infuses his work with an intrinsic vitality.
Scully's paintings are always rooted in the real world, referencing elements of the manual labour he was involved in since leaving school at the age of 15 – typesetting, stacking and construction work.
In his new
Weave
and
Net
series, Scully draws on his early work with interlocking lines and contrasting colours to form an intricate textural tartan into which he insets squares of more densely arranged rectangular shapes characteristic of his ongoing
Wall of Light
and
Landline
series.
Tappan Weave Green, 2023
Oil on aluminium
216 x 190.5 cm (85.04 x 75 in)
When I was a typesetter and a graphic designer – this was before computers – we used to make everything with templates that were cut with plastic and surgical scalpels. And I got the idea to pile up grids so that they eventually destroyed themselves. I wanted to take order to ruin order.
— Sean Scully
Scully began working with grid-like patterns in the late 1960s, in a process which he describes as 'systematic and improvisational at the same time'. Throughout the following decade, he continued his experiments with stripes in his Overlay and Crossover series, exploring their 'irreducible yet elastic property', as the art critic Kelly Grovier puts it. Over fifty years later, the grids have taken on new forms in the Weave and Net series.

Net Red, 2023
Oil and oil pastel on aluminium
216 x 190.5 cm (85.04 x 75 in)
It's a kind of matrix.
It's a kind of grid.
It's not a grid - it's 'a kind of grid'!
There's a BIG distinction.
That's a hand-drawn grid, therefore, it's not actually a grid.
It's an interpretation of a grid.
By hand.
Which is humanizing a grid.
Making the grid suitable for human consumption - and interpretation.
—
Sean Scully, 'Grid Painting', 2009
Net Blue, 2023
Oil and oil pastel on aluminium
215.9 x 190.5 cm (85 x 75 in)
Begun in 2013, Scully's Landline series marked a shift in the artist's practice, evoking horizons and landscapes, rather than the architectural, brick-like structures that had thus far inspired his Wall of Light compositions. The contrast between the wooden and aluminium grounds that underpin this bipartite composition reveals the role of the support in absorbing and reflecting light. It also highlights the tension between the urban and natural worlds that permeates Scully's wider oeuvre.
Landline Maroon, 2023
Oil on wood and aluminium
216 x 284.5 cm (85.04 x 112.01 in)
I try to paint this, this sense of elemental coming-together side by side, stacked in horizon lines endlessly beginning and ending – the way the blocks of the world hug each other and brush up against each other, their weight, their air, their colour, and the soft uncertain space between them.
— Sean Scully
Works such as
California Deep
(2023) combine Scully's two essential geometries, embedding one painting within another to establish a dialogue between image and frame, inside and outside, the natural and the manmade. 'I always thought of the insets in my paintings as figures cut in or cut out of their context,' explains the artist '– their personal landscape. Bodies that linger.'
California Deep, 2023
Oil on aluminium
216 x 190.5 cm (85.04 x 75 in)
Blending the influence of Piet Mondrian's geometric abstraction with the emotional directness of Jackson Pollock, today, Scully's approach is, in his own words, 'looser', allowing drips of colour to bleed from one stripe onto the next and the luminous grounds of his works to transpire through the thin layers of glaze he superposes with varying density.
Plough, 2023
Oil and oil pastel on wood and aluminium
216 x 285.5 cm (85.04 x 112.4 in)
I was talking to a friend once on the phone about a painting I had just finished. [...] She was asking me to describe it. After a few minutes I said, 'look, I can describe it to you, by describing something that can't really exist.' I told her, since it was made of many greys that were mixed in with pink and red and blue, that it was maybe like a Morandi on a giant scale that was drawn on a broken grid. — Sean Scully


Net Black White, 2023
Oil and oil pastel on aluminium
216 x 190.5 cm (85.04 x 75 in)
I'm very connected to the world, you know, because I'm fundamentally emotional, not intellectual.
— Sean Scully
In the early 1980s, Scully travelled to Yucatán, Mexico, where he created a number of watercolours inspired by the patterns of light and shadow he observed on the stacked stones of ancient Mayan walls. Fascinated by the surfaces, which, animated by light, seemed to reflect the passage of time, Scully used the experience to develop the first Wall of Light paintings a few years later. The series remains one of his most pivotal bodies of work.
Blue Yellow, 2023
Oil on linen
107 x 122 cm (42.13 x 48.03 in)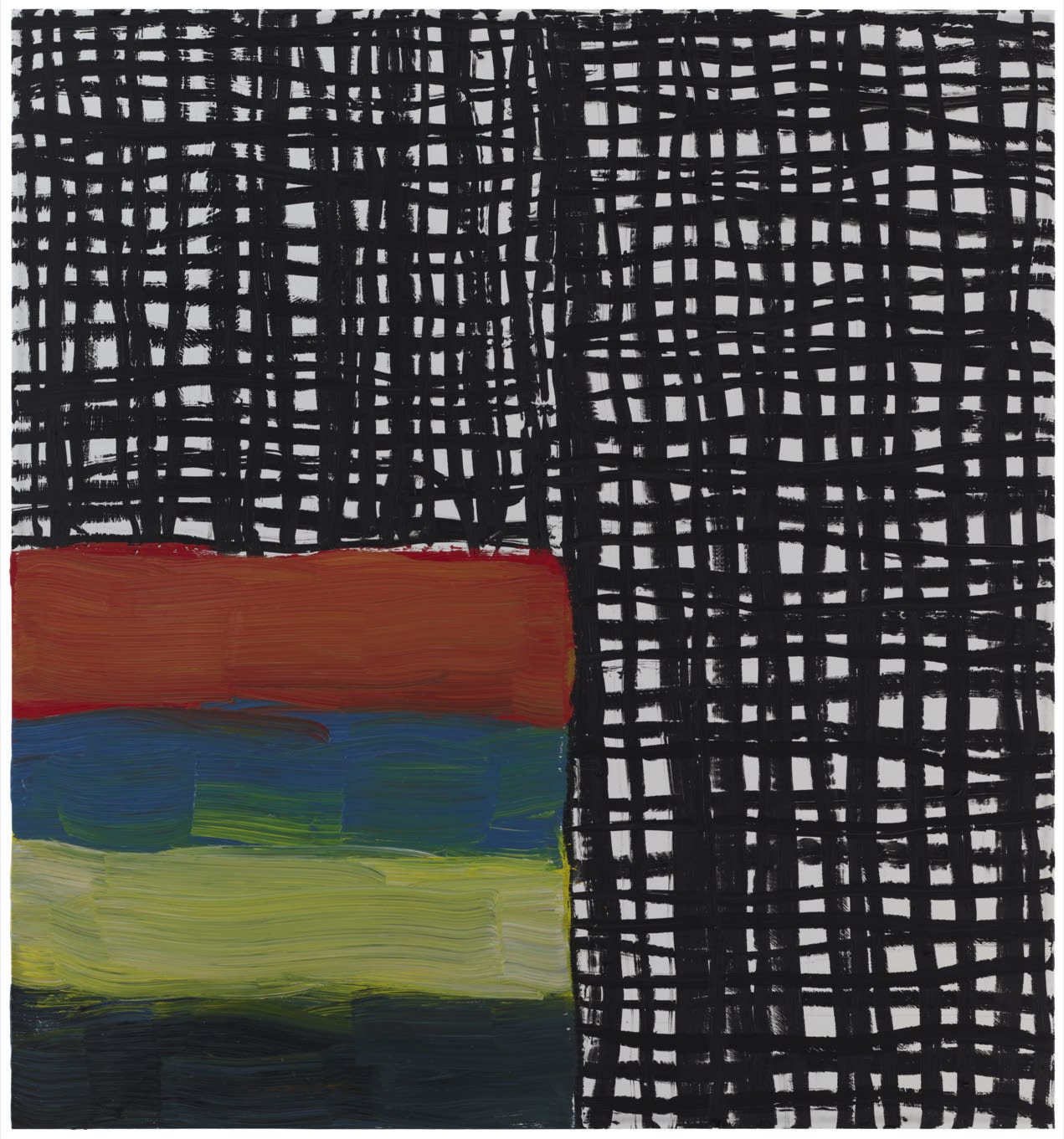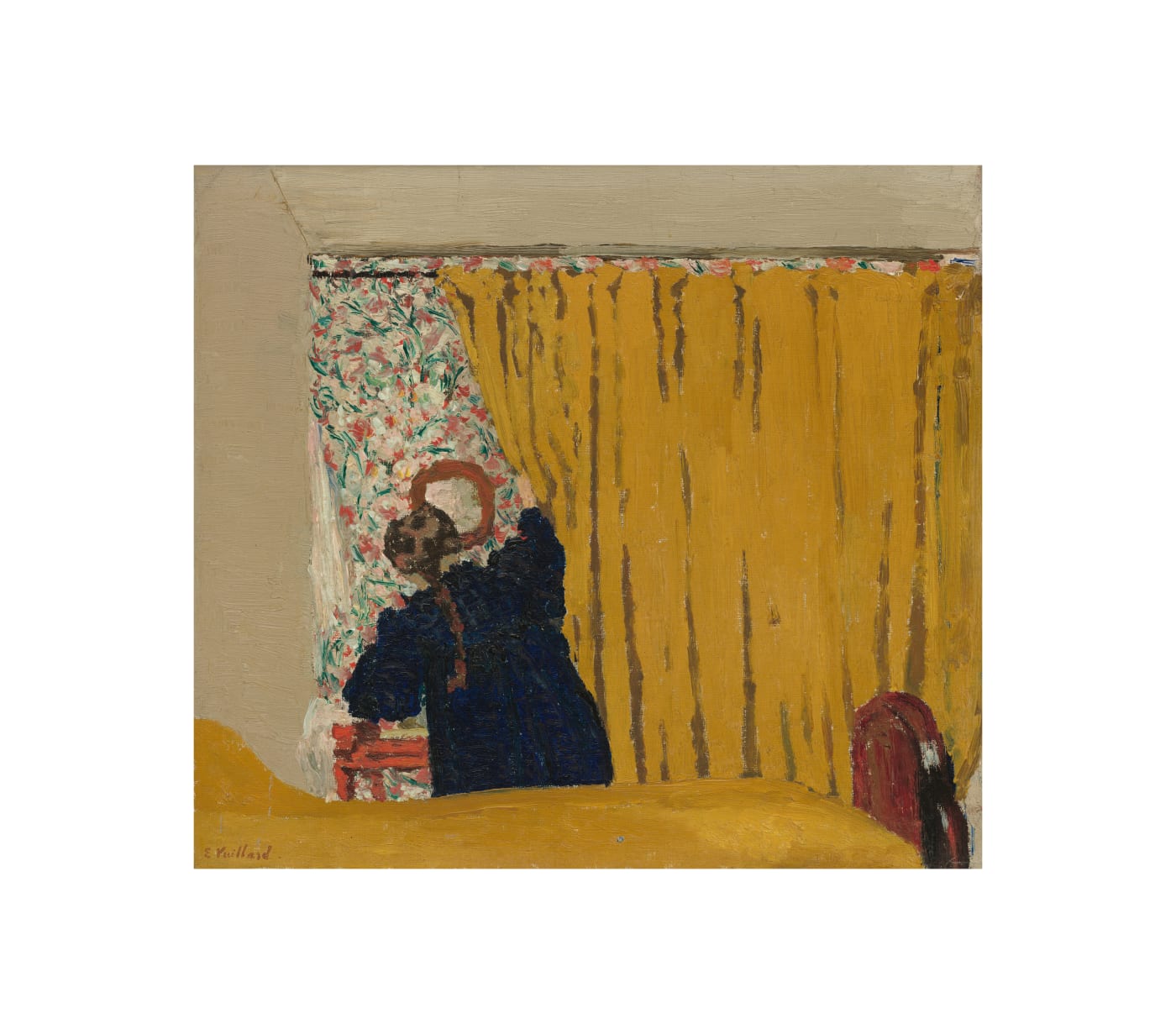 Scully cites the Nabis painter Édouard Vuillard as an influence for his looser treatment of paint. Pointing to the overlapping hues and rough edges of his own recent paintings, he remarks: 'The subliminal influence of Vuillard is very strong in these new paintings. There's a lot of this seepage through the seams that you get in Vuillard, which we all love.'
Rust Yellow, 2023
Oil and oil pastel on aluminium
76.2 x 71.1 cm (30 x 27.99 in)
Édouard Vuillard
The Yellow Curtain, c.1893
Oil on canvas
34.7 x 38.7 cm (13.66 x 15.24 in)
Ailsa Mellon Bruce Collection, National Gallery of Art, Washington, D.C.