Alchemy
Joseph Beuys | Anselm Kiefer | Sigmar Polke | Robert Rauschenberg | Sturtevant | Emilio Vedova | Andy Warhol
26 May—29 July 2023
London Ely House
Scroll down to learn more
Placing work by major post-war and contemporary European and American artists in dialogue, this group exhibition conceives of the artist's studio as a laboratory, exploring the legacies of alchemy through the distinct perspectives of each artist and their experimental modes of engaging with the world around them.
Rooted in antiquity, alchemy encompasses an expansive body of practices accumulated from wide-ranging cultural and historical contexts. Describing diverse philosophical and proto-scientific traditions, the term is typically associated with the purification and transformation of materials, and the analogous idea of bodily and spiritual perfection.
Alchemy takes this definition as a lens to examine experimental uses of pigments, mediums, techniques and alchemical subject matter in the output of major artists, offering a fresh perspective on works created from the early 1960s to the present day.
Alchemy is a symbol for the artist… you have to destroy and then recreate.
Anselm Kiefer
Working at the forefront of the contemporary art world, the German artist Anselm Kiefer (b.1945) has taken alchemy as a central theme in his practice. Understanding the transformation of lead into gold to be an analogy for the spiritual renewal of humankind, he frequently uses both materials within his oeuvre.
Anselm Kiefer
Philemon und Baucis, 2023
Emulsion, oil, acrylic, shellac, sediment of electrolysis, gold leaf and charcoal on canvas
190 x 330 cm (74.80 x 129.92 in)
I put my trust in the materials that confront me, because they put me in touch with the unknown. — Robert Rauschenberg
Just as alchemists sought to transform base metals through chemical reactions, American artist Robert Rauschenberg (1925–2008) experimented with tarnishing agents in his 1985 Copperhead-Bites to create unpredictable colouristic and textural variations on thin copper sheets.
The first series of Rauschenberg's metal paintings, the Copperhead-Bites mark the artist's pioneering transition from working on canvas, as he created screen-printed collages on metal supports using imagery taken from his own black-and-white photographs of Chile.
Robert Rauschenberg
Copperhead-Bite IX / ROCI CHILE, 1985
Silkscreen ink, acrylic and tarnish on copper
247.7 x 123.8 x 3 cm (97.5 x 48.4 x 1.1 in)
Striving to gain greater understanding of the human body, alchemical traditions frequently employed 'base' bodily fluids, such as urine, in complex experiments. Between 1977 and 1978, following preliminary trials in the early 1960s, Andy Warhol (1928–87) undertook his own set of artistic experiments, appropriating the alchemical substance to produce a series of audacious Piss paintings.
Andy Warhol
Piss Painting, 1961
Urine on linen
106.7 x 183 cm (42 x 72 in)
Rolls of canvas were laid out on the floor of Warhol's New York studio and the artist, his assistants and visitors urinated directly onto their surfaces, or samples were poured, dripped and applied with a sponge mop, leaving distinctive yellow stains.
Bob Colacello
Gelatin silver print
According to the writer and photographer Bob Colacello, who moved in Warhol's inner circle during this period, the Piss paintings were conceived as 'a parody of Jackson Pollock… referring to rumors that Pollock would urinate on a canvas before delivering it to a dealer or a client he didn't like.' Recognising the artist's characteristic sense of humour, Colacello concludes, 'Andy liked his work to have art-historical references.'
Andy Warhol
Piss Painting, 1977–78
Urine on linen
198.5 x 492.1 cm (78.15 x 193.74 in)
Jackson Pollock
Blue poles (Number 11), 1952
Oil, enamel, aluminium paint and glass on canvas
212.1 x 488.9 cm (83.5 x 192.5 in)
National Gallery of Australia (NGA), Canberra
These paintings have to do with alchemy. This age-old fascination of changing base metals to gold or other precious metals is seen in a different light. Once again, Andy made us look at something differently. He has taken something we all see every day and made us understand that it too can become art.

— Vincent Fremont, former manager of Andy Warhol's studio and co-founder
of The Andy Warhol Foundation for the Visual Arts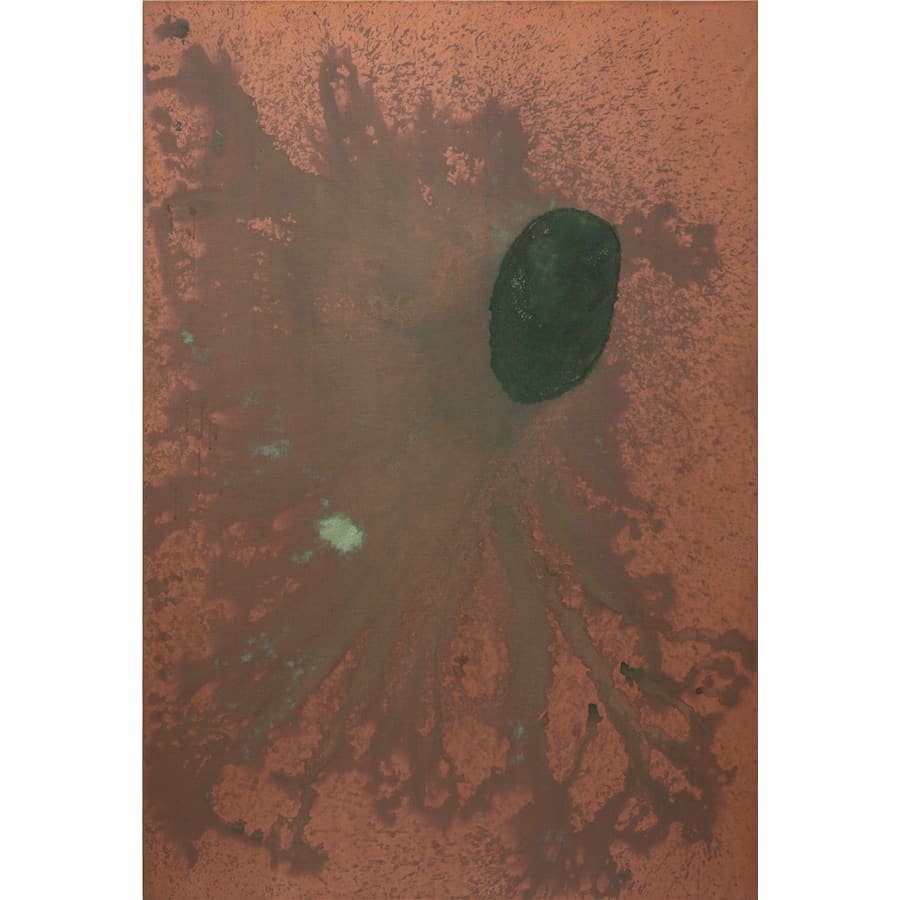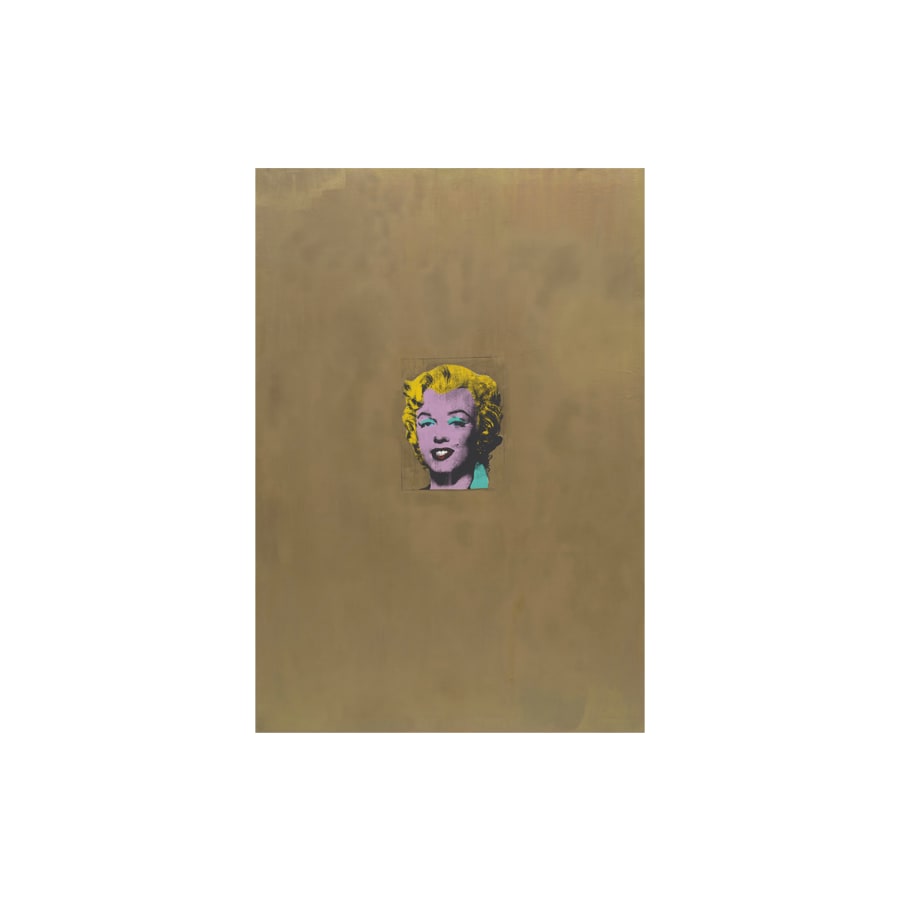 With their shimmering patinas and colouristic variations, Warhol's Oxidation paintings mark a key development in his Piss painting series. Taking inspiration from the gold backgrounds of religious icons, Warhol painted canvases with a diluted acrylic medium mixed with metallic powders. Assuming a 'wet-on-wet' technique, urine was then applied so that the uric acid oxidised the metal paint to create sensual blooms surrounded by halos of fine droplets.
Andy Warhol
Oxidation Painting, 1977–78
Urine and copper paint on linen
193 x 132.1 cm (76 x 52 in)
Andy Warhol
Gold Marilyn Monroe, 1962
Silkscreen ink and acrylic on canvas
211.4 x 144.7 cm (83.23 x 59.97 in)
The Museum of Modern and Contemporary Art (MoMA), New York
© 2023 Andy Warhol Foundation for the Visual Arts / Artists Rights Society (ARS), New York
We know that truths are also sometimes found through adventure, by chance…
The artist has an eternal sense of investigation.
—

Emilio Vedova
Emilio Vedova
An alchemical interest in the transformative power of materials also informs the practice of the Venetian abstractionist Emilio Vedova (1919–2006).
For his Venezia muore cycle of 1992, he poured water from the Venetian Lagoon onto canvases prepared with acrylic and nitro paint. In a reactive process, the water- and oil-based substances repel one another, causing them to settle in a ghostly shadow upon the surface of the work, echoing the appearance of the salt sediment left behind by the water that periodically floods the streets of Venice.
Emilio Vedova
Venezia muore I-III, 1992
Acrylic paint and nitro paint on canvas
Each 260 x 130 cm (102.36 x 51.18)
Sigmar Polke
Created in 1983 during the artist's self-described 'alchemical' turn, works from the major Katastrophentheorie series by Sigmar Polke (1941–2010) demonstrate both his extensive experimentation with pigments and his thematic engagement with mathematics, a discipline historically entwined with medieval alchemy.
Composed of four paintings, the series responds to the principles of catastrophe theory, whereby small, repeated disturbances within a state of long-term equilibrium might have sudden and catastrophic consequences. Drawing upon the artist's experience with psychedelics, the visual language of the paintings similarly maps a cumulative expression of energy, resulting in the varied, energetic mark-making that unfolds across the canvases.
Sigmar Polke
Katastrophentheorie II, 1983
Synthetic and natural resin on canvas
200 x 159.5 cm (78.74 x 62.79 in)
Traditionally achieving its distinctive colour using excretions from the mucus glands of molluscs, the distinctive purple hue that dominates the Katastrophentheorie works reflects the specialist knowledge of pigments acquired by the artist during his period of extensive travel in the 1970s.
Sigmar Polke
Katastrophentheorie IV, 1983
Synthetic and natural resin on canvas
200 x 159.5 cm (78.74 x 62.79 in)
I had a feeling that I had to choose a different method, I had to produce something in my laboratory that would provoke people, get a stronger reaction out of them, something that would make them think about what it means to be human – creatures of nature, social creatures, free agents. — Joseph Beuys
Joseph Beuys
One of the most influential European artists of the 20th century, Joseph Beuys (1921–86) understood the alchemical potential of materials to pass through different physical states as a metaphor for his quest to transform society through artmaking. He devised his own pigments, including the oil-based admixture
Braunkreuz
, which took on highly symbolic functions within his oeuvre.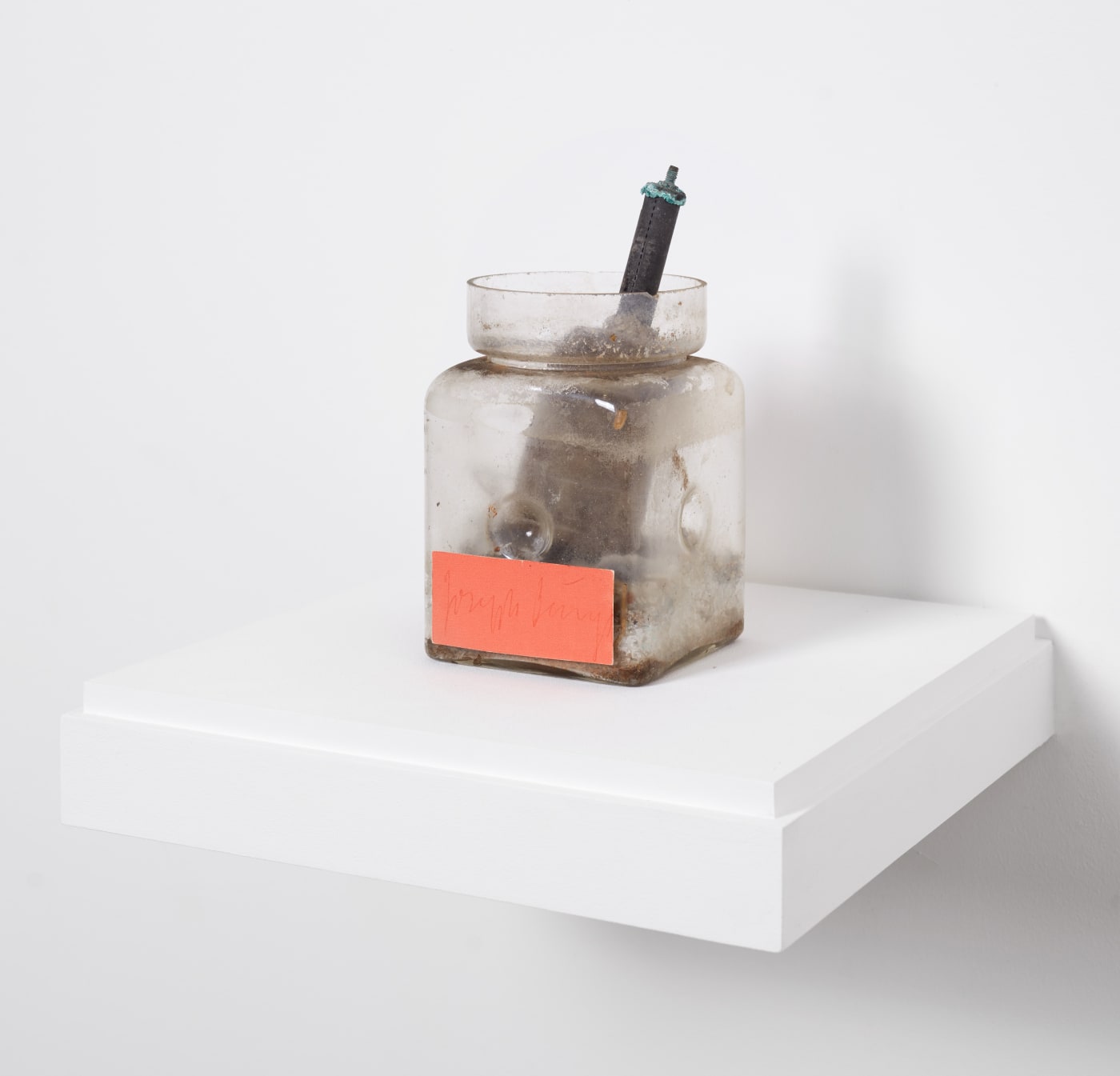 Emulating 'wet cell' batteries invented in the 1890s, composed of solution-filled glass jars in which electrodes were immersed, Naßbatterie (Wet Battery; 1973-74) embodies ideas of conducting, insulating and storing energy. Encompassing both the scientific and the spiritual, it ultimately represents what Beuys saw as the essential function of art: activating the latent creative energy that resides in every individual.
Joseph Beuys
Naßbatterie (Wet Battery), 1973–74
Mixed media with glass, crystals and battery
9.9 x 9.9 x 23.1 cm (3.9 x 3.9 x 9.1 in )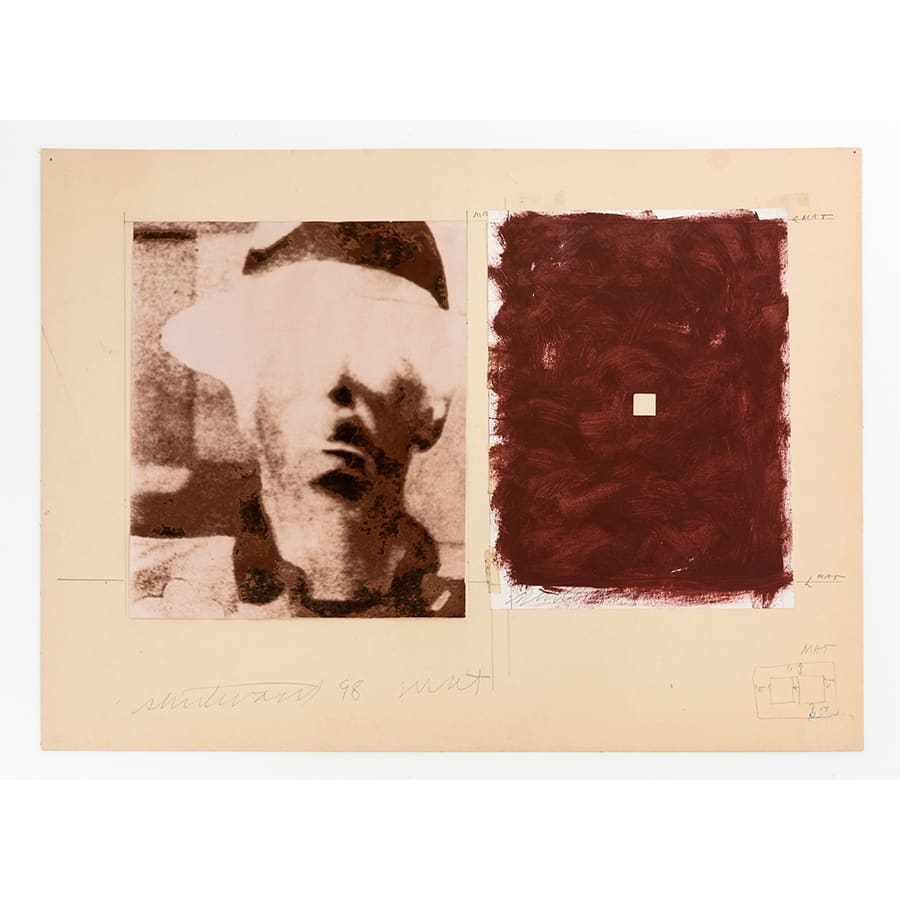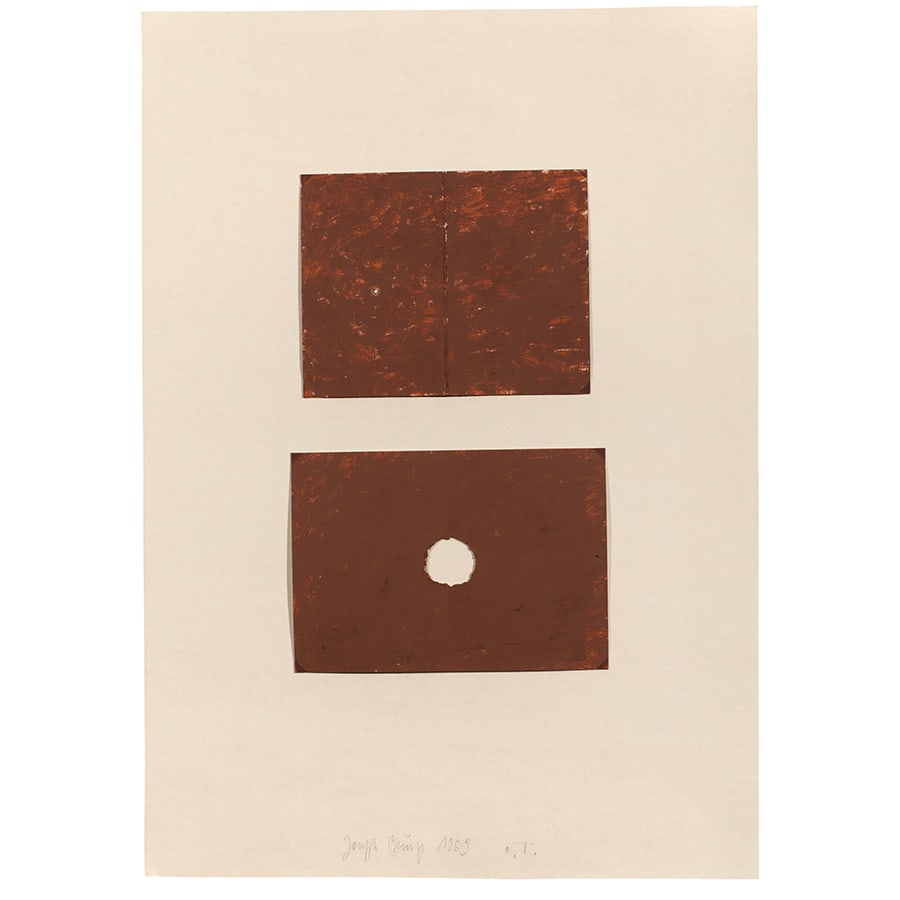 Sturtevant
While Beuys was interested in the capacity of art to facilitate social and spiritual renewal, American artist Sturtevant's (1924–2014) radical approach to artmaking offers a distinct perspective on alchemical transformation.
Through her reinterpretations of Beuys's works, she highlighted the differences that inevitably emerge between an original and a repeated artwork - a conceptual transformation, which reveals the 'understructure of art' that underpins its production and consumption, offering a powerful commentary on the mechanisms of the contemporary art world.
Sturtevant
Beuys Untitled, 1998
Copper-dyed photography and paint on paper
30 x 51 cm (11.81 x 20.08 in)
Joseph Beuys
Untitled, 1969
Two-part work: reddish-brown tempera on two sheets of paper, on card
17.3 x 24.5 cm (6.81 x 9.65 in)
Tracing the legacies of alchemy through this significant body of post-war and contemporary art, the exhibition illuminates the unique technical, thematic and philosophical innovations of each artist and their continued contribution to art-historical conversations today.