Bob Colacello
It Just Happened, Photographs
1976-1982
21 January—4 March 2023


Scroll down to learn more

I never planned or plotted any of this. I have, however, always followed my mother's dictum: 'When opportunity knocks, open the door! — Bob Colacello
Watch the exhibition video
It Just Happened is an exhibition of photographs by the American photographer and writer Bob Colacello, documenting his long-standing collaboration with Andy Warhol and the cycle of parties and travelling that animated their frenetic lives. Curated by Elena Foster and the Ivorypress team, the exhibition includes letters, magazines and memorabilia along with the photographs, which help bring to life the era's feeling of hedonism and endless possibility.

Although my official job was editor of Interview, I often travelled with Andy and his manager, Fred Hughes, on their art trips to Europe. From Bonn we flew to Naples, where I took this picture of Andy having breakfast in his regular sleeping attire – Brooks Brothers shirt, Jockey shorts and Supp-hose socks. — BC
Andy's Room Service Breakfast, Naples
, 1976
Gelatin silver print
50.8 x 40.6 cm (20 x 16 in)
The Seattle Museum of Art had a Warhol retrospective in 1976, and Andy and Fred took me along to the opening. — BC
Andy with Fred Hughes, Seattle Art Museum, 1976
Gelatin silver print
12.7 x 17.8 cm (5 x 7 in)
Between 1971 and 1983, Colacello was the editor of Interview magazine and Andy Warhol's right hand. On one of his many trips with Warhol, Colacello acquired a Minox – a tiny camera said to have been used by spies during the Cold War. From that moment on, he carried this pocket camera with him to numerous jet-set parties, dinners and weddings held in such emblematic settings as the Factory, Studio 54, and presidential inaugurations at the White House.

Bianca at Halston's House. (Halston started the white-orchids-everywhere look.) — BC
Bianca Jagger, Halston's House, New York
, 1976
Vintage gelatin silver print
20.3 x 25.4 cm (8 x 10 in)
Kevin at home at our apartment in the Leonori, a 1920s building on East 63rd Street, three blocks from Andy and Jed's house. — BC
Kevin Farley, The Leonori, New York
, c. 1978
Vintage gelatin silver print
20.3 x 25.4 cm (8 x 10 in)
It just happened that the 1970s was the most wide-open decade since the Roaring Twenties. — Bob Colacello

Fernanda 'Nenna' Eberstadt, an Interview intern, who went on to write several well-received novels, and Robert Mapplethorpe, who we published in Interview very early on. — BC
Fernanda Eberstadt and Robert Mapplethorpe,London
, c. 1978
Vintage gelatin silver print
12.7 x 20.3 cm (5 x 8 in)
All the women wore red, all the men black-tie – except Mick, who wore a red leather suit. He came with Jerry Hall and the Irish art collector Garech Browne. — BC
Mick Jagger, Jerry Hall, and Garech Browne, Red Ball, Paris

, 1980
Vintage gelatin silver print
20.3 x 25.4 cm (8 x 10 in)
The photographs come from Colacello's personal album taken between the late 1970s and early 1980s, providing an intimate and faithful chronicle of the fascinating social circle around the so-called Pope of Pop. This body of work captures like no other both the privacy of places where access to paparazzi was restricted and the feeling of freedom of the time.

Halston and Calvin at another party; the latter was becoming bigger than the former by 1981. — BC
Halston and Calvin Klein, New York, c. 1981
Gelatin silver print
10.2 x 12.7 cm (4 x 5 in)
These 'stolen' snapshots, with unexpected frames and overexposed lighting, demonstrate Colacello's rebellious spirit and disregard for photography's formal conventions of symmetry, exposure and balance. It is in this subversive attitude and irrepressible rhythm that lies the photographer's contribution to his medium: the construction of a new aesthetic identity within the photojournalistic genre of the 1970s and 1980s.

The wedding of Marisa Berenson and Jim Randall, an airplane-bolts tycoon, at his Beverly Hills mansion, was one of the biggest social events of 1976. Marisa, who starred in Luchino Visconti's "Death in Venice" and Stanley Kubrick's "Barry Lyndon", had been engaged to David de Rothschild, but that fell through. — BC
James Randall and Marisa Berenson, on their Wedding Day, Beverly Hills, 1976
Vintage gelatin silver printImage
20.3 x 25.4 cm (8 x 10 in)
Wedding guests: Ringo Starr and Loel Guinness. — BC
Ringo Starr and Loel Guinness, Maria Niarchos' Wedding, Deauville
, 1979
Vintage gelatin silver print
20.3 x 25.4 cm (8 x 10 in)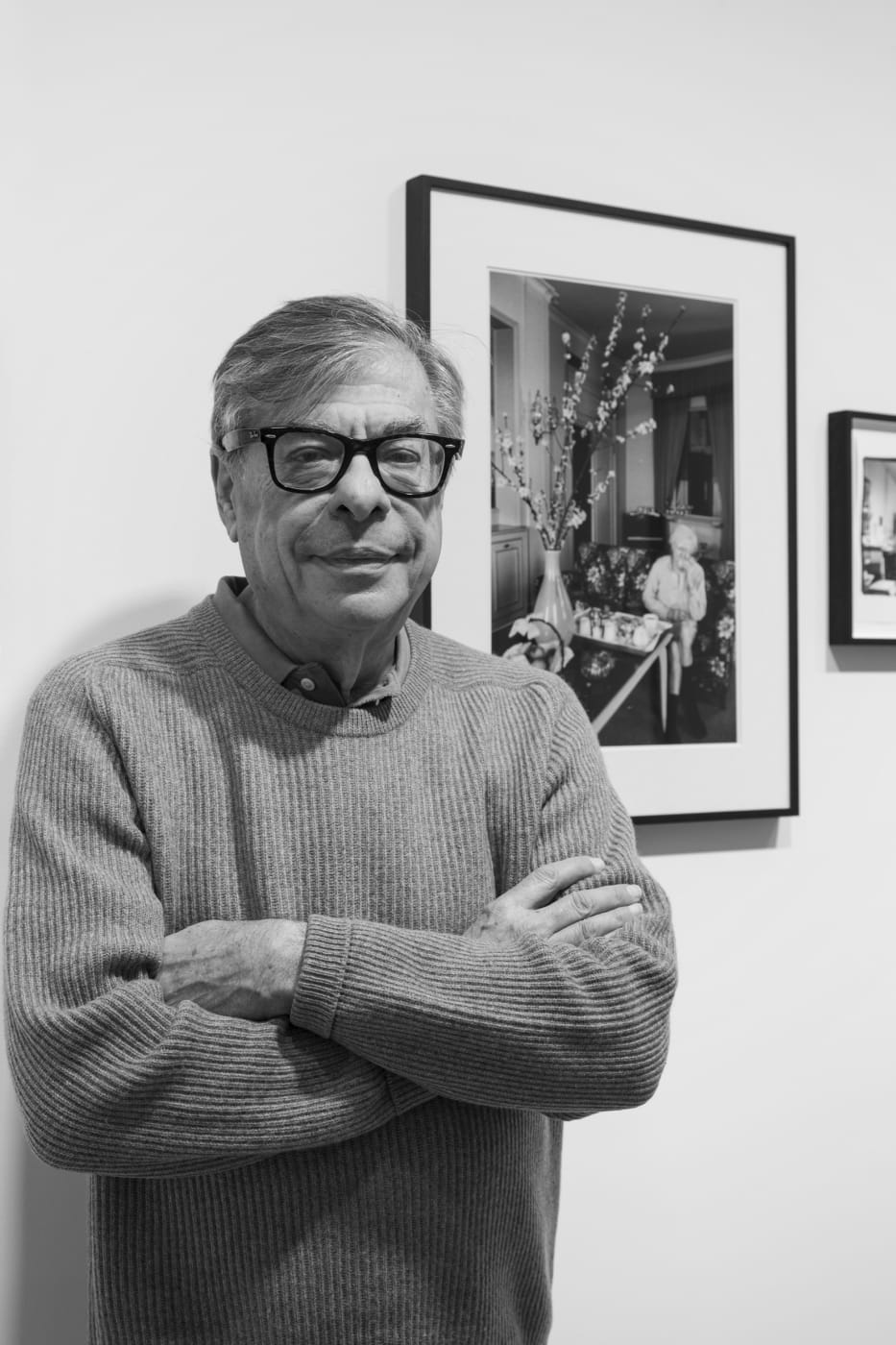 Bob Colacello (b.1947) was born in Brooklyn and raised in Long Island, New York. In 1969, he graduated from Georgetown University's School of Foreign Service and two years later completed an MFA in Film at Columbia University School of the Arts. He was the editor of Andy Warhol's
Interview
magazine from 1971 to 1983. He then worked for
Vanity Fair
until 2017, writing profiles and research articles on cultural, social and political subjects.
His memoir
Holy Terror: Andy Warhol Close Up
(1990) was acclaimed by
The New York Times
as the 'best-written and the most killingly observed' book on Andy Warhol's inner circle. He has also published
Ronnie and Nancy: Their Path to the White House
(2004), the first of a two-volume biography of the Reagans, and is currently working on the second. His photography book
Bob Colacello's OUT
(2007), published by 7L/Steidl, documents the wild and glamorous life of the late 1970s and early 1980s.
He has had solo exhibitions at Boca Raton Museum of Art, Florida; Newport Art Museum, Rhode Island; Vito Schnabel Gallery, New York and St. Moritz, Switzerland; Mary Boone Gallery, New York; Govinda Gallery, Washington D.C.; Steven Kasher Gallery, New York and Ivorypress, Madrid. Colacello's photographs have been included in group exhibitions at the Andy Warhol Museum, Pittsburgh; MoMA PS1, New York; Tate Modern, London; National Gallery of Canada, Ottawa; Hamburger Kunsthalle, Hamburg; and Museu de Serralves, Portugal.