Robert Longo
The New Beyond
Until 7 January 2023
Paris Marais

Scroll down to learn more

American artist Robert Longo presents his most recent series of monumental charcoal drawings paying homage to the European pioneers of post-war art.
Following his 2014 series of drawings based on American Abstract Expressionism, in this exhibition, Longo explores the work of Karel Appel, Sandra Blow, Jean Dubuffet, Sam Francis, Arshile Gorky, Hans Hartung, Hans Hofmann, Asger Jorn, Yves Klein, Willem de Kooning, Maria Lassnig, Piero Manzoni, Joan Mitchell, Pierre Soulages, Wols and Zao Wou-Ki.
Transposing their disparate works into a large-scale format and shades of black and white, Longo brings together the different approaches of these painters to form a new, unified visual language.
Watch a video of the artist
Longo's ambition was to translate these paintings into his own language, to free the language imprisoned in a work by recreating it in his own style, to grasp, through a process of remaking and reinvention, the artist's thought, which is discernible through intention and in gesture.
— Louvre curator Dominique de Font-Réaulx
Longo's drawing of Pierre Soulages' painting lies at the heart of the historical construction laid out in the exhibition. Stylistically, the original work bridges the gap between European Art Informel and American Action Painting. By carefully recreating every brushstroke and groove of black paint, Longo rediscovers through Soulages' hand the potential of his own monochrome medium.
Untitled (After Soulages; Painting, 195 x 130 cm, May 1953; 1953), 2022
Charcoal on mounted paper
243.8 x 161.8 cm (95.98 x 63.7 in)
The exhibition takes its title from the 1952 essay by the French art critic Michel Tapié, which identifies a new horizon for European art, heralded by painters such as Jean Fautrier and Jean Dubuffet. Breaking with the traditional codes of painting, these artists produced, in Tapié's words, 'something so extraordinary, endowed with a magic so stupefying, so useless in the dreary framework of the everyday, and at the same time so irreducibly necessary to those who, from day to day, seek to live the parabola of our age.'
Longo's charcoal drawing of Dubuffet's portrait of the French writer André Dhôtel (1900—1991) recreates in minute detail the graffiti-like technique of the original. This was, according to Longo, one of the main points of departure for his exploration of the European avant-garde. Rather than turning to abstraction, Dubuffet subverted traditional figurative genres such as portraiture, channeling a more 'raw' form of art making he encountered in asylums and among school children. Through Dubuffet's work, Longo engages with the radical potential of figuration to reflect on his own representational practice, finding a historical precedent to its revolutionary potential.
Untitled (After Dubuffet; Dhôtel nuancé d'abricot, 1947), 2022
Charcoal on mounted paper
236.2 x 177.8 cm (92.99 x 70 in)
Barnett Newman said he thought the Abstract Expressionists were representational artists working abstractly. I think I'm an abstract artist working representationally.
— Robert Longo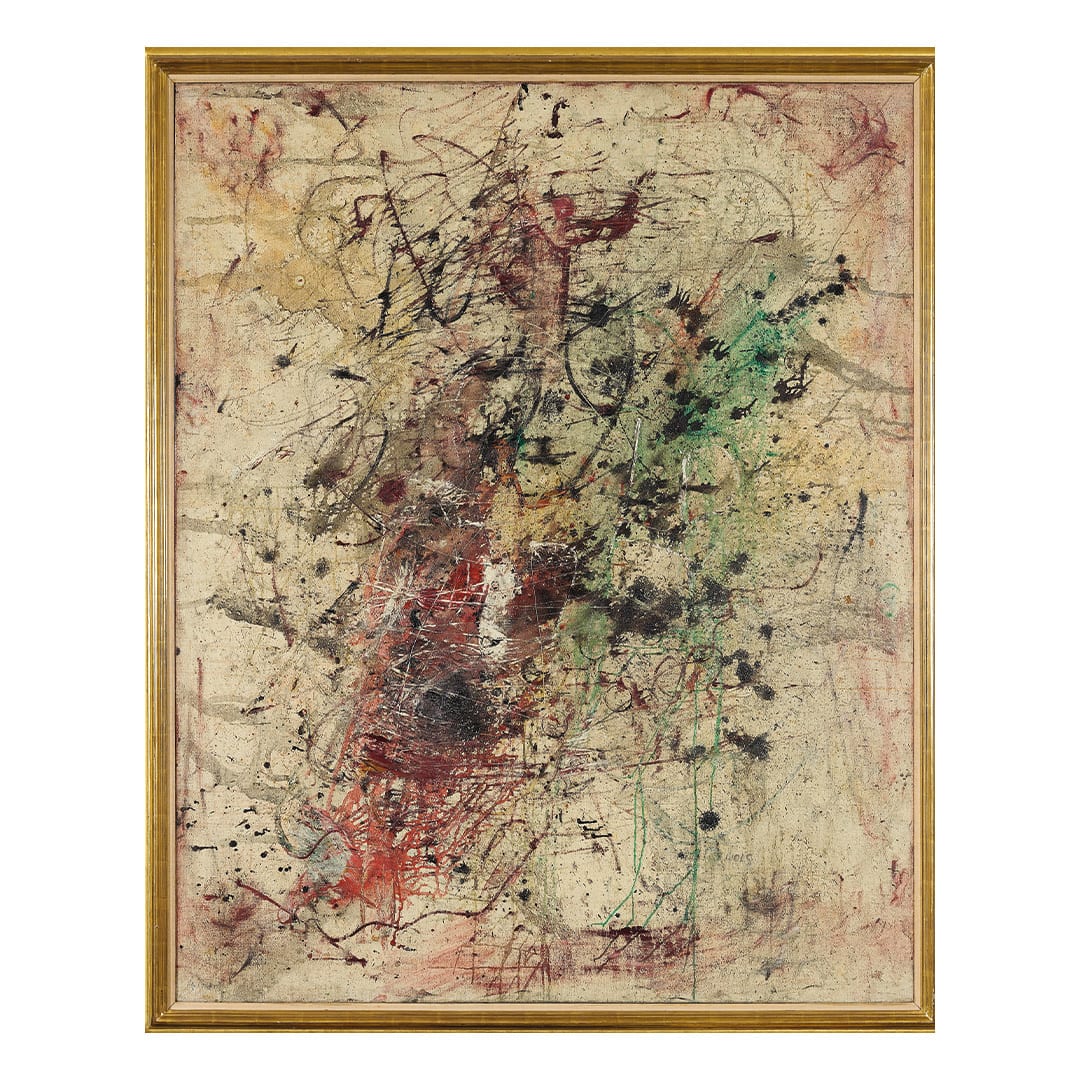 Longo is fascinated by Wols, whose radical technique of drips and splashes shocked those who first saw the paintings in 1947. One and a half bigger than the original, Longo's meticulous rentition allows him to catch a glimpse of the painter's way of thinking at the time of execution. As each uncontrolled drip becomes a measured and deliberate layering of charcoal, Longo gives new resonance to every one of the artist's original brushstroke.
Untitled (After Wols; Vert cache rouge (Le Grand Orgasme), 1947), 2022
Charcoal on mounted paper
221.6 x 177.8 cm (87.24 x 70 in)
Many of the artists working in Europe after the Second World War were traumatised by the horrors of the conflict. For them depicting reality was no longer a viable way of making art and they advocated for a
tabula rasa
, or a complete break from conventions and traditions of the past.
By revisiting the work of these artists in a contemporary context, Longo offers this exhibition as a 'historical construction', highlighting their continued influence and finding a present-day resonance in their ability to transcend through their work the fraught circumstances of a radically changing world.
The dynamism of Karel Appel's original painting contrasts powerfully with Longo's measured and meticulous approach. Recreating the storm of colour and a whirls of paint in charcoal, the American artist slows down the time of making the image. As he studies and deconstructs each of Appel's seemingly instinctive gestures, the subject of the work becomes the paint itself and its cathartic, almost frenzied application.
Untitled (After Appel; Amorous Dance, 1955)
, 2022
Charcoal on mounted paper
177.8 x 228.6 cm (70 x 90 in)
The Manzoni reminded me of Rauschenberg's bed Combine, but in fact, Manzoni's piece is only around 20 inches wide. So I made my Manzoni drawing the size of a bed. It looks like you could climb into it. — Robert Longo
Untitled (After Manzoni; Achrome, 1958–59)
, 2022
Charcoal on mounted paper
228.6 x 165.1 cm (90 x 65 in)
The process of creating a charcoal drawing is almost entirely opposite to the process of creating a traditional painting. Starting with a white page, Longo gradually and meticulously darkens certain areas to create shadow, ending with the points of deepest black, whereas, in a traditional painting, highlights are applied at the end, over the darker tones.
Where black and white photography tends to equalise darker shades of different colours, the artist also works to maintain the infinite nuances of the original colours in his shades of grey. Carefully analysing the colours of each original work, he carefully nuances his work to distinguish what would originally have been a dark red from a dark blue.
This drawing of a work by the Danish artist Asger Jorn exemplifies the inversion required to transpose a painting into charcoal. As Longo explains, 'in traditional painting, you work from dark to light. So although these guys are not painting traditionally, I'm deconstructing the process and trying to figure out how they made these things to begin with.'
Untitled (After Jorn; Letter to my Son, 1956–57)
, 2022
Charcoal on mounted paper
Image 177.8 x 265.4 cm (70 x 104.49 in)
Longo's drawings are saturated with the time of their making. His approach is measured, even 'forensic'. But as he studies every brushstroke, carefully recreating their material modulations and nuances of colour out of dry, black charcoal, he celebrates the materiality of paint that is, according to Font-Réaulx, 'the sensitive and intimate meaning of these works'.
In this way, Longo not only establishes a dialogue between drawing and painting, but also calls into question the value systems of the art world, prompting us to revisit our relationship to images.
With the Maria Lassnig, it looks so simple, but it took so long to do because it's all about the tonalities of the canvas. — Robert Longo
Untitled (After Lassnig; Figur mit blauem Hals, 1961)
, 2022
Charcoal on mounted paper
Image 203.2 x 134 cm (80 x 52.76 in)
Whereas Klein's Anthropométries were realised in a few minutes, often in front of an audience, Longo's rendition is the product of several weeks of meticulous work. The vibrancy of the International Klein Blue is also missing from the drawing, replaced by deep black charcoal. With the action and colour taken away, it is the textured imprint of the models' bodies that stands out in Longo's version of Klein's Anthropométrie, invoking new references and associations.
Untitled (After Klein; Anthropométrie sans titre (ANT 110, 1960))
, 2022
Charcoal on mounted paper
Image 228.6 x 165.1 cm (90 x 65 in)
All art is a form of political expression. As artists, we are the reporters of the times we live in.
— Robert Longo
Light was of primary importance for Zao, whose paintings have been described as 'translucent'. The effect is heightened even further in Longo's monochrome version his painting, where the brightest sections are in fact white paper laid bare, un-coated by any pigment. The luminescence of the work brings to mind Longo's previous study of painting: a series in which he drew X-rays of famous masterpieces.
Untitled (After Zao Wou-Ki; Still Two of Us - 10.3.74, 1974)
, 2022
Charcoal on mounted paper
172.6 x 243.8 cm (67.95 x 95.98 in)
Today, art must stupefy to be art.
— Michel Tapié, 'A New Beyond', 1952
With uncertainty dominating the current political climate in Europe, Longo's new series of drawings encourages us to look to the work of artists whose art helped heal the wounds of war and imagine a different future. As they laid the foundations on which artists still build today, their example might guide a younger generation.