Venice Biennale 2022
Exhibitions and Events across Venice
April—November 2022
Discover the exhibitions by the gallery's artists across Venice during this year's Biennale
Scroll down for more information
Vera Molnár
The Milk of Dreams
23 April—27 November 2022
59th Biennale di Venezia
Selected by Cecilia Alemani to be included in this year's Venice Biennale, Vera Molnár (b. 1924) is a visionary artist and a pioneer of digital art.
In the 1960s, she invented algorithms or 'machine imaginaires' that allowed her to create artworks. In 1968, the computer became a central device in the making of her paintings and drawings, allowing her to investigate endless variations in geometric shape and line: 'I have no regrets. My life is squares, triangles, lines'.
Still active today at the age of 98, she is the recipient of the first D.velop Digital Art Award (2005), she was appointed Chevalier of Arts and Letters (2007), and won the outstanding merit award AWARE in 2018.
Daniel Richter
Limbo
Curated by Eva Meyer-Hermann
21 April—25 September 2022
Museo Ateneo Veneto
San Marco, 1897 Campo San Fantin
A series of new oil paintings by Daniel Richter will be exhibited in the historic context of the Ateneo Veneto. This new body of work will be presented alongside ink drawings and other works on paper, books, and ephemera from the artist's archive.
An artist book with an essay written by the curator will accompany the exhibition, while an extensive monograph on Richter's works, also written and edited by Eva Meyer-Hermann, will be published in September 2022.
Download the introduction by Eva Meyer-Hermann
Joseph Beuys
Fine-limbed (Finamente Articolato)
Curated by Luca Massimo Barbero
20 April—2 October 2022
Palazzo Cini, Fondazione Giorgio Cini
Campo San Vio, Dorsoduro 864
Taking its name from the main work on display, Backrest for a fine-limbed person (hare-type) of the 20th Century AD, the exhibition will present a selection of 40 works by Joseph Beuys, focusing on two major themes in his work. The first is linked to the body and the human figure, whilst the second is centred around the important symbolic role of animals in his visual and conceptual world. The exhibition will feature seminal works from the late 1940s and early 1950s, alongside a selection of important works on paper.
Arnulf Rainer & Emilio Vedova
Rainer–Vedova: Ora.
Curated by Helmut Friedel and Fabrizio Gazzarri
23 April—30 October 2022
Magazzino del Sale and Spazio Vedova
Zattere, Dorsoduro 266
Spanning two sites, Magazzino del Sale and Spazio Vedova on the Zattere, the exhibition will bring together the works by two preeminent figures of post-World War II European art scene: Arnulf Rainer and Emilio Vedova.

Despite their differences in age and training, Rainer and Vedova enjoyed a long friendship and shared a similar idea of the role of the artist, conceived as someone whose duty is to engage with the events of his time.

A striking and radical artist, Emilio Vedova was considered by his contemporaries a leading exponent of Art Informel and was praised by Peggy Guggenheim as a rising star of the European avant-garde. A revolutionary of his time, Vedova gained notoriety in the 20th-century art world by spearheading movements including the anti-Fascist artist's union, Corrente, and the Fronte Nuovo delle Arti; in 1946 he co-wrote the Manifesto del realism di pittori e scultori, also known as Oltre Guernica.

Regarded as a pioneer of Art Informel, Austrian artist Arnulf Rainer's early influences of Surrealism, alongside an ongoing interest in dreams and the subconscious, imparts a mystical element to his work. Renowned for his overpaintings – made by layering brushstrokes over existing artworks or photographs – Rainer produces a dialogue with the underlying source material, which remains visible to varying degrees, playing with notions of creation and destruction in a paradoxical homage to the original.

A catalogue in English and Italian, published by Marsilio Editori, will accompany the exhibition.
Learn more about Arnulf Rainer
Anselm Kiefer
Questi scritti, quando verranno bruciati, daranno finalmente un po' di luce
Curated by Gabriella Belli and Janne Sirén
20 April—29 October 2022
Palazzo Ducale
San Marco, 1
Linked to the celebrations marking the 1600th anniversary of the founding of Venice, a series of works created specifically for the Palazzo Ducale will be presented at the Sala dello Scrutinio, in close dialogue with the monumental paintings on the ceiling in the historic space.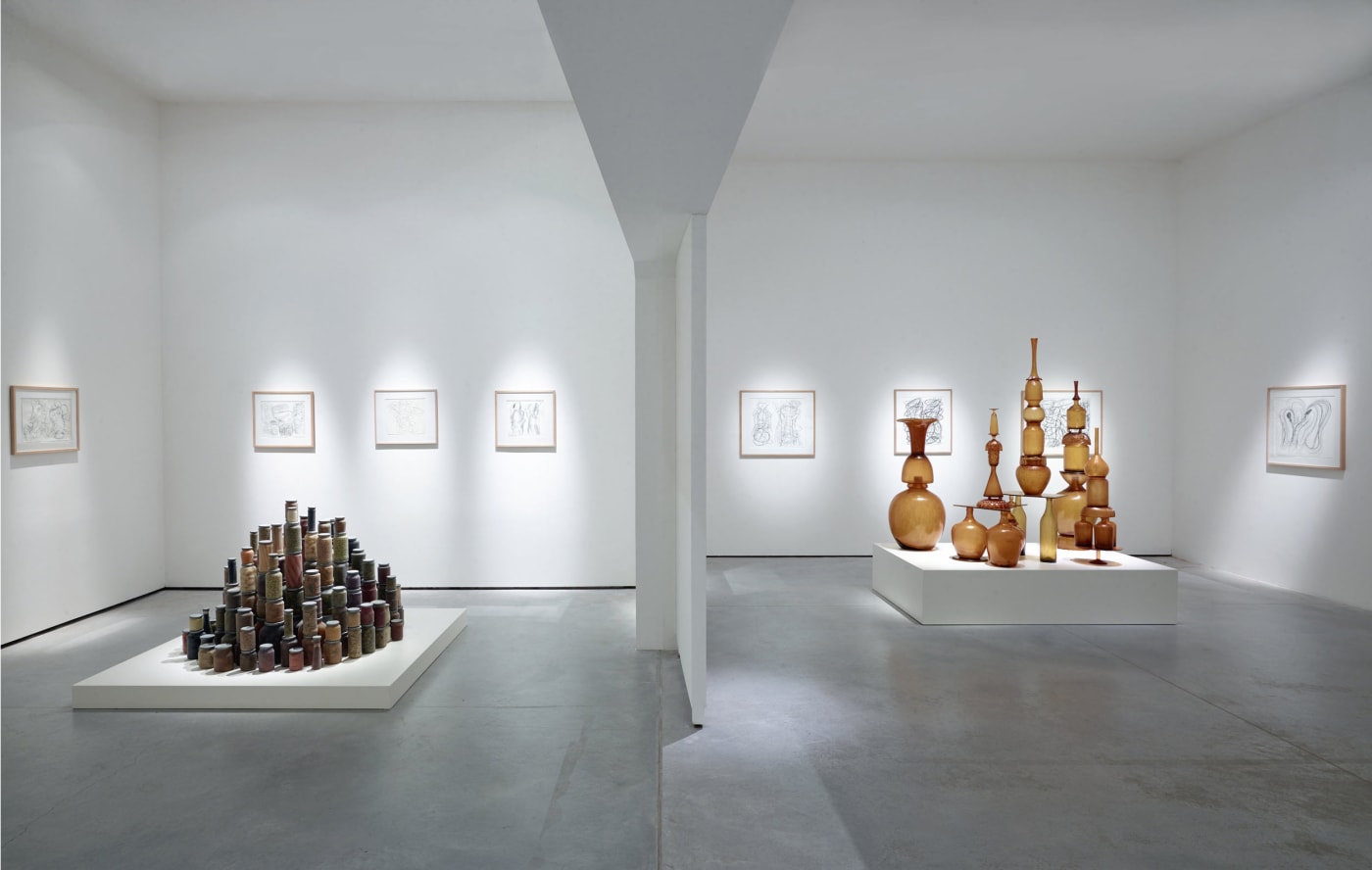 Tony Cragg
Silicon Dioxide
Curated by Berengo Studio in collaboration with
Fondazione Musei Civici di Venezia
Until 21 August 2022
Museo del Vetro
Fondamenta Giustinian 8, 30141 Murano
Featuring a variety of works, several of which have never before been exhibited, Silicon Dioxide retraces the most significant stages of Tony Cragg's career. Starting with his historical assemblages, the selection of sculptures on view reflects Cragg's artistic vision and his unique ability to communicate through glass, a material whose intrinsic geometries he has always been able to exploit.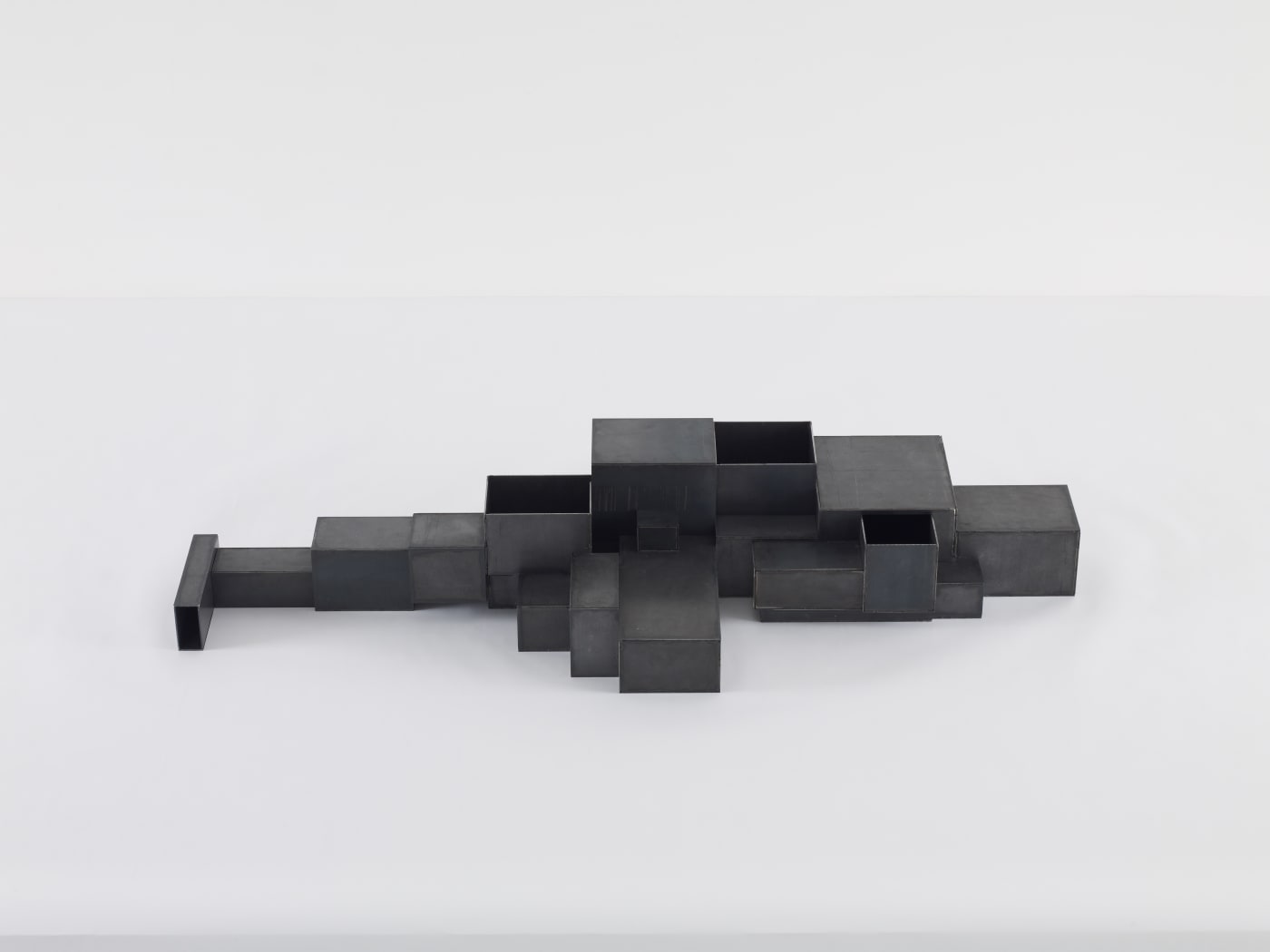 Antony Gormley
Lucio Fontana / Antony Gormley
Curated by Luca Massimo Barbero
20 April—27 November 2022
Negozio Olivetti
Piazza San Marco, 101
Bringing together for the first time two great Masters of sculpture, the exhibition addresses the key themes of space, light and absence found in their work. On display will be sculpture by both artists, alongside a selection of drawings made by Fontana between 1946 and 1968 and a series of drawings, workbooks and models that showcase many aspects of Gormley's research.
Raqib Shaw
Palazzo della Memoria

Curated by Norman Rosenthal
22 April—25 September 2022
Galleria Internazionale d'Arte Moderna, Ca' Pesaro
Santa Croce, 2076
Raqib Shaw's first solo presentation in Italy will feature a new body of work, including 12 paintings and a film. The centrepiece will be a large-scale 'retrospective' painting spanning over 2m in width, which combines many of Shaw's previous works in one image. This is a site-specific project inspired by the unique painting traditions of Venice and Rome, in particular the Renaissance artists Giorgione, Tintoretto and Panini.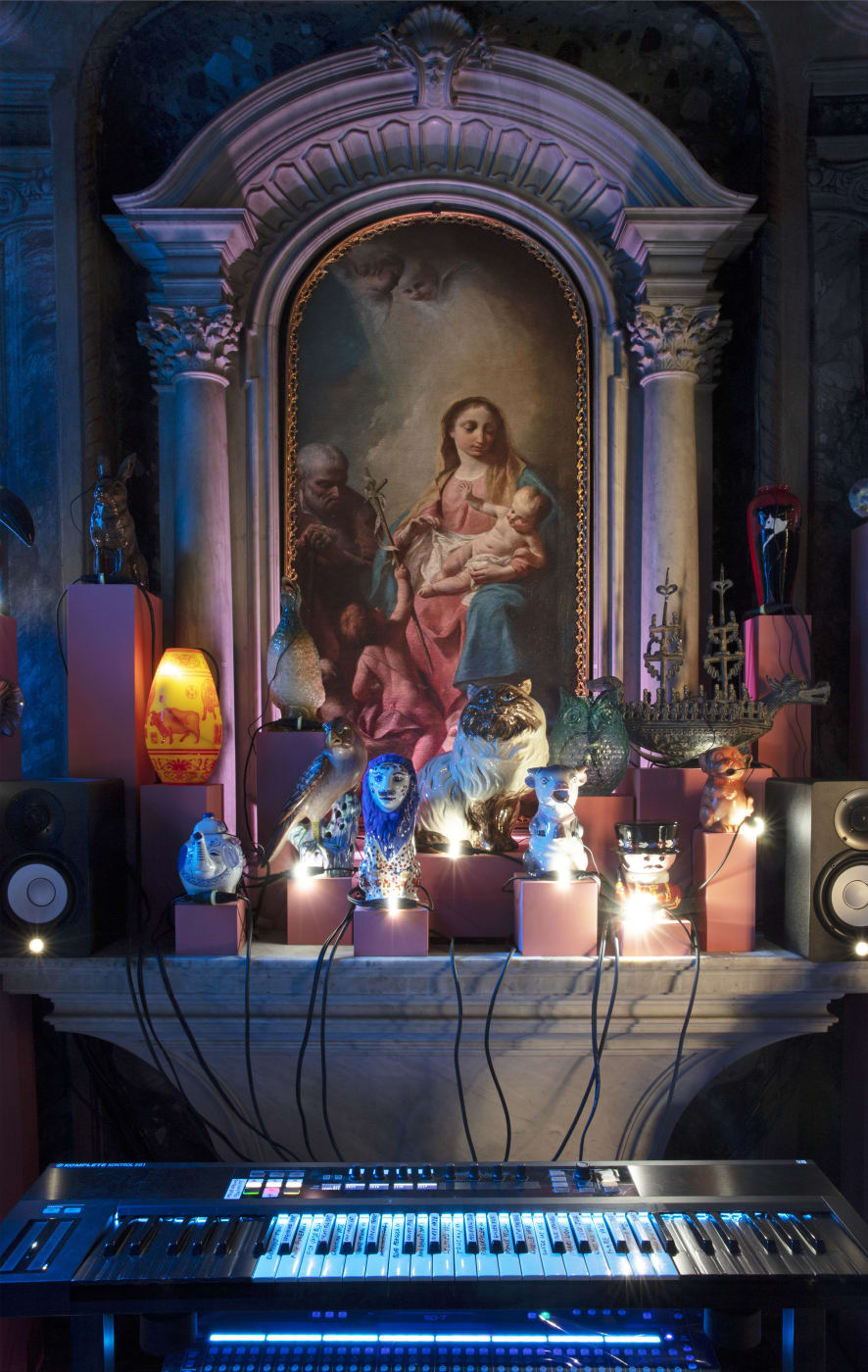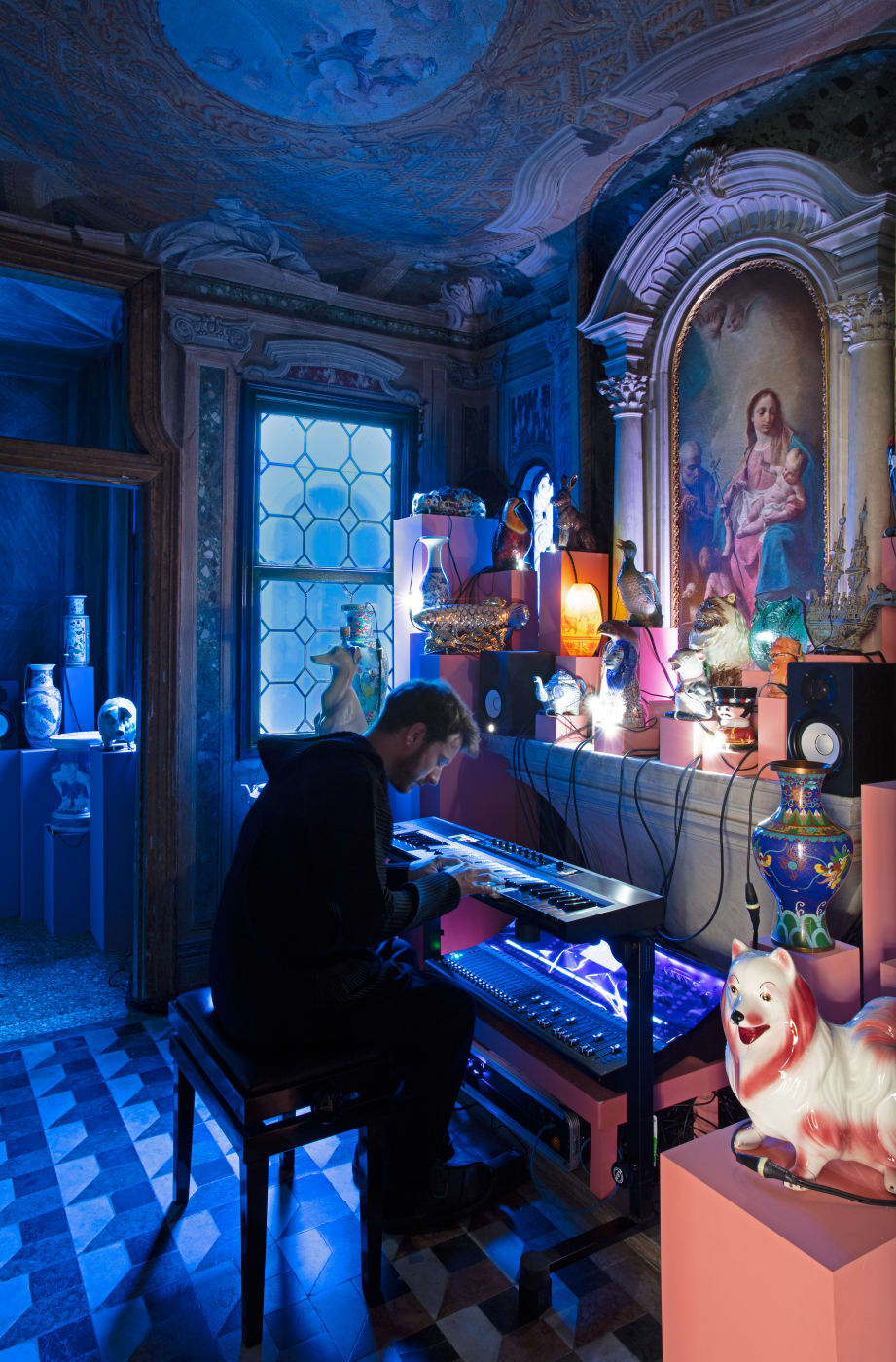 Oliver Beer
Uncombed, Unforeseen, Unconstrained
Curated by Ziba Ardalan
23 April—27 November 2022
Conservatorio di Musica Benedetto Marcello
Sestiere di San Marco, 2810
Visual and sound artist Oliver Beer is part of a group exhibition at the Conservatorio di Musica Benedetto Marcello that brings together works by eleven artists around the theme of 'entropy', exploring disorder and unpredictability in the world today. The diverse works include interdisciplinary collaborations between visual art and music.
Georg Baselitz
Archinto

Curated by Mario Codognato
Until 27 November 2022
Museum Palazzo Grimani, Venice

In Archinto, Baselitz pays homage to Venice and its rich artistic tradition, on the one hand re-establishing historical continuity and on the other signaling a break between celebrated Renaissance portraiture and its contemporary equivalents. The title of the exhibition and his works refer to the enigmatic portrait of Cardinal Filippo Archinto that Titian painted in 1558. Bringing the sensitivity of the Old Masters into a current context, the ghostly quality of Baselitz's paintings confirms his interest in engraving techniques and alludes to the constant artistic theme of human mortality.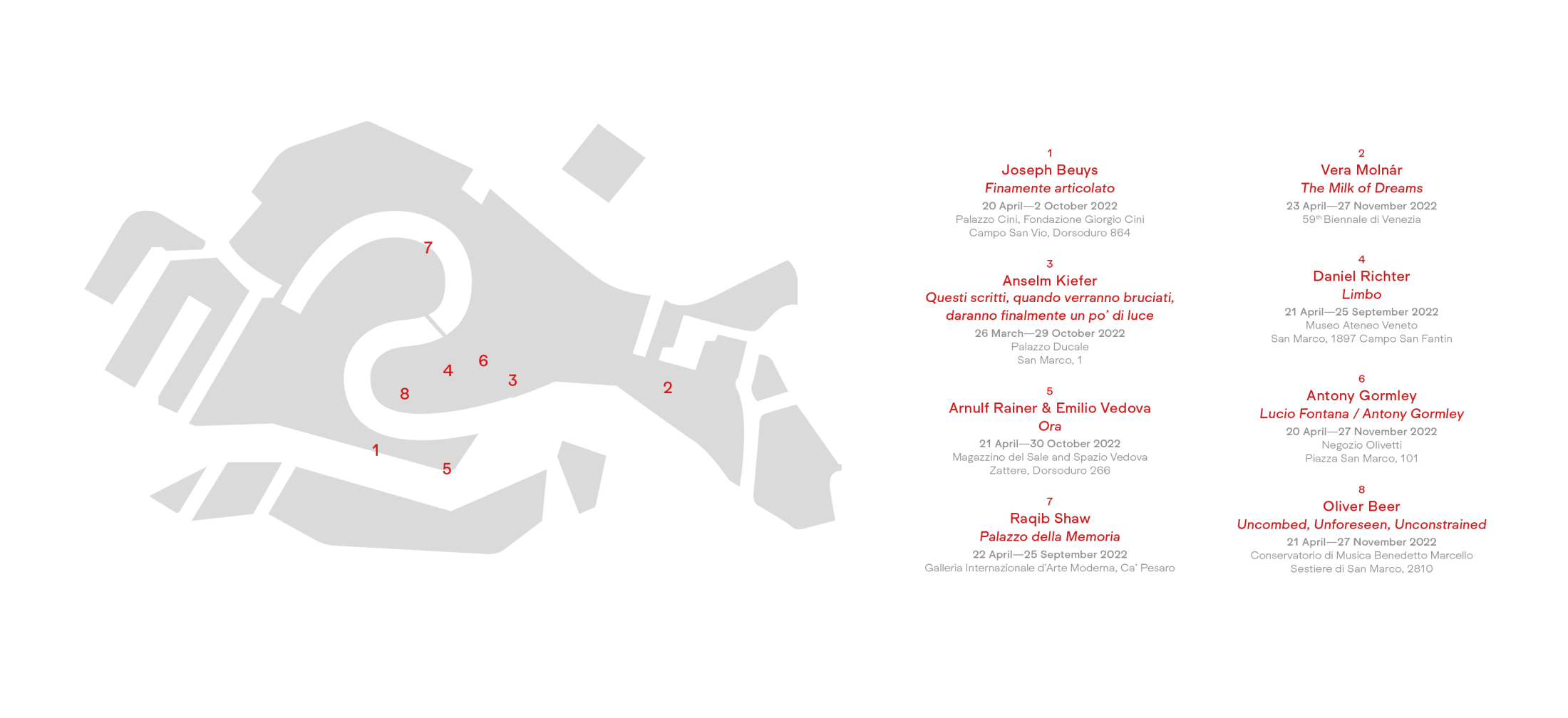 Images: 1. Vera Molnár portrait, 1961. Photo: François Molnàr. © Atelier Molnàr. 2. Vera Molnár,  Molndrian, 74,066/13.36.22, 1974. Computer drawing. 26 x 26 cm (10.24 x 10.24 in). © Vera Molnár. 3 & 4. Daniel Richter, Limbo, 2022. Installation views, Ateneo Veneto. Photo: © Matteo Losurdo 5. Installation view of Joseph Beuys: Fine-limbed at The Palazzo Cini Gallery, Venice, 20 April-2 October 2022. © Joseph Beuys Estate / VG-Bildkunst, Bonn 2022. Photo: Francesca Occhi. Courtesy The Palazzo Cini Gallery, Venice. 6. Emilio Vedova - Arnulf Rainer Tizian schaut, Installation view, Arnulf Rainer Museum, 6.9.2020 - 5.4.2021. Photo: Andreas Balon. 7. INSTALLATION VIEW © Anselm Kiefer Photo: Andrea Avezzù Courtesy Gagosian and Fondazione Musei Civici Venezia. 8. Tony Cragg, Cistern, 1999. Steel, glass (sandblasted). 270 x 450 x 260 cm (106.3 x 177.17 x 102.36 in). Photo: Buchmann Lugano. 9. Antony Gormley, Weave Models 1 – 4, 2021. Nylon. Dimensions variable. © Antony Gormley. 10. Raqib Shaw, La tempesta after Giorgione, 2019. © Raqib Shaw. 11. Oliver Beer, Little Gods (Chamber Organ), 2022 - 32 vessels, 32 microphones, speakers, plinths, audio equipment - Variable dimensions. Courtesy of the Artist and Almine Rech © Oliver Beer. 12. Installation view of Little Gods (Chamber Organ), 2022. © Oliver Beer. Courtesy of the Artist and Almine Rech/ Photo: Sebastiano Pellion di Persano.