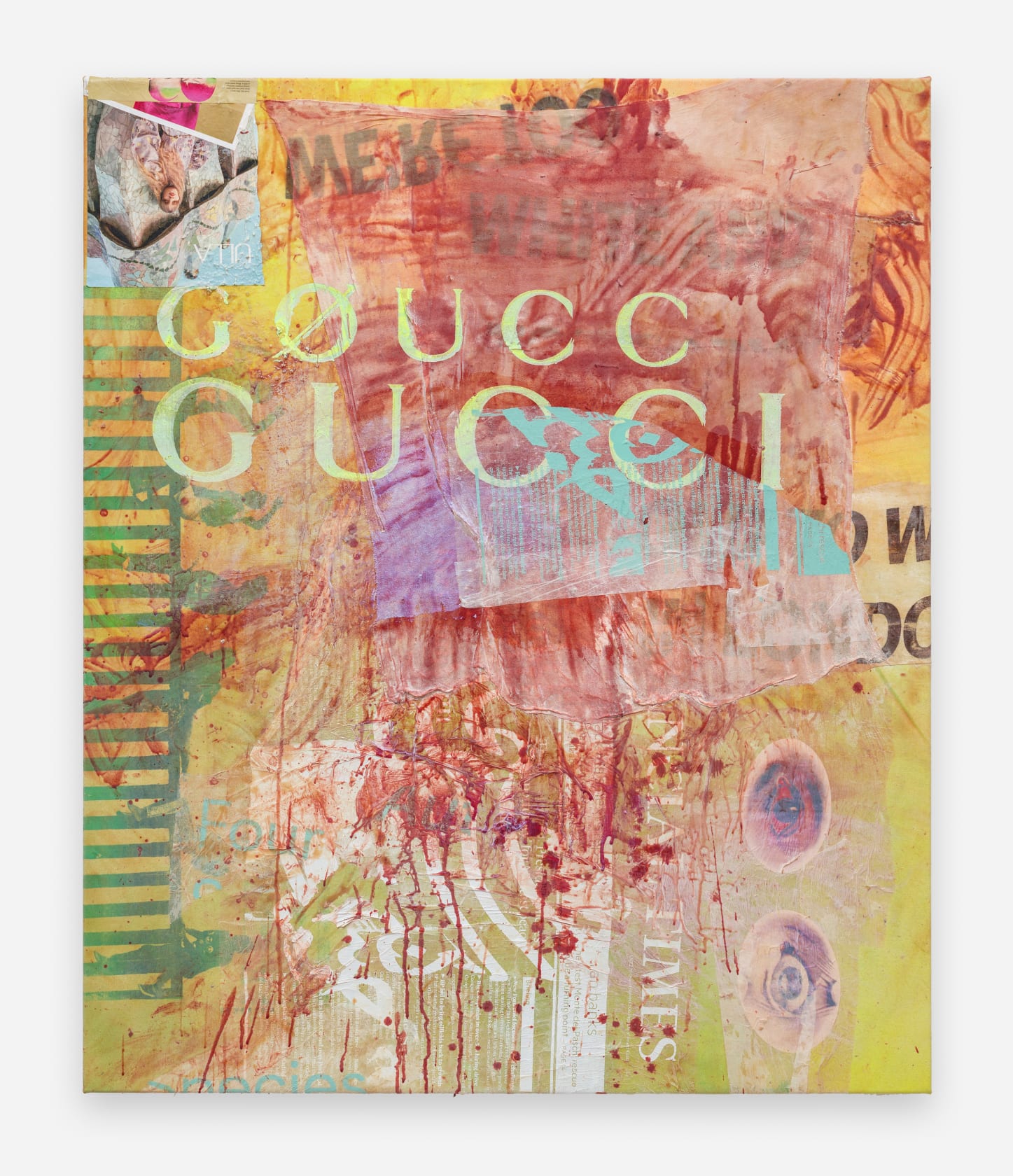 Mandy El–Sayegh Editorial Alias (border-wall),

2022
Oil, acrylic and latex on canvas with collaged and silkscreened elements
300 x 170 cm (118.11 x 99.92 in)
Mandy El-Sayegh's Editorial Alias series explores themes of misrecognition through layers of historical obfuscation. The works in this series include two distinct visual motifs: the luxury brand logo GUCCI, and the alias GØUCC. The latter is the call sign for the artist's father, a name he has adopted in his radio amateur practice throughout his life. A Palestinian calligrapher, El-Sayegh's father belongs to a history that is methodically erased. Here, the artist draws on what she terms 'editorial aliases', questioning how to protect one's identity through language when one is not allowed symbolic space.
From afar, the call sign GØUCC conjures its branded counterpart, GUCCI, losing its historical specificity and cultural signifiers. In employing these two symbols interchangeably, El-Sayegh plays with the dual reality of commodity forms. Brand association and bootlegging become methods of stealing power, while cultural histories and luxury items become interchangeable goods.
Editorial Alias (border-wall) features collaged fragments of El-Sayegh's father's calligraphy, as well as excerpts from the Financial Times, silkscreened eye charts, and ripped images from luxury magazines. The work's title references a silkscreened image of the Mexico border wall in the left-hand corner. The texture in the piece is created using a thick, heavy layer of pigmented latex.